In a digitally driven post-Covid world, physical retail is being re-imagined, reshaped, and rebuilt. At the helm of two of Mumbai's iconic jewellery stores, Mahesh Notandass and Anmol are two bright millennials, Vandana Jagwani and Trisha Datwani Anand. Anil Prabhakar met them to know their plans to thrive in the attention economy where jewellery retail stores are competing to grab consumer attention by providing unique personalised experiences.
Vandana returned to India in 2015 after completing her graduation at Babson College in Boston and post-graduation from Regent's University in London.
A firm believer in the concept of lifelong learning, she has done many courses even after finishing her Master's in Finance, Marketing & Entrepreneurship. Some of them are a jewellery design course from Central Saints Martin, London, a course on Jewellery History from Christie's, a diamond grading course from GIA and a luxury brand management course from Instituto Marangoni. A keen art aficionado, she is currently pursuing an online Sotheby's art course.
Her father Mahesh has taken their family business (inherited from his father in the eighties) to great heights. The Bandra store opened in 2006. Mahesh's ability to spot design talent and enter long-term relationships with jewellery designers Farah Khan and Renu Oberoi have paid rich dividends. Association with celebrities such as the mother-daughter duo Neetu and Riddhima Kapoor and Gauri Khan have added an aura and mystique.
Vandana's strong educational foundation and close association with jewellery designers has helped her evolve as a successful creative head for Mahesh Notandass. In her own words, her fondness for jewellery just grew on her over time. Vandana's repeated exposure helped her become the de facto designer for her father's brand. Her first collection, Vandana for Mann was dedicated to charity.
Trisha Datwani's role model has always been her father Ishu Datwani, a first-generation jeweller, who set up his jewellery business in 1986 and made it a big success.
Trisha's tryst with jewellery began at the age of 15 when she apprenticed with a jewellery manufacturer. Trisha got a good glimpse of jewellery manufacturing at Sama Jewellery, but at that time she was too young to consider jewellery as a profession. Instead, she concentrated on earning a graduation degree and subsequently, enrolled for a fashion design course at Raffles Design International in Mumbai & Singapore.
Trisha believes in learning by doing. On-the-job training with fashion designers Manish Malhotra and Babita Malkani gave her an in-depth perspective of the fashion business and confidence to launch her own fashion label on shoestring budget as she did not want to seek financial support from Ishu. She worked from a small workshop in Khar and did good business by participating in exhibitions and doing trunk shows at five-star hotel venues.
However, she was destined to join the jewellery business. After marriage, she decided to take a short break from fashion and began spending time at her dad's Bandra store.
During the pandemic, she got time to think clearly, and she decided to work full time with Anmol.
In hindsight, Trisha thinks that she kind of found her calling when she visited Beijing in 2019 along with the Forevermark team for a specially designed Business Transformation Program by London School of Economics. Her initial decision to pursue a career in Fashion Design, was to chart out an independent & successful career path without parental support. During the Beijing visit, she witnessed the power of technology and how it is redefining global retail.
Two entrepreneurs, Two Views
Vandana and Trisha are good friends but have different ways of looking at business.
By the time Trisha joined the family business, Vandana had established herself in the business. Her father gave her a free hand so that he could devote more time to the real estate business that was making a comeback.
She conceptualised Vandals, a brand of lab-grown diamond jewellery that offered a new choice for the consumer that was innovative, inexpensive as well as sustainable. It therefore made good commercial sense to be a pioneer in an emerging market segment.
Brand Mahesh Notandass had all along retailed timeless, classic natural diamond jewellery. Therefore, Vandana's decision to retail synthetic diamond jewellery met with resistance from her father Mahesh.
After protracted discussions, she had her way that led to the launch of India's first exclusive designer boutique that retails lab-grown diamond jewellery as a distinct brand with an independent identity. Vandals is targeted at young and progressive consumers, who are environmentally conscious and have adopted sustainability as a way of life.
The store is a good example of intersection of business, art, and culture. Conceived by Vandana, the store reflects her personality. It has art inspired by the Japanese artists Yoyoi Kusama, a piano, cars, and books. It is also millennial architect Ayesha Puri's first retail project.
Buoyed by the excellent response to her creations and the brand Vandals in its first year, Vandana has expansion plans for the brand by taking the shop-in-shop route.
She is also busy with the renovation of Mahesh Notandass' flagship store that is undergoing a makeover with a change in retail identity. Scheduled for a re-launch, the stores will open doors for the consumers latest by December 2021.
On the other hand, Trisha is a natural diamond loyalist and has no plans to retail lab-grown diamond jewellery.
A designer at heart, she has been working tirelessly to make her vision into a reality. She treats every piece of jewellery like a piece of art. There is a lot of precision, detail and thought in every product that she designs. Her aim is to design jewellery that is of international standards for the global audience.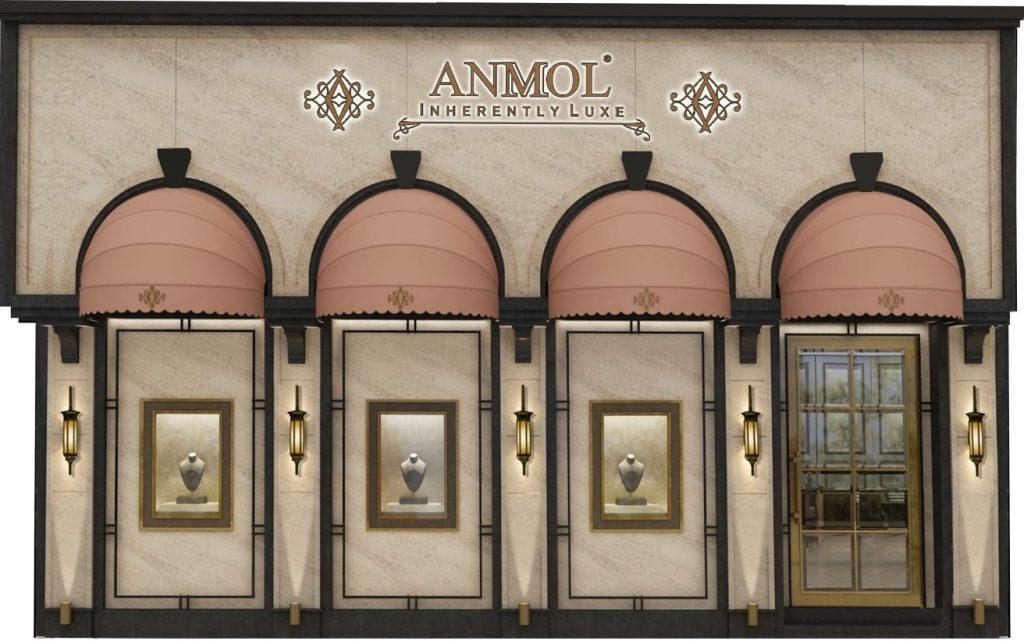 Anmol Jewellers has completed a spectacular 35-year journey. The store recently witnessed a complete make over with Trisha's active involvement.
Select customers received a personalised invitation and the endearingly unique Elephant mascot perfectly symbolising Anmol's journey and transformation – as it takes a step towards a sustainable future, one masterpiece at a time.
The mother elephant represents royalty, grace, luxury, and wisdom, while the baby elephant represents new beginnings, growth, and positive change. It also signifies the introduction of fresh talent as Trisha Datwani Anand, who takes the baton from her father Ishu to drive the brand and the legacy forward with her fresh perspective on design.