Diamond analyst Edahn Golan questions whether the V-shaped recovery in the polished prices will sustain in the long run.
Valentine's Day and the Chinese New Year continued to support the wholesale polished diamond price increases in February. This is a positive sign that consumer interest in diamond jewellery is not abating.
After the pandemic impacted retail sales in the first half of 2020, consumer jewellery purchases returned en force in May. In July, as retailer inventories decreased, polished diamond sales were renewed. In August, prices already had started to rise, resulting in a seven-month rally.
With very few exceptions, prices of all size ranges increased in February. The sole exceptions were half-carats, which were practically flat (-0.05%).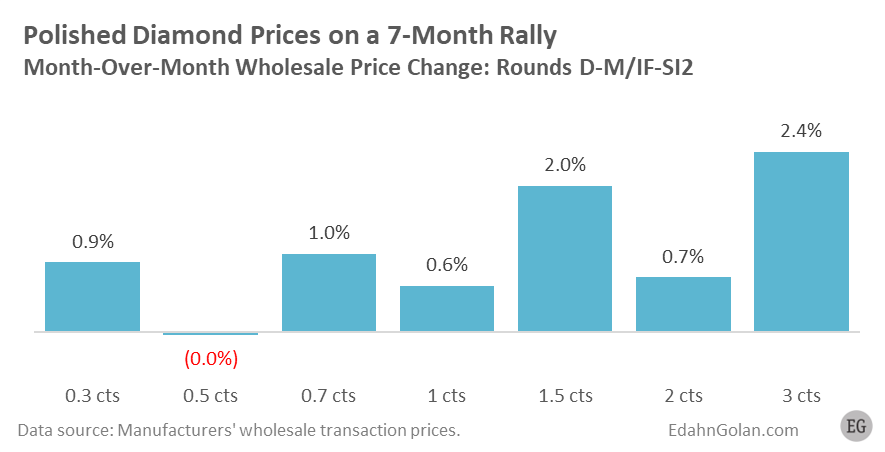 Not only month over month, but prices were predominantly out of the red on a year-over-year basis as well. With this price increase, the remarkable rebound in diamond prices has been completed.
In just seven months, our diamond price index completed a 10.6% rise. Year over year, the index increased 3.3%. This is the first time overall prices have increased year over year since early 2019.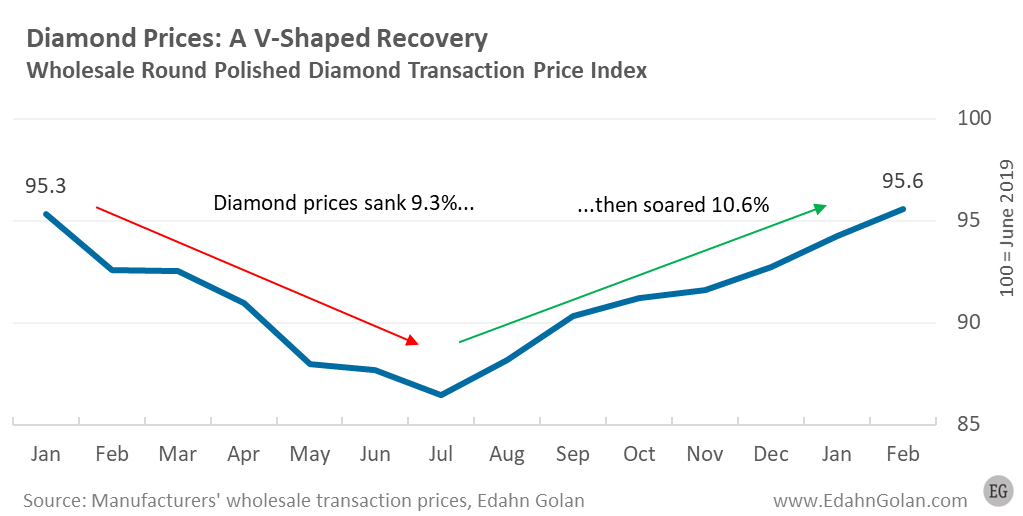 Currently, prices are near their mid-2009 levels, when the global economy started crawling out from under the shambles of the Great Recession. At the time, demand for diamonds and jewellery also leaped, as they always do following a momentous crisis.
The Price Challenge
The industry is facing a double challenge: to sustain polished diamond prices while increasing them moderately, and avoid runaway rough diamond prices.
Now that the 2020 correction is here, are the increases sustainable, and can prices rise to their pre-2019 levels? That is a crucial question. Polished diamond prices have been sliding for nearly a decade, especially since June 2014.
The goal is to gradually increase prices to improve manufacturers' profitability. To achieve better margins and prices, it is essential to reposition diamonds as a luxury item. That is where the Natural Diamond Council (NDC) should steer us. That requires investment in marketing, and all should contribute to that, retailers and manufacturers as well.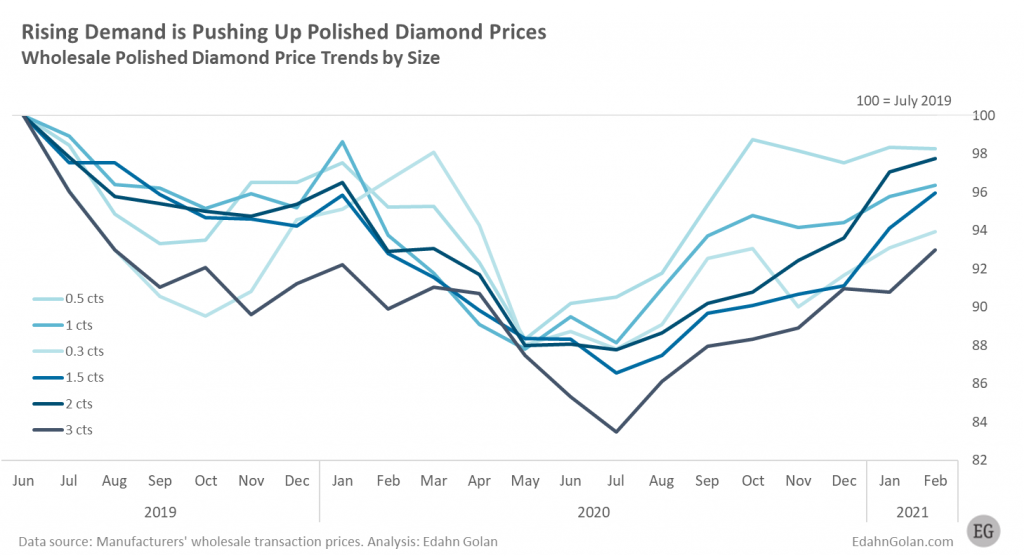 At the same time, the swift rise from the ashes of the Great Recession led to rocketing rough diamond prices, propelled by an oversupply of bank lending. That ended in a price crash in 2011. Since then, polished diamond prices have only fallen.
To achieve stability and growth, overpaying for rough diamonds should be avoided regardless of how tempting it is to quickly flip goods on the secondary market.
—
Edahn Golan is a veteran of the diamond industry, researching and writing about it since 2001. He specialises in a wide range of topics relating to this unique industry, including the way it operates, wholesale and retail polished diamond prices, the rough diamond sector of the diamond pipeline and investment in diamonds.
Edahn has written extensively about these subjects and many others, including the Kimberley Process (KP), financing issues, ethics and changes in the way the diamond industry has operated over the years.
Prior to founding Edahn Golan Diamond Research & Data, Edahn joined the IDEX Online Group to form the news and research department of its newly launched website.
Over the years, Edahn has advised leading diamond firms, industry bodies, investment companies and governmental agencies, writing research papers on topics ranging from provenance analysis of fancy color diamonds and the diamond's contribution to local economies to the viability of investment in diamonds.