Sotheby's Quig Bruning, Head of Jewels, America, in an exclusive interview with Shilpa Dhamija, explains the efforts and research that goes into finding and auctioning precious gems like Estrela-de-Fura, which is set to become the most expensive ruby ever to appear at an auction.
Discovered at Fura's ruby mine in Mozambique, last year, Estrela-de-Fura is unique not just for its large size but also for its saturated and homogeneous red colour, combined with a degree of clarity "unseen in any other unheated ruby of comparable size", according to Gübelin Gem Lab.
Estrela de Fura is the largest ruby to ever appear at an auction and expected to sell for more than $30 million, during Sotheby's Magnificent Jewels Sale in New York, this June.
When discovered, the stone weighed about 101 carats! Even in its rough form, Estrela-de-Fura was considered by experts as an exceptional find for its fluorescence, outstanding clarity, and for showing a vivid red hue in its colour, a hue known as 'pigeon's blood', traditionally associated only with Burmese rubies.
According to Sotheby's, the gem is profoundly rich in chromium which, when exposed to ultraviolet light – as found in sunlight – causes the stone to radiate a fiery red fluorescence.
The ruby that currently holds the global auction record for the most expensive ruby, is the Sunrise Ruby from Burma. The 25.59-carat ruby which sold for $30.3 million ($1,185,451 per carat) at Sotheby's Geneva auction in 2015.
The Mozambique ruby, Estrela-de-Fura, weighs more than double of the Burmese Sunrise Ruby, but it is estimated to be sold at the same price as the Burmese ruby. What are the various other factors of a precious gem that are considered when calculating a sale estimate?
Estimating any item for sale at auction is part art, part science. For the Estrela-de-Fura: 55.22, we certainly looked at past extraordinary rubies, not the least of which was the Sunrise Ruby, to inform our estimate. We then took into account the unique attributes of the Estrela-de-Fura, its unparalleled size, its extraordinary clarity, and its amazing colour, to arrive at a figure that we felt is appropriate.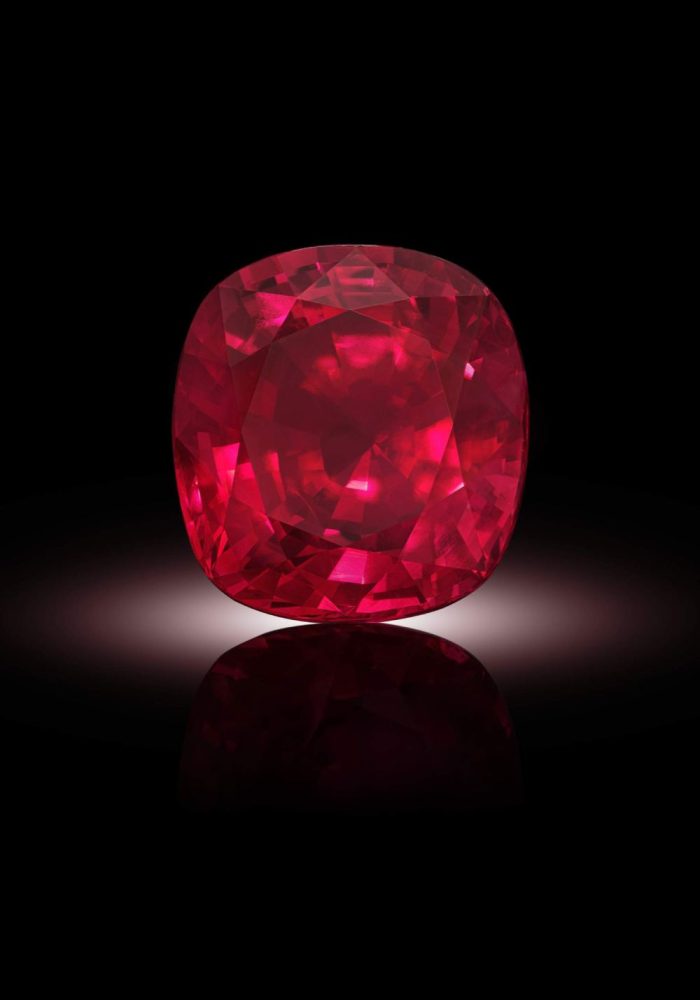 How does Sotheby's determine that a precious gem is worthy of going under the hammer? What are the various factors involved?
We look at thousands of pieces every year and only sell a fraction of those. Ultimately, it comes down to a combination of factors, like its desirability on the open market.
For stones like the Estrela-de-Fura, do you gauge interest from buyers in advance, before you decide on the worth or the potential of the gem for an auction?
We are constantly speaking with clients about their potential interest at the highest levels in the jewellery market.
Can you elaborate on the history of iconic rubies auctioned at Sotheby's? What was unique about them and why did they fetch high hammer prices?
The two great rubies that have preceded the Estrela-de-Fura: 55.22 are the Sunrise Ruby and then Graff Ruby. Both of them came from great collections.
The Sunrise came from an extraordinary European collection and the Graff Ruby (also Burmese) was from the collection of the Greek financier, Dmitiri Mavrommatis. The Graff Ruby was auctioned back to Laurence Graff for $8.6 million.
Of course, neither is anywhere near the unbelievable size of the Estrela-de-Fura: 55.22.
What are the other key gems scheduled to be auctioned at the Magnificent Jewels auction in June? What is special about them?
We will also be selling the Eternal Pink Diamond, an ultra-rare gem coming to market as the most valuable purple-pink diamond to ever appear at auction. At 10.57 carats, the cushion-cut diamond is internally Flawless Fancy Vivid Purplish Pink Diamond. It is the most vivid pink diamond ever to come to market and with an estimate in excess of $35 million.
The stone carries the highest price per carat estimate ever placed on any diamond or gemstone ($3,311,258 per carat).