Renowned award-winning jewellery designer Reena Ahluwalia's creations reflect her effervescent personality – the meaningful jewels she creates are ebullient and playful. But the underlying thought behind each bejewelled piece soaking in diamonds has a premise – that of spreading love and listening to one's inner self. Reena is a firm believer in doing what she enjoys the most – be it designing jewellery or painting life-size diamonds complete with perfect facets … They captivate the eye and mind. Reena is known to eschew the traditional approach to making jewellery, instead she likes to offer a visual treat filled with dollops of elegance and beauty added to each work of art. The Canada-based artist speaks to Solitaire International about her journey so far.
Time and again Reena Ahluwalia's creations have wowed her audience. Riveting geometric forms contrasted with shapely curves in her bejewelled pieces convey exuberance and joie de vivre. Reena's creations are well-thought through—backed by long hours of technical research in terms of cuts, settings, and the introduction of kinetic movements.
She has a long list of glorious achievements to her credit – her design was featured on a Belgian postage stamp; she designed the diamond tiara for Kate Middleton in association with Royal Asscher Diamond Company; and she conceptualised and produced the inaugural collection for Rio Tinto's (now shuttered) Bunder Mine. In 2019, Reena co-created a watch that was awarded the Guinness World Record for Most Diamonds set on a watch. Reena is a professor and member of the George Brown College (Toronto) Jewellery Program Advisory Committee. She is a Fellow of (IwB) Institute without Boundaries.
The Beginning
Reena Ahluwalia grew up in the City of Lakes, Bhopal. "As far back as I can remember, I found it thrilling to create and transform something new out of the ordinary. I was always busy painting, sketching, sculpting, and loving it all. Growing up and even till today when I look at things, I seek to understand the structure, concept, context, meaning and especially my own interpretations. Although I was fascinated with jewellery when I was young, it wasn't till I chanced upon women making roads in India that made me think deeper. Even when doing back-breaking labour, these women wore gleaming jewellery from head to toe, which shone through a cloud of tar, asphalt and dust. I was intrigued that their identity was so intricately woven with their jewellery. I realised that jewellery could communicate at various levels.
Reena graduated from India's foremost design and art school, the National Institute of Fashion Technology (NIFT). Immediately after graduation, in 1994, she landed her first job as a jewellery designer in one of India's largest diamond companies. She went on to establish Reena Ahluwalia Design Inc. in 2007.
Inspiration
Reena reveals, "My creative drive comes from the passion to create memorable and meaningful art. My artistic life has always been about re-imagining, re-inventing, going beyond the obvious. In my jewellery designs and paintings, it's always more than what meets the eye. I am not interested in stating the obvious. I feel compelled to express myself through design and art.
The ace designer has a natural ability to visualise and create technically innovative pieces that engage all the senses. "For me movement is life. Our bodies and minds are not static. So I ask myself, why should jewellery not have movement?"
Geometry and fluidity by way of kinetic movements come together in Reena's creations to create a unique and playful piece. "For me, inspirations can come from anywhere – memories, or what I see, feel and experience. I have a tendency to keep playing with ideas in my mind, sometimes for years, till they manifest into something tangible."
It's when these diverse ideas collide or interconnect in her memory bank, that's when Reena begins to explore ways to create a piece.
Design Partnership
Of late, Reena has been collaborating with Aaron Shum Jewelry, a leading Hong Kong-based retailer, on a regular basis. "As an independent designer, I choose my design partnerships carefully. It's a continuous way for me to innovate. Our shared vision needs to align and should result in tangible social benefits. Some of my past jewellery design collaborations have been with De Beers Group, De Beers Forevermark, Rio Tinto Diamonds, Aaron Shum Jewelry, Diarough NV, Venus Jewel and Royal Asscher Diamond Company, among others.
"Both Aaron Shum and I are known in the jewellery industry for our technical innovations, so it was great to form a partnership to come up with collections together."
At present, both have launched three successful collections together: 'Coronet By Reena' is a collection with spinning diamonds and gemstones that has a worldwide patented setting. "My signature design element in the collection is a 'pointer' that represents the centre of our being. A constant reminder to stay connected to what's most valuable to us — our goals, milestones, family and values."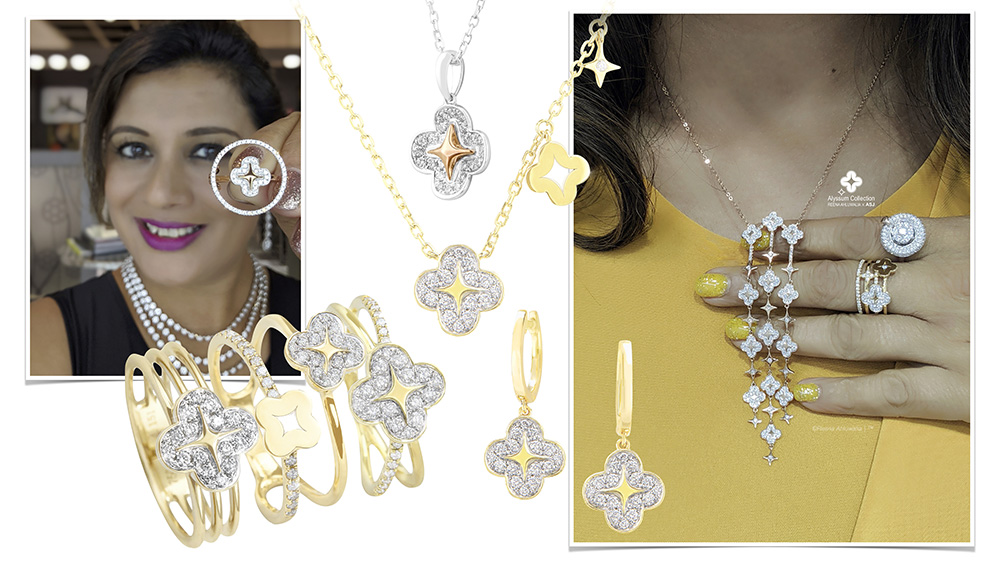 The 'Diamond Watch' collection, aims to celebrate the inner brilliance. The Swiss-made timepieces are gender-neutral, elegant, with modern sensibility and a luxurious finish. The watch bezel is reminiscent of the crown facets of a diamond. "At BaselWorld 2019, we earned a Guinness World Record for the Mudan watch, with most diamonds set on a timepiece. Reena explains, "The showstopper in the Mudan watch is my hand painted diamond on the dial. My diamond watch collection builds on the success of that record and took three years to develop."
Trends
Reena believes that post pandemic, consumers will return to jewellery with a changed perspective. "Now, more than ever, jewellery is about highlighting one's personal identity. Consumers will look for jewellery with meaning, genuine social purpose, positivity and deep personal connection to who they are and what they value. And this must reflect in jewellery designs. I believe the climate issue is going to resurface strongly once the Covid-19 crisis starts becoming manageable," reflects Reena.
Paintings
Reena has been producing larger-than-life paintings of diamonds down to the last detail of magnified facets and the play of light. She paints diamonds to celebrate the shining human spirit and believes that each one of us, like a diamond, is different. "Like diamonds and gemstones – we are diverse, we come in all colours, we are brilliant, resilient and full of potential. The purpose of my paintings is to tell positive, uplifting and empowering stories that connect to people's personal identities.
"I have painted throughout my life, starting when I was very young. I kept winning regional and national painting competitions. During this time my talent and skills were discovered by a grandmaster painter in India, who encouraged me to expand my artistic and technical skills. My jewellery designs and painting are intrinsically related, both artistic, creative and a unique expression of who I am and what I have to say."
Her paintings have been snapped up by art connoisseurs. Recently, she was commissioned by Co-Guardian Fred Mouawad of Mouawad to paint a series of historic diamonds, as well as the Mouawad-Miss Universe Diamond Crown. In the past, her artworks were exhibited at the prestigious Art Miami and are at various museums around the world.
Parting Thoughts
"Evolution is a constant companion. I would like to believe that I am evolving into a more considerate artist and one who is honest in expression … An artist whose mission is to make tangible and valuable contributions through my work and as a person.
"To young designers, I'd say – use your passion as a fuel to keep going, trust your inner compass and your unbounded mind. Work hard and with honesty, have a lust to learn, keep forging ahead with purpose and try to understand why you do what you do. Know that you don't know everything, stay open and humble to life as a teacher. There is so much beauty and limitless potential within you; show up and share generously."