When in Nagpur, it is highly unlikely to miss billboards of Rokde Jewellers featuring smiling customers as its brand ambassadors. At any given point of time, there are at least 150 billboards put up at strategic locations in Maharashtra's second capital.
Rajesh Rokde has embraced a customer-centric approach as the brand's marketing strategy. The billboard idea came to him out of necessity during Covid-19 when business had come to a standstill. Rokde shares some marketing innovations that have worked wonders for his retail business.
Rokde Jewellers' sprawling 12,000 sq ft flagship store is located at Laxmi Nagar, Nagpur. I met him on a Sunday evening in his third-floor cabin. As I settled into a chair, I heard a recorded 'Happy Birthday' tune floating through in the showroom below.
In response to my quizzical expression, Rajesh Rokde informed that it is a ritual to wish customers who visit the showroom on their birthdays.
Rokde Jewellers has a database of 200,000 clients with information about their birthdates and anniversaries. If a customer's birthday coincides with the jewellery purchase date, the billing clerk brings this fact to the notice of the backend team, and the celebratory song is played on the public address system to wish the customer, who is also presented a goodwill memento.
One week prior to their birthday, all existing customers receive a personal invitation letter from Rajesh to celebrate their birthday at Rokde Jewellers. Any client who accepts the invitation gets a token gift. If they choose to buy jewellery, they get a special birthday discount. Though buying is not mandatory, many do avail of the exclusive offer extended to them.
Rajesh then explained how thinking out-of-the-box during adverse times, resulted in customers turning into brand ambassadors for them, which, in turn, gained them more customers.
Sometime in the month of February 2019, the Rokdes had planned a new multimedia consumer campaign. A Mumbai-based agency was appointed by them for a photoshoot with well-known models for the print, outdoor and digital campaign. When the first lockdown was announced, all activities had to be kept on hold.
The second lockdown forced the Rokdes to think of alternatives to shoot the campaign with local talent. He thought: 'Why not invite some of our regular customers to feature in the campaigns?'
Rajesh informed that a few of them accepted the invitation and ventured out of their homes. A photoshoot was organised inside the showroom with all safety precautions. All that the consumers had to do was to turn up wearing their best attire, and they were given the option of selecting jewellery from the showroom to complement their look. Billboards of consumers wearing the jewellery were then put up in various parts of the city. Due to its high visibility outdoors and on social media, the campaign became a talk of the town, and soon the brand was flooded with requests from its other customers to be featured in their forthcoming campaigns.
"The innate desire of every consumer is to be recognised, respected and rewarded," explains Rajesh. "We try and make them feel like royalty so that they keep coming back to us whenever there is an occasion to buy jewellery."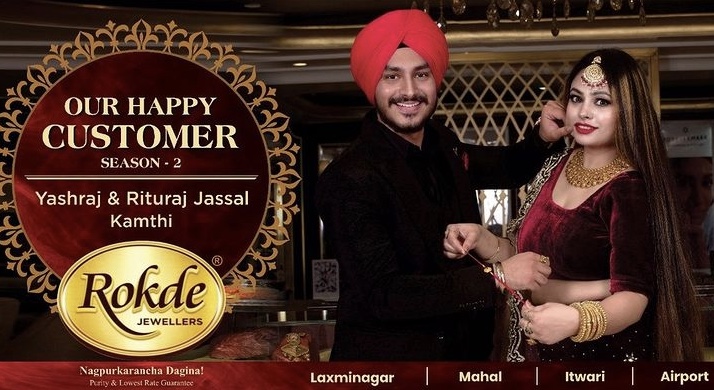 Rokde Jewellers had humble beginnings in 1920 when the patriarch Martand Rokde set up a small shop in Itwari, Nagpur. In those days, clients would bring their own gold to be converted to ornaments for a small fee. Rajesh's father recognised the changing trend when jewellers stocked ready-made ornaments. This led to the launch of retail business at their second store in Mahal, Nagpur. The business flourished, and it attracted middle class Maharashtrian customers from all over Vidarbha.
Rajesh joined the family business in the year 2000, and he introduced a wide variety of platinum, diamond-studded and fashion jewellery to attract new set of customers. An entire floor is dedicated to fashion jewellery offering consumers the largest variety of designs in Nagpur in silver, one gram gold and jewellery set with cubic zirconia. For Rokde Jewellers, the sales volume from the fashion jewellery segment is 15% and is growing annually. Rokde is the only jeweller in Nagpur to have an e-commerce website, and presence on eJohRi, a jewellery marketplace.
Post 2014, the infrastructural development of Nagpur gathered momentum, and today, it has emerged as one of the best cities in Maharashtra after Mumbai and Pune. To cater to the needs of the residents of these upscale localities, the Rokdes launched a showroom in Laxmi Nagar in March 2019 with celebrity guests from Bollywood and politics gracing the occasion.
All these marketing strategies have helped the jeweller build a loyal base of customers. Compared to the Dhanteras of 2019, sales in 2021 registered a growth of 150%, and the good times are expected to continue till May 2022.
The first thing that I had noticed on landing in Nagpur was a Rokde billboard on my way to the hotel. Yet another retail outlet at the Nagpur airport greeted me on my return journey to Mumbai. In a strategic move, consumers can select jewellery online or from Rokde's Laxmi Nagar store and collect it at the airport store when departing … It seems like a perfect example of last-mile connectivity.