Indian architecture-inspired stone inlay work, trellised patterns, enamelled motifs and Sanskrit phrases sit right at home in the centre of Shaill Jhaveri's contemporary creations. A native Indian who lives and works in New York, Shaill Jhaveri effortlessly infuses cross-cultural elements into modern jewellery designs that bear a distinctive stamp of refinement, elegance and minimalism.
From working with Elizabeth Taylor on her costume jewellery line for Avon to showcasing his own line at Bergdorf Goodman for many years, Jhaveri straddles the world of designing for corporate America and retaining his creative voice under his eponymous label.
He has won several prestigious awards for his designs. This includes two DeBeers Diamond Today Awards, an Intergold Award from the World Gold Council, two awards from the Gem and Jewellery Export Promotion Council, India, and a design scholarship from Tiffany and Co. at Parsons School of Design.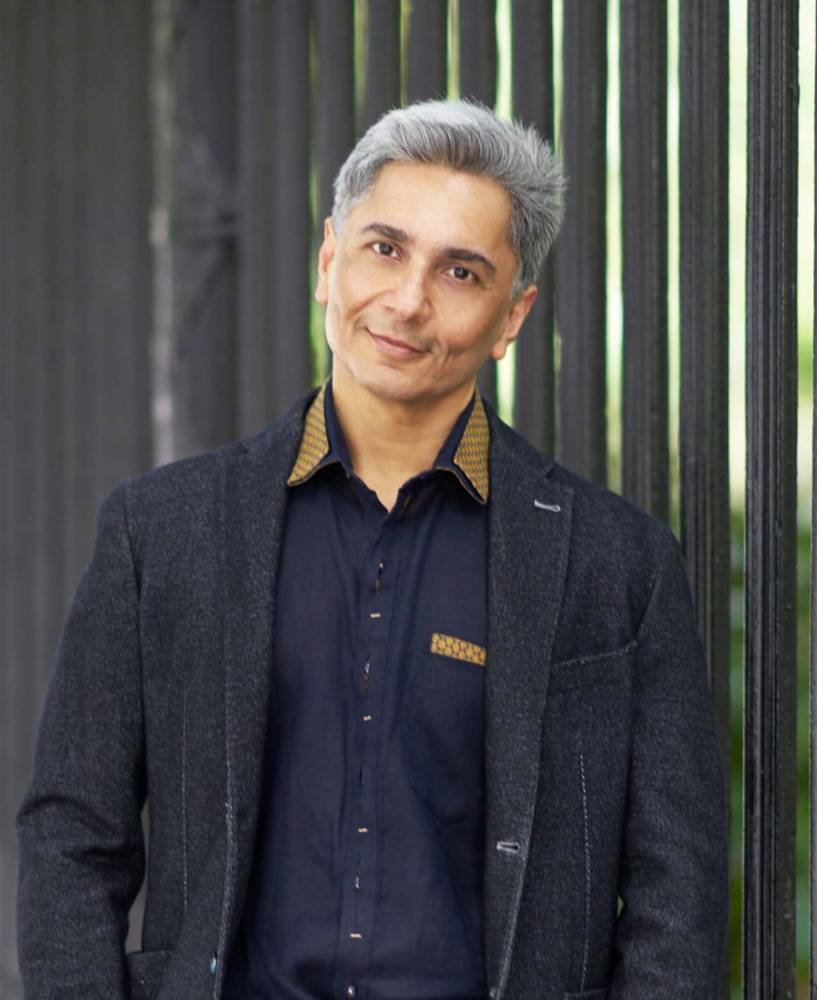 Shaill Jhaveri shares snippets from his three-decade-plus and counting journey in creating jewellery with a soul with Solitaire International.
Tell us about your foray into the world of jewellery. Do you come from a family of jewellers?
My grandfather was a diamond merchant. He shuttled between Bombay and Antwerp, where my father was born, prior to WWII. I took a jewellery elective in my first year of art school in New York (Parsons School of Design) and I enjoyed it. I thought I might return to Mumbai after school, but it was an exciting time in New York, with a lot of opportunities, so I stayed.
When did you decide to launch your own label?
Just after I graduated from design school, I did a few small collections for a wonderful jewellery store in SoHo called Byzantium. Several of those pieces caught the eyes of magazine editors. But soon after that, I got absorbed into corporate America for many years, with several large companies doing high volume businesses in both costume and fine jewellery.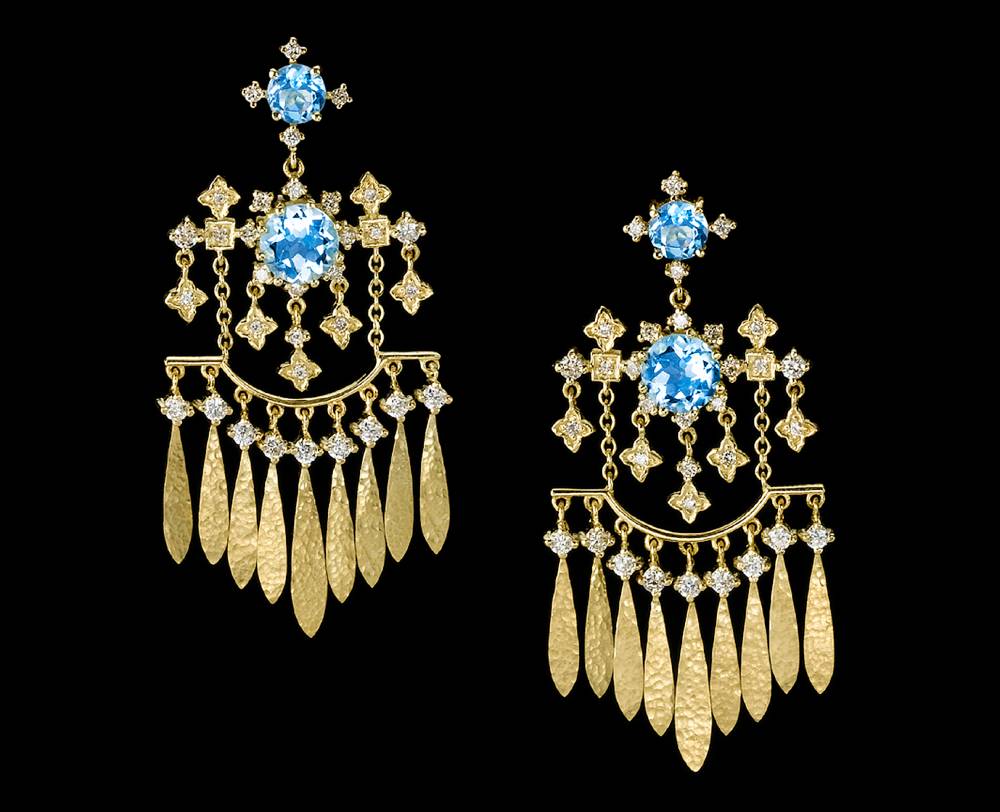 In 2000, I began to feel the need to express my own voice, to not worry so much about the bottom line, to experiment with different looks and be more creative.
Ultimately, for me, the art is as important as the business.
Once again there was a shop in SoHo called Fragments that gave a lot of new designers a start. The buyers at Bergdorf Goodman saw the collection, and I subsequently showed there for many years as well, before branching out into many different stores around the country. However, I have not given up corporate life. I enjoy both and have been fortunate to straddle both worlds.
What inspires your designs?

All of the arts, language, the written word and different cultures in particular influence my work. I can read a book and get lost in Greece or Persia or somewhere in the world, and that will show in my work. Also, music helps me think creatively. I'm often on deadline and need to deliver on time. I pick and choose what music to play to invite the muse.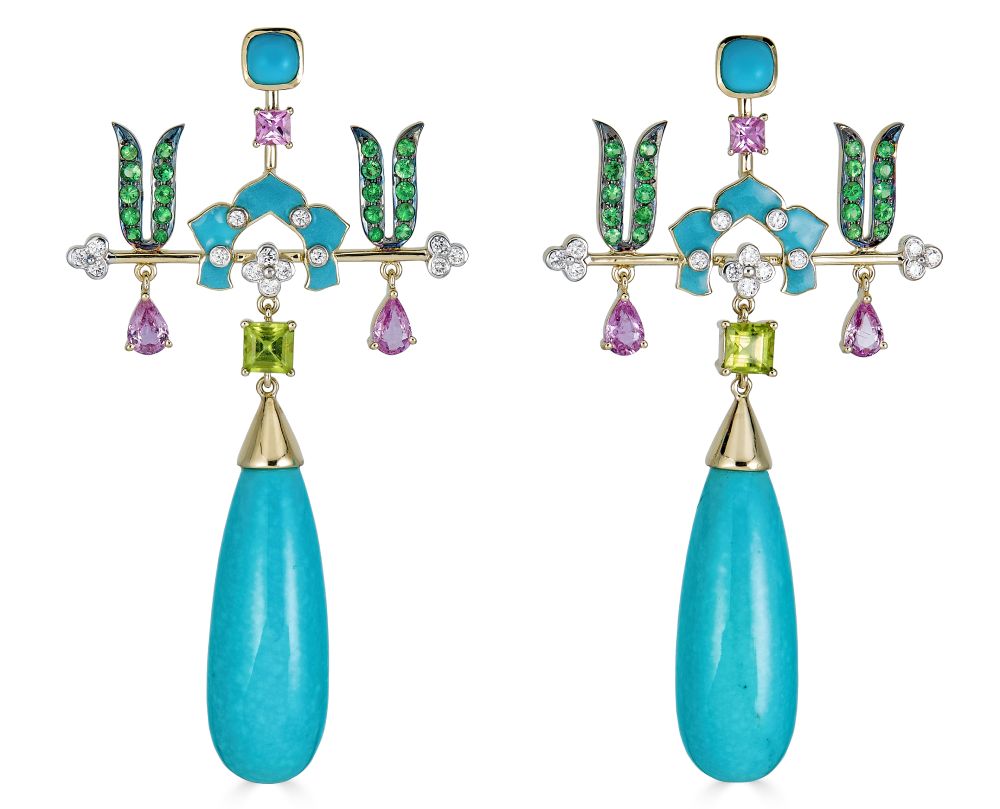 What about India influences your designs? How do you manage to balance Indian intricacies with contemporary minimalism?
Everything about India inspires me. The language, all the arts from dance to music to the exquisite fabrics … It's sort of my spiritual touchstone. I did a collection of jewels using Sanskrit words and 'shloks'. The words inspired the designs, even if they were subtle and sometimes hidden. I stay away from an overt Indian vocabulary of jewellery design, but you can't miss it.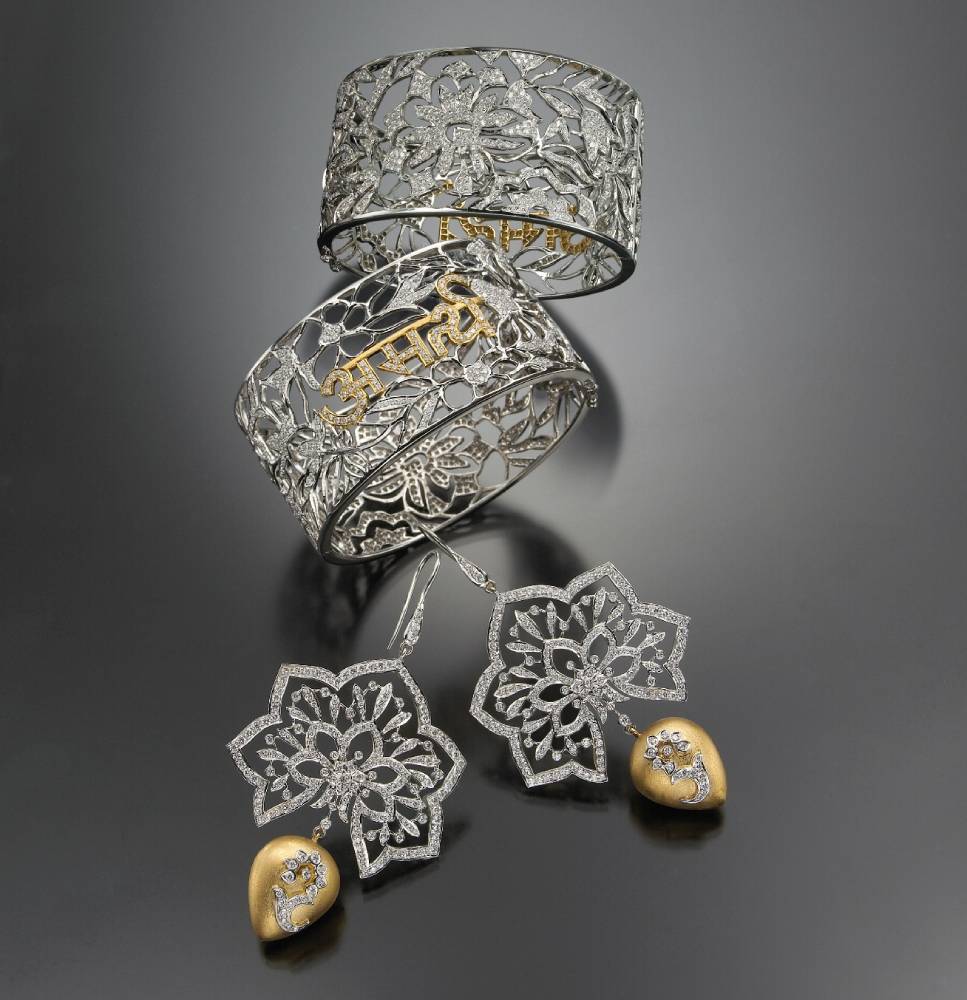 You have three main collections – Trellis, Crystal Sky and Stone on Stone. Could you highlight why these three are so important for you?
It keeps me focused, on the straight and narrow! As a designer I don't like to repeat myself; I like to try new things, go in different directions… that is great as an artist, but it is not always good for business! You need to keep your DNA, to hold on to one identifiable look.
I have to be careful not to veer too far, even if in my heart I continuously want to. It's one of the reasons I collaborate so frequently with other artists and designers. I love that freedom.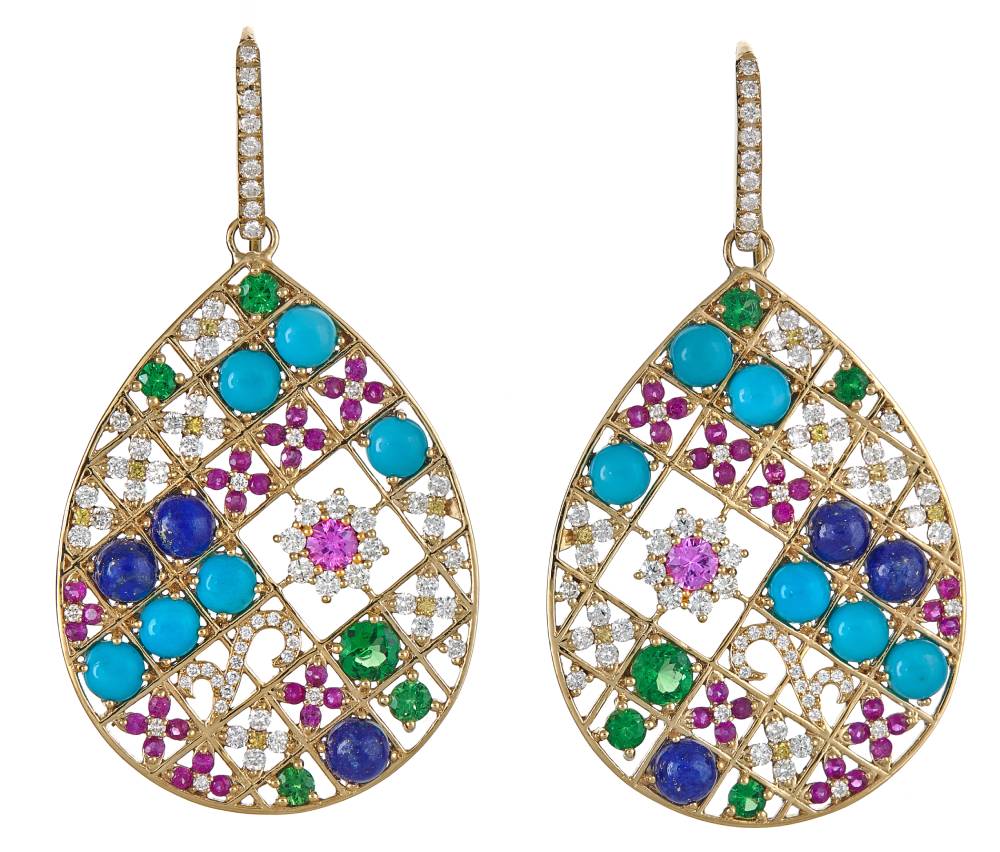 Can you tell us about the latest collection/piece that you are working on?
I am revisiting a collaboration with SeidenGang, with whom I did many collections over 15 years ago. They have a unique brand in 18-karat green gold, a contemporary take on historical classics. It is just down my alley. Some of my most favourite designs have been for them.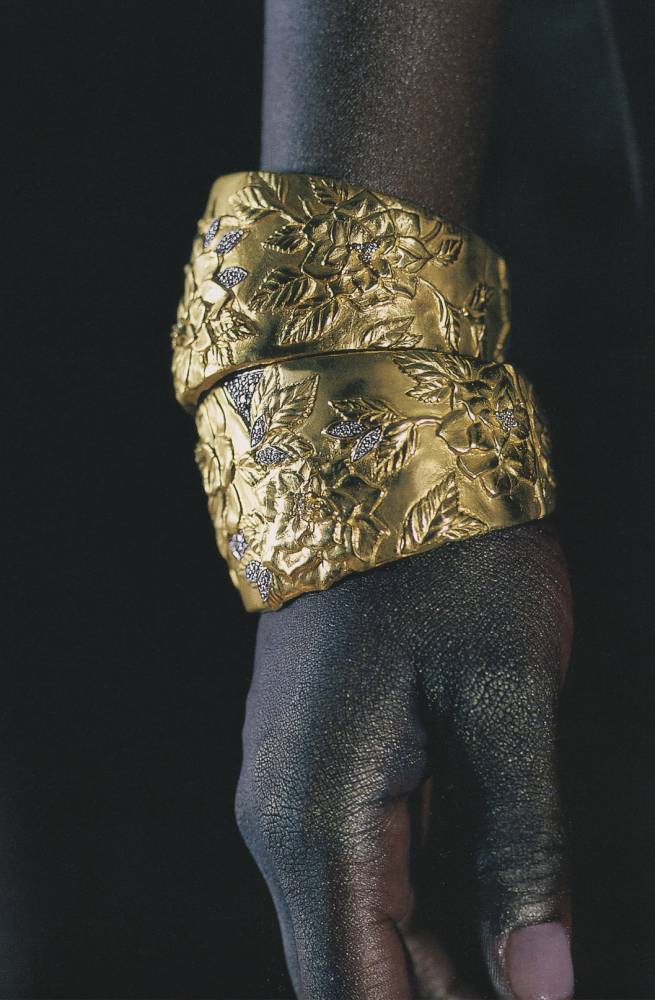 Could you tell us about some of your other collaborations?
I have been collaborating with brands and individuals since forever. Early on, I did jewellery tie-ins for fragrances like Louis Feraud, Giorgio of Beverly Hills and Catherine Deneuve to name a few. It got me to lose myself in someone else's brand.
I collaborated with Kenneth Jay Lane for decades, from working with him doing costume in my early years to collaborating with him on his fine jewellery launch many years later. I worked closely with Elizabeth Taylor for several years to launch her costume jewellery collection for Avon. It was a fun and richly rewarding collaboration.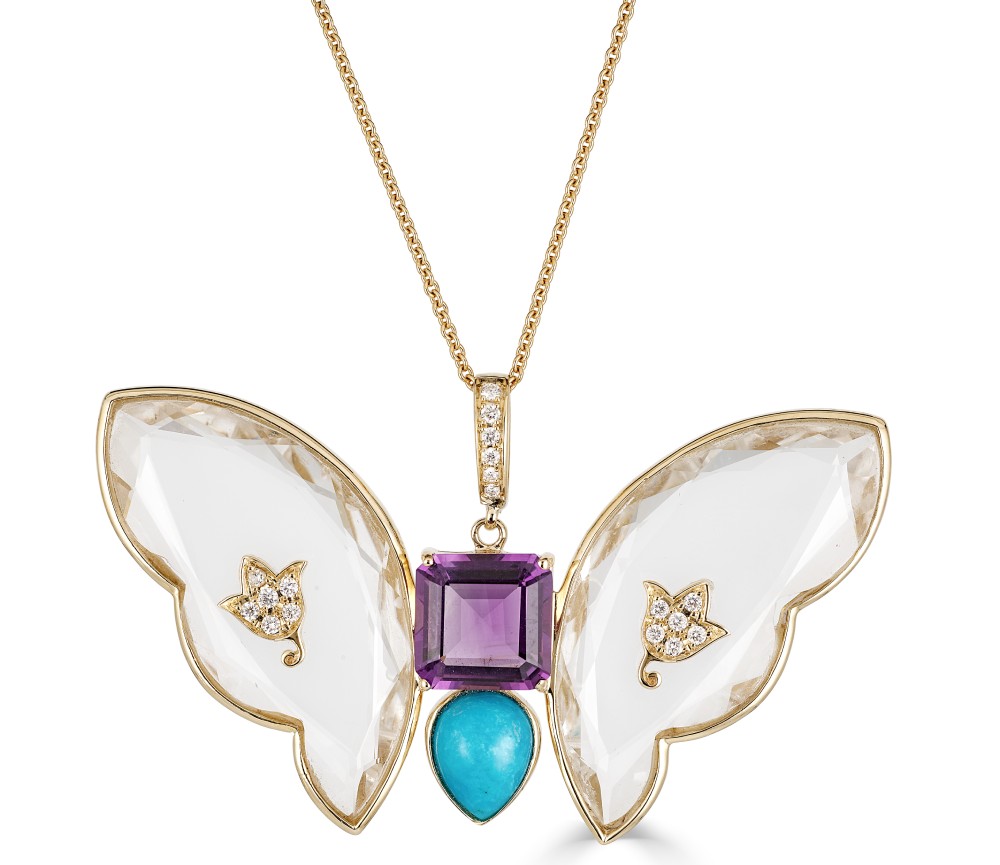 Also, in my earlier years, I had the privilege of collaborating with several fashion designers, like Oleg Cassini and Bill Blass for jewellery. Outside of a couple of pieces for the SaffronArt auctions, I've never really worked or collaborated in India… perhaps it isn't too late yet?
If you were not a jewellery designer, what would you be?
I think a photographer or an artist. But my journey is not over yet, I still have time to explore both, and I intend to!