At the LOVE Ring Showcase at the Tomfoolery gallery, London, 26 independent jewellers are presenting their unconventional bridal jewellery.
Tomfoolery started as a contemporary craft gallery in the 90s started by couple Nicki and Peter Kay. Nicki originally made her own collection, doing home sales of polymer clay jewellery, which then turned into her stocking a range of other jewellers' work. Nicki opened a small store and later, opened the bigger store — where they currently are — in the early 2000s.
"My mum was passionate about modern craft, techniques, and art. My dad had a finance background and was supportive of my mum's venture," says Nicki and Peter's daughter Laura Kay, who grew up working in the boutique during her holidays and weekend.
She recalls being a "Saturday girl" for Tomfoolery since she was 13. "I've had a lot of tea in that shop. I've seen tears, proposals, so much happiness. It's been a whirlwind, but I've always tried to do the best job I could with keeping it up to date."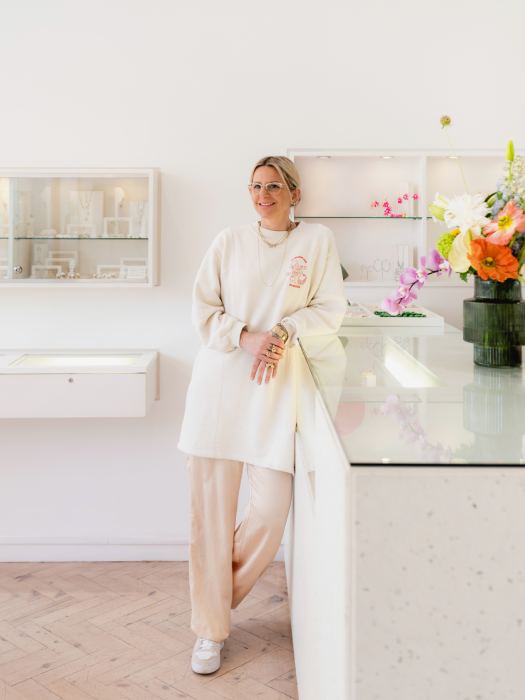 Laura also brought in a broader collection of alternative fine jewellery and launched their own brand Metier in 2015; this was aimed at filling a gap that existed in the gallery's offering. "I was fed up with gold-plated jewellery and wanted to create a long-lasting collection of affordable 9-karat gold jewellery … interchangeable and anti-throwaway, chic and effortless an everyday keepsake," says Laura, now Director of Tomfoolery.
For the LOVE Ring Showcase, Laura shines the spotlight on 26 independent designers and their unconventional bridal jewels. "Over the past nine years, the showcase has evolved and grown as well as our understanding of what love is and how we celebrate it. Our joyous expressions of love can take many forms for ourselves, our family, friends, or a partner."
The Love Ring initiative, for Laura, is the definitive destination for all people who want to "celebrate their love through individual style."
Pieces by Adel Chefridi, Alice Clarke, Alison Macleod, Ami Pepper, Artëmer, Brooke Gregson, Ciara Bowles, Claire Macfarlane, Diana Mitchell, Ella Stern, Ellis Mhairi Cameron, Emily Nixon, Franny E, Issy White, Kika Alvarenga, Margaux Clavel, Maria Manola, Marion Lebouteiller, Maya Selway, Mia Chicco, Millie Savage, Momocreatura, Ruth Tomlinson, Shimara Carlow, Susannah King and Wwake are part of the ongoing pop-up that runs till 17th June at the Toomfoolery store in Muswell Hill, a suburb of London.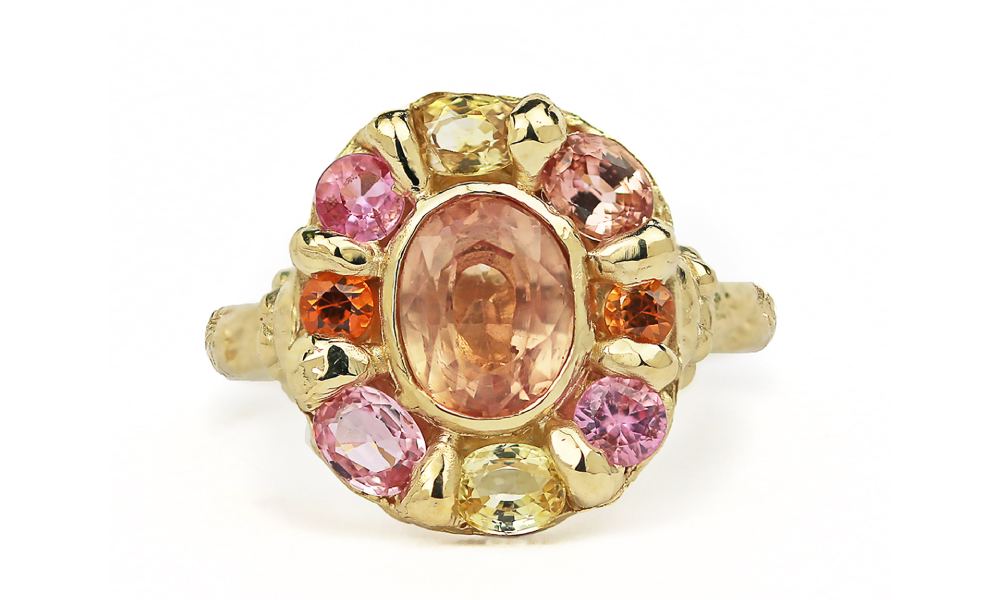 Ellis Mhari Cameron creates sculptural fine jewellery, inspired by her Scottish heritage. "Ellis's collection features an exclusive range of lab-grown diamond pieces. A mix of shields blended with Padparadscha sapphires and large oval solitaires surrounded by organic gold," says Laura. The pieces being shown is Cameron's first collection of work specifically in lab-grown diamonds. "I love the contrast of my organic textures combined with the sparkle of the lab grown stones; it's a really great balance of order and chaos." Tomfoolery and the LOVE showcase offers Cameron "such an exciting range of designers and aesthetics — it's the perfect destination for couples who are searching for unique pieces, free from traditional convention."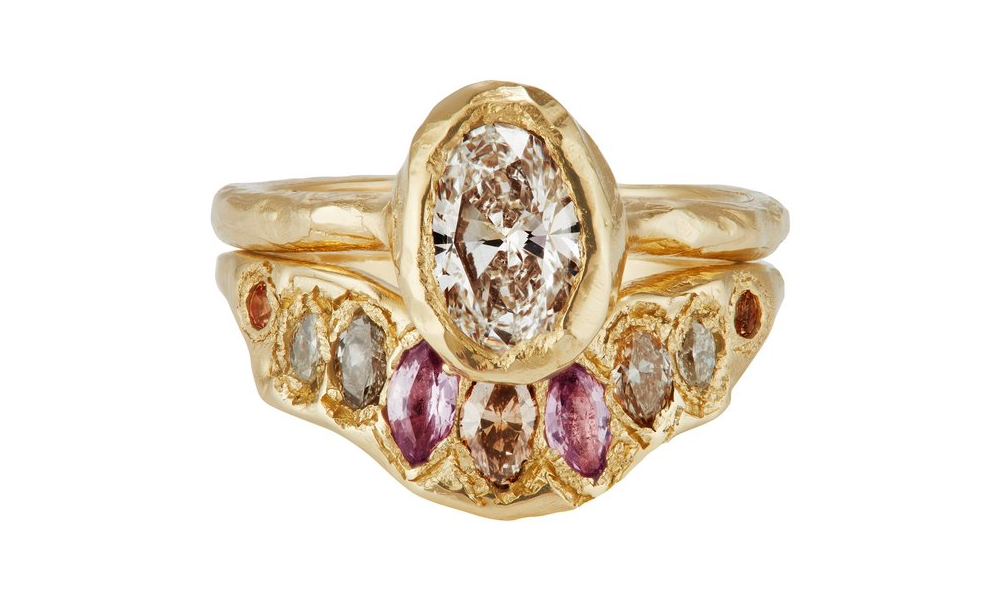 Brooke Gregson's standout ring, Ruby Heart, features a ruby centre stone outlined by gold, a line of halo diamonds with enamel adding a pop of colour. "Ruby is a stone that represents nurturing love and I wanted to accentuate its healing connotations, as well as the heart shape of the ruby itself. The work of pop artist Peter Max and his graphic lithographs, inspired an entire collection of 18-karat gold jewellery in joyous colours," explains Brooke. Her Supernova collection sees gemstones highlighted by enamel in bright and ombre colours with hand engraving radiating from heart or sun motifs. "The enamel ombre technique was perfected by an expert British enameller, who always amazes me with her attention to detail and colour," adds Brooke.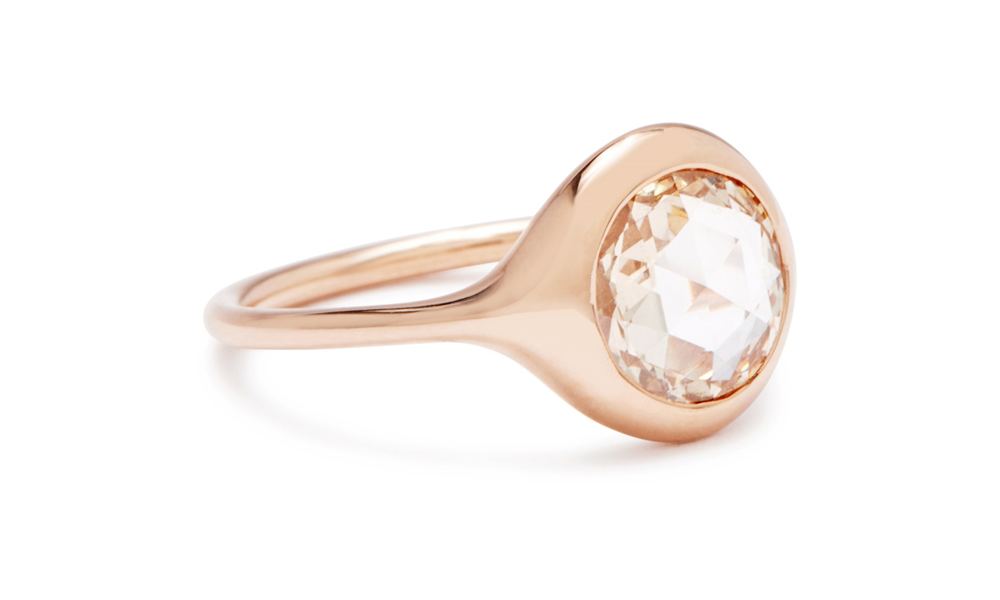 New to the gallery, Alice Clarke's works has had a huge response and prompting Laura to include the pieces as a permanent fixture at Tomfoolery. "Alice's work features a soft colour palette complemented by refined organic surrounds. The work is feminine with texture inspired by nature," observes Laura. Wwake's Wing Yau believes that jewellery is a connection to the earth, and every hand in between. Laura has always had a high respect for how Wing approaches each process within her creative methods, the carefully thought-out sourcing. "Wing's designs are minimalist but magical," observes Laura.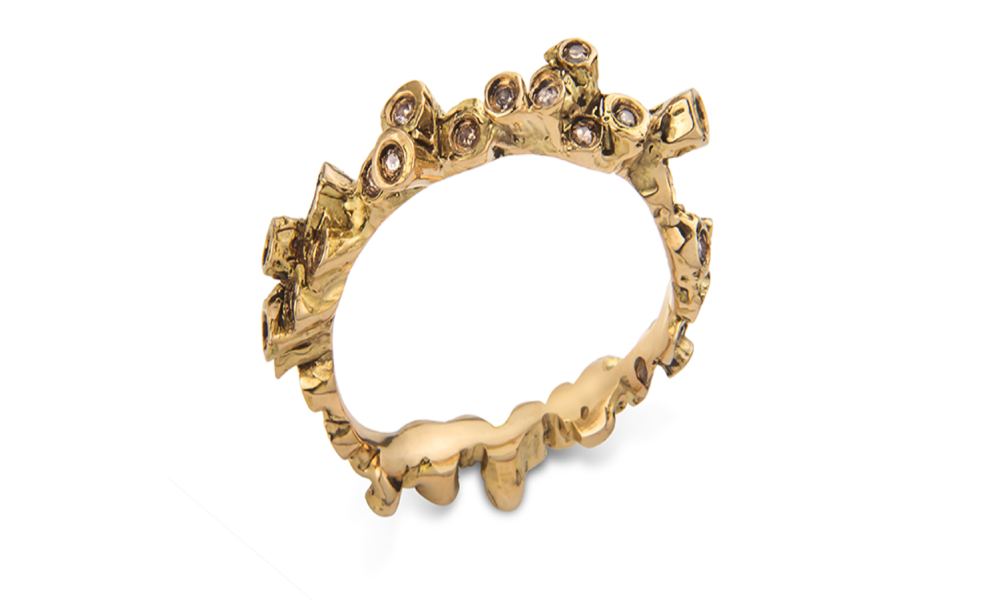 For her Lover Ring, independent designer Issy White uses a variety of diamonds, sapphires, and tourmalines. "I've chosen gemstones that have an organic quality — hues of blues and greens. The diamonds I've used are predominantly champagne diamonds, which have a wonderfully subtle, earthy tone," adds Issy. The emerging jeweller is excited at being able to be show her works alongside established designers from all over the world. "I also value the fact they cater for a range of budgets — after all, Love is for everyone."
Inspired by the "ever changing magical tideline" of the Pembrokeshire coast, Ami Pepper's creations for Love are cast with dreamy opalescent sapphires and antique diamonds. She has cast it directly into gold so that they cling and nestle too rings, pendants, and earrings.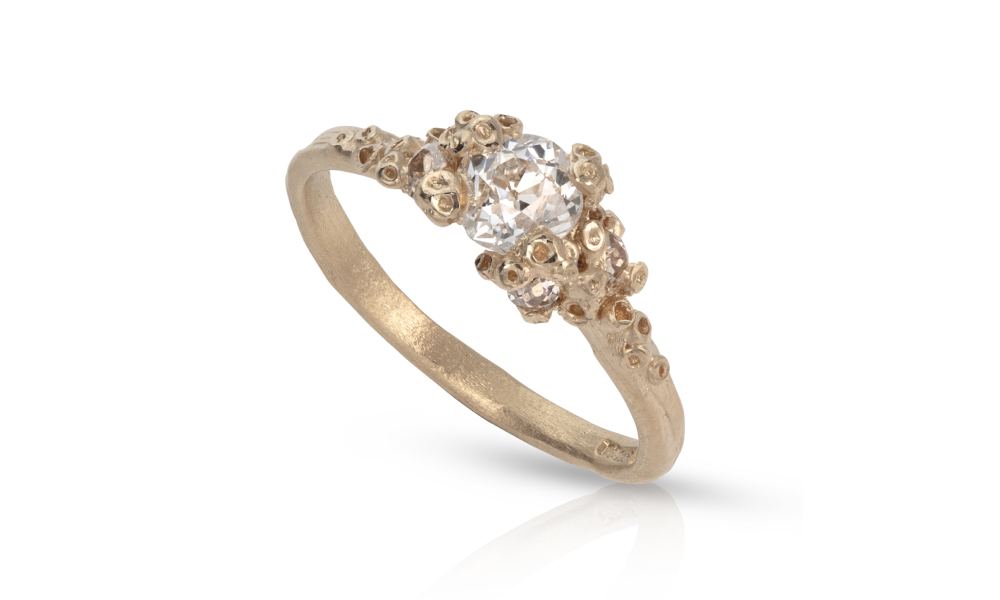 Meanwhile, designer Kika Alvarenga relies on glowing and matte finishes for her pieces set with tourmalines, aquamarine and quartz. "These gemstones are easy for me to source, as there are mines close to me. They make sense to be used in my collections. Some diamonds were chosen as they are globally the icon for Love," says Kika.