We at Shree Mahaveer Pran Seva Sansthan Trust aim to provide free health treatment to all and make everyone aware of their health.

Mr Vinod Jain
Established in 2000, Vinod Impex is a prominent firm engaged in manufacturing a wide range of gemstone beads, opal stones, lazuli gemstone, sapphire gemstone, ruby gemstone, etc. Located in Jaipur, Rajasthan, they are a sole proprietorship firm and provide gemstones in various specifications. Under the leadership of Mr Vinod Jain, they have gained a remarkable and strong position in the market.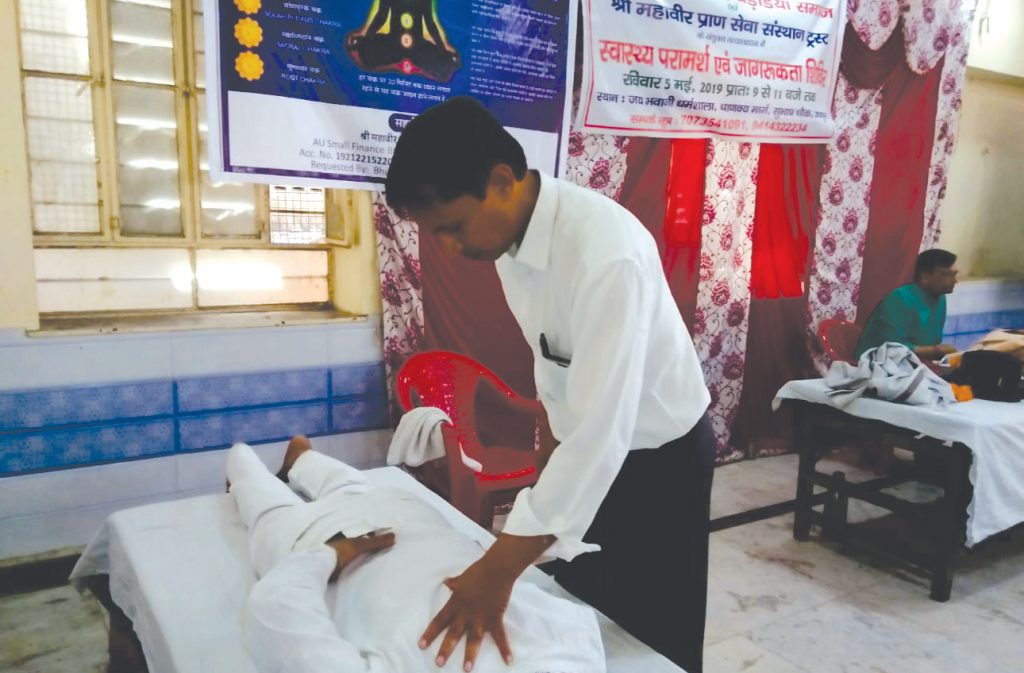 CSR Initiatives
Vinod Impex's charitable activities are done though Shree Mahaveer Pran Seva Sansthan Trust. Since 2004, the Trust has been providing free medical treatment to people of all ages without the use of medicine through acupressure, naturopathy and Ayurveda. The main objective of this activity is to make people aware of their health and to provide them better treatment free of cost.
Their motto is Nar Seva Narayan Seva. The Trust aims to make people aware that the cure to every disease lies in their kitchen and there is no need of any kind of medication but only a change in lifestyle. They organize at least two camps every month in different areas to cure people. Till date, the Trust has treated around 10,000 people, which include kids, youth and the old. They have organized camps in schools, police camps, NGOs, temples and many other areas.
Providing health and medical seva: Shree Mahaveer Pran Seva Sansthan aims at providing better health and medical treatment to all free of cost. The treatment is done without any use of medicines and through naturopathy, Ayurveda and acupressure. Various camps at different places have been organized by the Trust where they tried to make people aware of health issues and its treatment through Ayurveda and naturopathy.
The impact of their treatment has brought about an immense change in the society. People have now begun to trust Ayurveda and believe that every disease has some cure and that can be treated without the use of medicines by practising a disciplined lifestyle and through exercises.
Testimonials of Beneficiaries
Bhumika Agrawal
I was suffering from back pain and spine problem from many years. I got myself treated at different places but the problem still persisted. I wasn't even able to stand for 30 seconds. The medical condition was also affecting my job and daily life. The doctors advised me three to four months of bed rest, but being a dance teacher, it was not possible for me. So, someone recommended me to visit Vinod Jain Sir for treatment. He treated my back pain in just a week and now I can easily stand. Thanks to him.
Rajendra Poonia
My son was suffering from GBS syndrome since one year, which was affecting his studies and he was on bed rest. He couldn't even move his hand or balance his body on his own. We visited a lot of doctors and got him admitted to Fortis; but all in vain. One of my friends gave me the reference of Vinod Jain ji and I took my son to him for treatment. He cured his disease in just one month giving him his childhood and happiness back. I am very thankful to him and glad to meet such a person who treats patients free of cost and provides an effective treatment without the use of any medicines.