Abhishek Ghatiwala, CEO and Creative Director, tells us about the reasons for re-branding and opening a designer office-cum-atelier of Ghatiwala Jewellers, Jaipur.
Ghatiwala Jewellers, the 70-year-old brand renowned for its grand jadau jewellery, recently opened a new atelier to offer a different, one-of-a-kind experience for its clients in Jaipur. The atelier is designed in a manner that it recreates the glory and splendour of the brand that narrates the story of its deep-rooted Indian traditions infused with contemporary aesthetics. Along with some of the finest jadau jewellery pieces on display, the atelier's walls are adorned with mix-media art installations and tables showcasing antique artefacts. Abhishek Ghatiwala, CEO and creative Director, Ghatiwala Jewellers elaborates on what impelled them to go for a major makeover.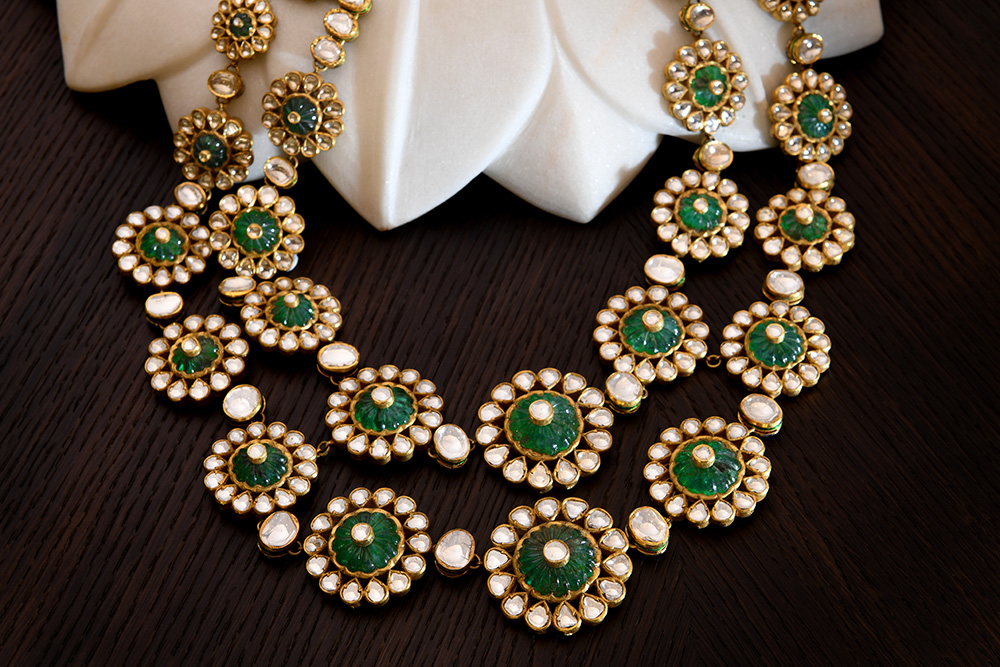 Tell us more about the need to change the logo for an established brand such as yours?
The new Ghatiwala Atelier is a stepping-stone for the brand. When we placed our old logo next to this dream office, the image did not do justice. So, we went in for complete brand revamp, but stayed close to our original market positioning. For the last 20 years, our previous logo has served its purpose well, but with changing times, the brand also needed to evolve and adapt.
Ghatiwala is a luxury brand in the space of jadau jewellery. Our jewellery has always been appreciated for the finest craftsmanship and best quality precious materials that we use, but I always missed a great ambience to display my craft. So, we created a one-of-a-kind jewellery atelier in India as this is where I believe my jewellery deserves to be showcased.
The new identity also reflects modernism (like the crisp fonts and colours), while the six elements that comprise the G monogram reflect the traditional elements that have always been part of our jewellery. So, it's a perfect blend of modern and traditional aesthetics.
My family surname is the also the name of the brand. The legacy left behind by my grandfather and father is huge and being the third generation in the business, I wanted to continue that legacy but with a modern flair.
We would like to know more about your recent collections.
We create both prét and bridal lines in the jadau jewellery segment and both have a unique blend of coloured gemstones and polkis. Our aim is to always create signature pieces that can't be easily replicated. Apart from this we are working on a few interesting pieces that will be released closer to the wedding season, so we are keeping them under the wraps for now.
Any gemstones that are being favoured by you?
I am personally in awe of green coloured gemstones, with emeralds being my favourite.  Thus, most of my jewellery focuses on emeralds. Even our brand colours, previous and now, both are from the family of the green palette. However, we even use rubies and sapphires to accent our jewellery with different colours.
How did the pandemic impact your business?
The pandemic has impacted our business a lot. Sales did go down tremendously but at the same time even our overheads reduced drastically. That helped us sustain the pandemic.
One positive aspect was that we were able to devote a lot of time to building the new atelier. We had ample time to devote to minutest of details, make proper use of space, commission bespoke art installations (rather than picking up existing ones) and incorporate our new brand identity with care and finesse.
Have sales picked up this year? If yes, which categories of jewellery are moving well?
Sales have started picking up a bit but it's mostly in the bridal category. Due to the Covid waves, demand has been erratic. If the Almighty is kind, the remaining months of this year should be good.
Have you moved online during the pandemic?
We haven't moved online. In our jewellery category, the feel of the product is of prime importance in making the buying decision.
Do you also cater to global markets? If yes, which are your predominant regions? What do customers there prefer these days?
We do cater to the Middle East market but that's a very small percentage of our business. Our retail partners cater to the Middle East a lot. So indirectly, our jewellery has a big presence there.
The pandemic has forced customers to spend judiciously. Jewellery sales for us have been mostly driven by weddings. Bridal jewellery has been in good demand across various price categories.
Your forecast for the rest of the year?
If the third wave is not as deadly as the second one, then the industry for sure witness an all-time record growth in a matter of two or three years.