As the diamond industry faces a range of challenges, lab-grown diamonds have emerged as a promising alternative to traditional mined diamonds. With rising gold prices, the US ramping up sanctions against Russian diamonds, and the opening of the Chinese market, lab-grown diamonds are poised to take the market by storm. In conversation with exhibitors at the first-ever Lab-grown Diamond Buyer Seller Meet (BSM) organised in Surat by GJEPC from 5th to 7th April, Solitaire explores why lab-grown diamonds are thriving in today's volatile market.
Lab-grown diamonds have been gaining popularity in recent years as an alternative to mined diamonds. With the current economic climate including the banking crisis in the USA, rumours of the US Govt. clamping down on Russian diamond imports, and the opening up of the Chinese market, many are wondering how the lab-grown diamond market will be impacted. According to the industry experts, there are a few key factors to consider.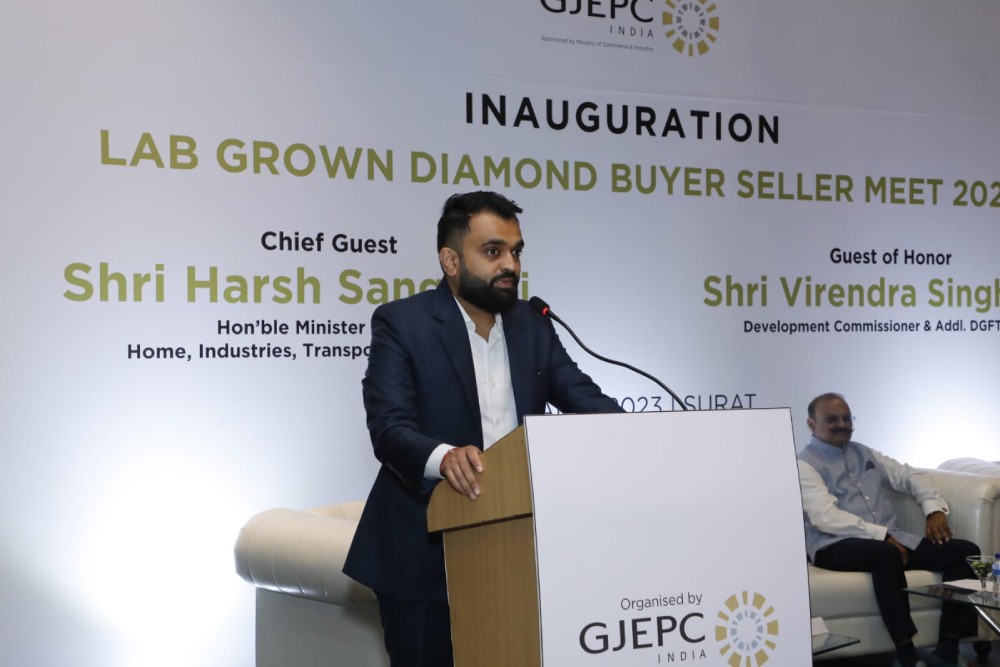 Smit Patel, Director at Greenlab Diamonds and Convener of the LGD Panel, GJEPC, agrees that the current economic climate may make people more price-sensitive and conscious buyers. He believes that lab-grown diamonds have even better growth potential during this time. Patel notes that the acceptance of lab-grown diamonds from jewellers has gone from 30% in 2020 to 77% in 2022, and it will only be higher in the coming years. This is good news for the lab-grown diamond market, as more acceptance from jewellers means more demand from consumers.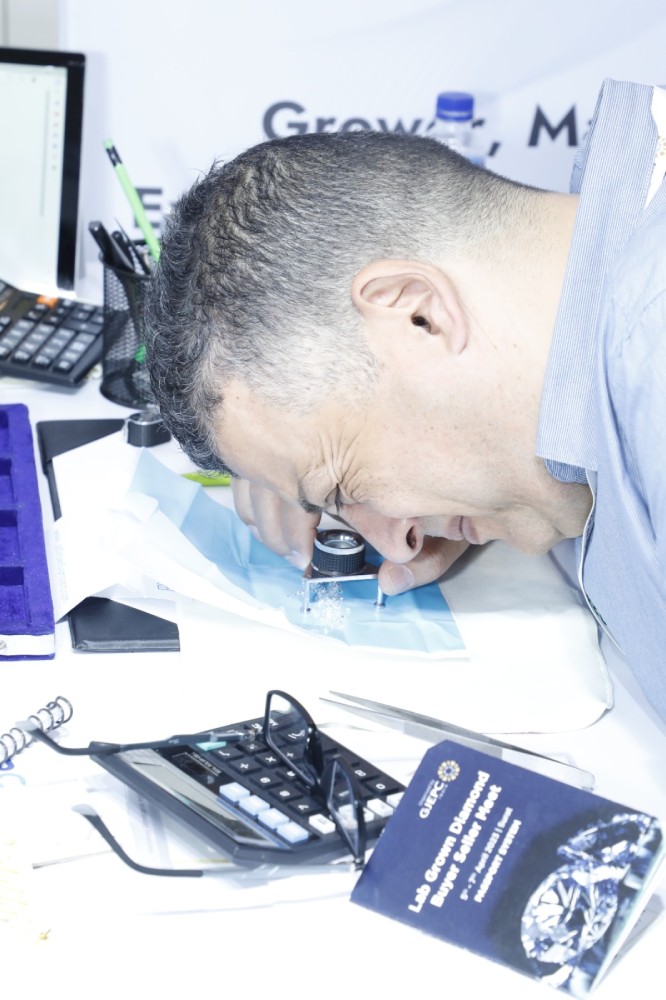 Another factor to consider is the anticipated ramping up of sanctions against Russian diamonds by the US. By May 2023, US lawmakers are expected to close the "substantial conversion" loophole that allowed Russian diamonds processed in a third country, like India, and then be exported to the US. This lacuna of Russian diamonds could lead to a gap in the diamond market that lab-grown diamonds may be able to fill, but it will ultimately depend on availability and demand, Patel said.
The recent opening of the China market is also expected to have a positive impact on lab-grown diamond demand. Patel notes, "The Hong Kong show was eye-opening. The extent of acceptance from Chinese buyers has been crazy. We have got so much demand that was unexpected. We thought that it would be like India, a slow and steady process, but I think it's going to be even a faster growth going forward."
Pareesh Mehta, Partner at QG India Lab Grown LLP, believes that the current scenario is favourable for lab-grown diamonds. He notes that while there may be some ups and downs for mined diamonds, lab-grown diamonds will continue to be a good investment. Mehta explains that lab-grown diamonds can achieve good price points even with the recent rise in gold prices.
However, the US economy is a big challenge and may face a small recession, which could lead to a flat market or some correction, Mehta warns. Despite this, he sees a good potential for lab-grown diamonds in the short, medium, and long term. He believes that the opening of the China market is a good proposition for lab-grown diamonds, and India has become a hub for cutting low-cost diamonds. "China's opening will be favourable for lab-grown diamond sales, and India will have another resource for selling them," he believes.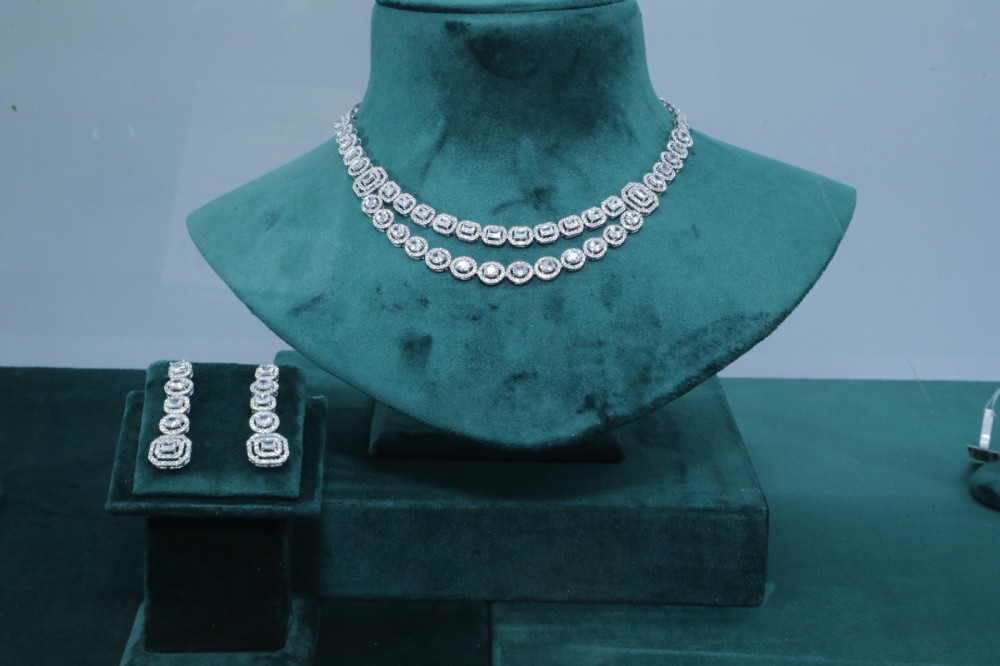 Mahesh Tadha of Diyamimpex said that the LGD buyer-seller show initiated by GJEPC is a timely initiative for fostering positive growth in the business. However, he says that price instability persists, which can be attributed to the emergence of several new businesses in this sector. To address this concern, Tadha advises following the Rap price list for LGDs. He thinks that introducing a separate price list may lead to confusion among consumers and should be avoided for now.
Paresh Maniya of Celavo Jewels believes that the soaring price of gold and price fluctuations in the natural diamond segment will drive consumers towards LGD jewellery. Maniya thinks that LGDs are 70% cheaper than their natural counterparts and are likely to receive the impetus required to expand their market share. With restrictions on Alrosa rough diamond imports, LGDs are likely to grow in popularity. Maniya notes that China is a major market for jewellery consumption and represents a new avenue for LGD manufacturers to explore.
Babubhai Vaghani, President of the Surat Lab Grown Diamonds Association, confirms that China, previously a major LGD rough exporter, has started importing polished lab-grown diamonds from India in large quantities due to high domestic demand.
The American market is currently experiencing a slowdown. However, the opening up of the Chinese market has contributed significantly to sales growth. The current economic climate and changes in the diamond market may have some impact on the lab-grown diamond market. However, industry experts remain optimistic about the future of lab-grown diamonds and see potential for growth in both the short and long term.
It is clear that lab-grown diamonds are set to grow in popularity in the coming years, driven by various factors such as increasing acceptance from jewellers, a rise in demand from China, and the high price of gold and fluctuations in the natural diamond segment. The LGD market has great potential, and with the opening up of new avenues such as the Chinese market, it is an exciting time for the industry.