The second edition of the International Gem & Jewellery Show (IGJS) held in Jaipur proved to be a resounding success, with exhibitors and buyers hailing the event as a great opportunity to showcase and discover exceptional jewellery, and make new business connections. The event welcomed visitors from around the world, who had the chance to view the latest trends, products and connect with manufacturers and suppliers. Let's take a closer look at the highlights of IGJS Jaipur 2023.
The recently concluded International Gem & Jewellery Show (IGJS) in Jaipur drew buyers from around the world who were looking for high-quality jewellery and gemstones from India. This year's event, the second edition, was better than ever, featuring 50 exhibitors from across India. The show offered an opportunity for manufacturers and suppliers to showcase their products and connect with buyers and retailers from all over the world.
USA-based jewellery chain store owner Camile Hannoush of 7C Michael Inc., USA, expressed his satisfaction with the show, saying that it was a great experience. "The venue has been beautiful and the service has been impeccable. We have about 60 locations in the US, so it's good to be able to deal directly and cut out the middleman, and not have to pay the extra fees. We deal with many Indian companies and I have found some great new vendors at IGJS Jaipur." He noted that the increasing price of gold could lead to a surge in demand for silver jewellery. "Lab-grown diamonds are very strong in the US, and I have multiple Indian vendors that we currently work with," he noted.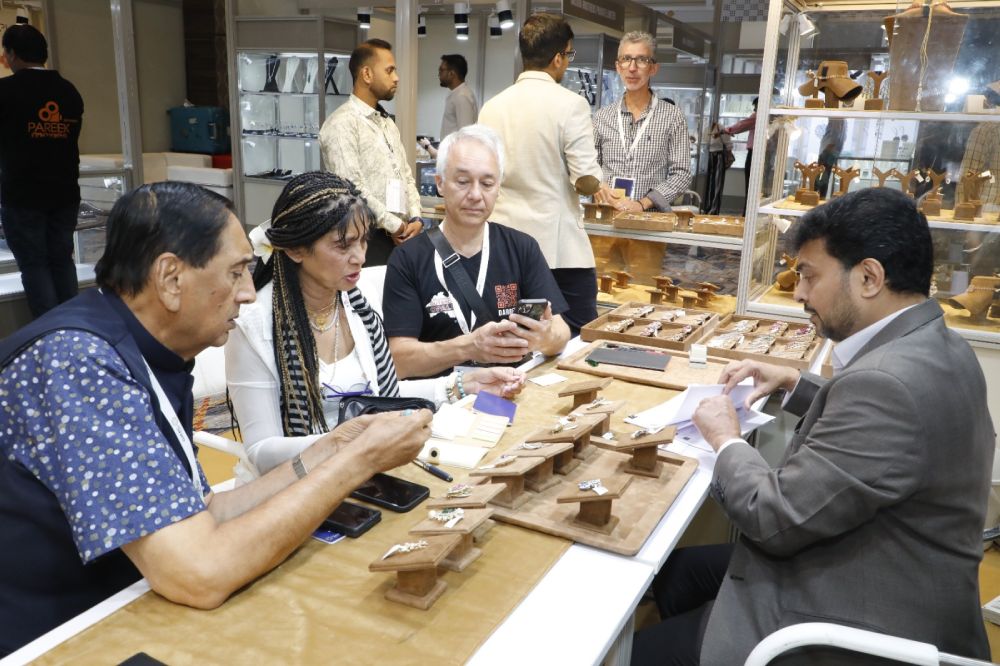 Darren Jack, owner of Australian Outback Opals, Australia, was equally impressed with the quality and range of products at IGJS Jaipur. Jack's company delivers opals worldwide and he found multiple partners at the show, making it a valuable trip for him. He also highlighted the India-Australia Economic Cooperation and Trade Agreement (ECTA), which has made it easier for him to do business with India, as an advantage.
Hossein Tohidipour, the GJEPC Coordinator in Iran, brought a large group of buyers to IGJS Jaipur and found potential among the exhibitors. He noted that the new generation in Iran prefers studded gemstone jewellery rather than gold jewellery, which is purchased as an investment. While lab-grown gemstones are not popular in Iran, Tohidipour suggested that they may become more prevalent in the future, and certification will be crucial for consumers to detect and use them correctly.
Visitor Romano Giacometti from Sunny Legend Co. Ltd., Thailand observed a trend towards large centre stones, depending on the market. He also noted that lab-grown diamonds are growing in popularity due to the high price of diamonds, and he predicts that the price of lab-grown diamonds will drop in the future.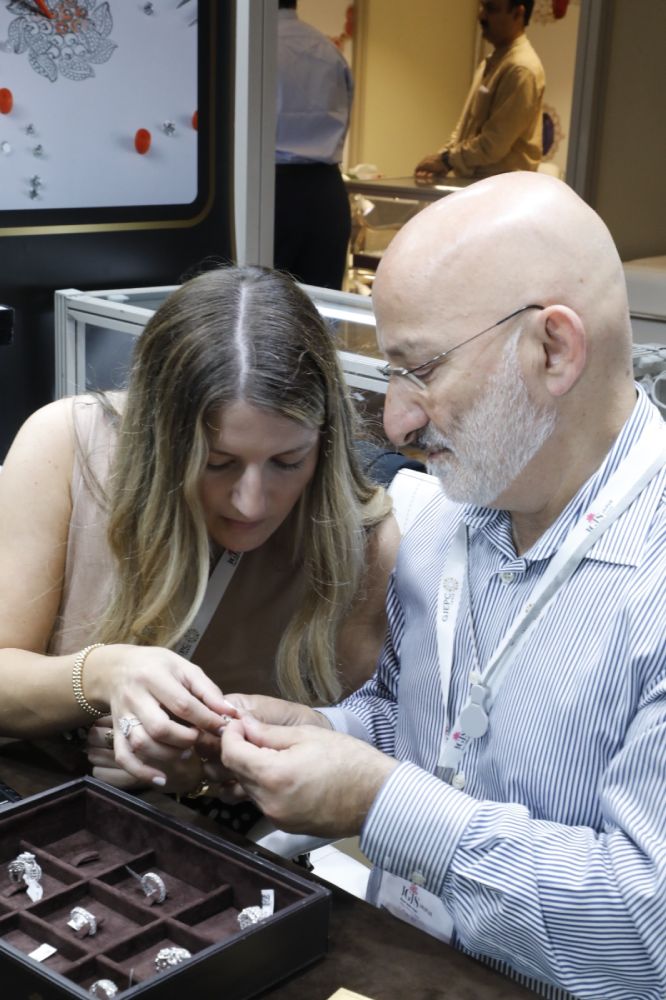 Exhibitors were equally impressed with the show, with Smriti Bohra, Creative Director of Jewels Emporium, Jaipur, happy about connecting with serious, sincere buyers who appreciated quality jewellery. She met buyers from Greece, Spain, Iran, Tajikistan, Uzbekistan, and the US. Jignesh Mehta of Kaamya Jewels, Mumbai, noted that the show was well-managed, and they would continue to participate in the future. Abhishek Sand of Savio Jewellery, Jaipur, said the show was fantastic, and his company saw a lot of interest from American and European customers. Sand was looking forward to doing good business with the high number of Australian buyers at the show, which he attributed to the ECTA trade agreement.
Overall, IGJS Jaipur 2023 was a successful event that offered an excellent opportunity for exhibitors and buyers to connect, exchange ideas, and learn about new trends in the industry.
The show's curated exhibitors and focused buyers were a hit, and the organisers are heading in the right direction with the right quality filtered buyers and exhibitors. Exhibitors launched new collections, buyers discovered new products, and the show succeeded in bringing the global jewellery community together.