Meet the go-getter women who have ventured into the field of jewellery designing! Check their creations at the specially designated space for Women Entrepreneurs at IIJS Signature.
PRIYA MAHESHWARI, Empriyal, Jaipur
I founded Empriyal in 2019 to offer quality, natural gemstone jewellery to consumers.
Being a working woman and a mother myself, I understand the needs of a modern Indian woman. I design jewellery for the new generation who do not want their jewellery to remain in the lockers. My pieces are versatile and apt for all sorts of social events and occasions and can be celebrated every day.
Empriyal's roots go back more than five decades. We have been pioneers in cutting and polishing natural emeralds sourced directly from the mines. We ventured into making handcrafted jewels with natural emeralds and other gemstones, thus bridging the journey of gemstones directly from the mines to the wearer.
We have a wide range of natural coloured gemstone jewellery which is fun, contemporary, functional and light weight, perfect for adding sparkle and colour to one's life.
RAKHI SONI, Fine Finery Store, Mumbai
I am the third generation of my family who is intrinsically linked with the art of gold craftsmanship. I have been fascinated by jewellery since I was a child. My father has been in the jewellery business for ages and I have grown up watching him work with some of the most intricate jewellery pieces. He always motivates me to create something new and also helps me focus on quality designs.
I founded Fine Finery Store in July 2017. I wish to sail the ocean with the patronage of all those who believe in jewellery as an investment combined with fashion, elegance and style.
All my pieces are conceptual and are handcrafted in gold. I use antique and vintage elements in my jewellery, as well as a variety of coloured gemstones to create statement pieces of art. I primarily create kundan and meenakari jewellery with gems.
We also make designs and customisations as per your client's request. Our products come with lifelong warranty and return policies unless mentioned otherwise.
POOJA VASWANI, Pratharv Jewelz Pvt. Ltd, New Delhi
Pratharv Jewelz was started with an endeavour to showcase our vision of interpreting traditional designs in contemporary relevant manifestations and creating one-of-a-kind bespoke jewellery. Since its inception, Pratharv Jewelz has been synonymous with inspirational jewellery by virtue of its unique designs, meticulous detailing, immaculate craftsmanship and finishing.
Our collections are inspired by different forms of nature, spirituality and various aspects of life. We also aim to revive the dying art form of gulabi meenakari and are working towards promoting it.
We are looking forward to great response to our collection at IIJS Signature just like the previous years. IIJS is the perfect platform to interact with industry stalwarts and get their feedback on our work. It also gives us a great insight into what the other companies and individuals are foraying into, helping us keep abreast of the latest happenings in the industry.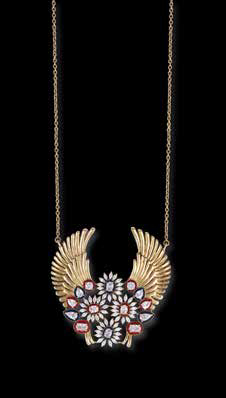 AKSHITA SETHIA, Niaksh Jewels LLP, Rajasthan
My sister Nitisha and I founded Niaksh Jewels in 2017. What began as a keen interest in jewellery making and adoration for precious gemstones soon transformed into a full-fledged venture to craft creative, timeless and intuitive jadau jewellery in Bikaner, our hometown.
Our designs are inspired by the royal heritage and regal grandeur of Rajasthan. They are carefully handcrafted by expert craftsmen laced with years of generational experience. We infuse culture, history and a touch of modern finesse to our masterpieces. We inaugurated the first Niaksh outlet at Ahmedabad in 2021, and cater to clients pan India.
We have varied collections that range from ones that can be worn daily to heavier sets for weddings. We also offer the option of revamping old jewellery into more wearable pieces. Come have a look at our collections like Aadhya and Tatva.
All our pieces are hallmarked and a detailed bifurcation is provided. A thorough check is conducted to maintain the product quality and finishing at every stage.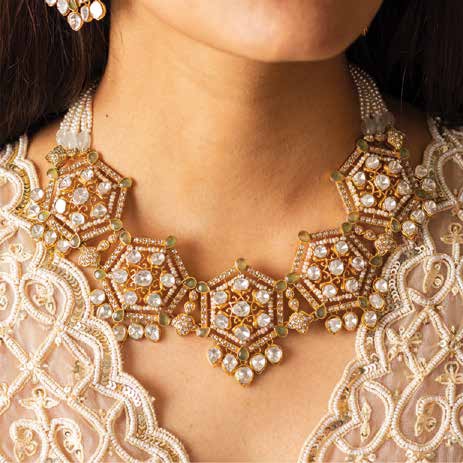 SHRUTI JAIN, Nish Jewels, Mumbai
The queen, the princess and the Nish Jewels Empire. Nish Jewels is one such story of a mother-daughter duo, an inspiring combination, and symbols of power.
The brand is the creative manifestation of my mother Deepa Jain. She founded it 18 years ago. I grew up around her designs, surrounded by diamonds. I organically inherited my mother's dream. I have taken it to the next level and have many plans to grow and expand our brand. Trendy heirlooms and fusion statement jewellery are our USP. Using rare gemstones and creative materials with gold is a big part of our designs.
Nish Jewels is a blend of my mother's nearly two-decade experience and my avant-garde vision.