Austy Lee's creations are underlined by a complex dance of colours. His mesmerising creations have an other-dimensional allure that bring to mind luminous and colourful nebulae or structured patterns awash with bright, pop colours. Each of his creations is a tour de force of intricate patterns that hold your attention. The prolific Hong Kong-based artist is a polymath. A graphic designer with a background in Product Designing, Austy Lee also won an award for designing a gaming product.
A voracious reader, his favourite subjects are culture, religion and natural creations, and two activities that replenish his creative energy are meditation and growing orchids.
After having worked with two top brands, Adler in Switzerland and Wendy Yue in Hong Kong, he established his eponymous brand in 2017 and debuted a line aptly titled 'When Jewelry is Psychedelic Art.' With a visionary eye for the future, his designs exude a new-age sensibility and radiate with vibrant energy. The mastermind artist shares his thoughts in an exclusive interview with Solitaire International.
Why did you transition into the world of jewellery designing?
I am always fascinated with gemstones and wearing jewellery and would always spend a lot of money treasure-hunting gemstones that I like.
But in the beginning, I did not want to be a jewellery designer, instead when I was in pursuit of education, I wanted to be a fashion designer. However, due to the competitiveness of Fashion Design courses, I was not able to get into one.
I ended up attending gemstone-setting courses and eventually attaining a Product Design Diploma. One of the mentors in Product Design really liked my drawing and, coincidentally, he referred me to work as an intern for jewellery design in Universal Jewellery Design Center Limited, which paved my way of becoming a jewellery designer.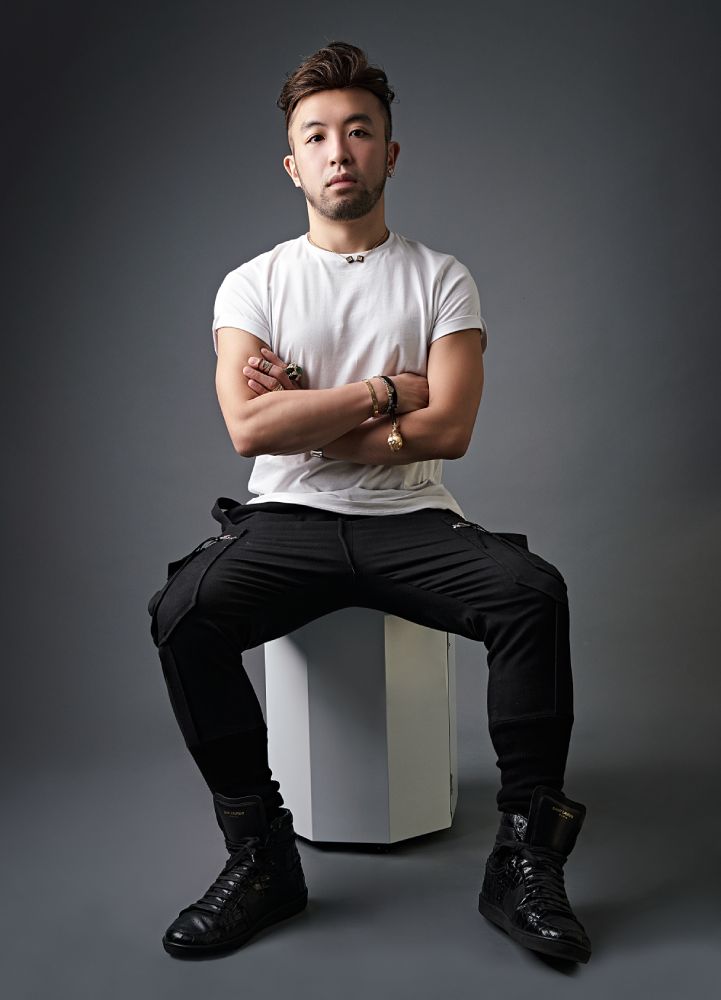 When and how was the brand Austy Lee born? And out of curiosity, why is the alphabet 'A' in your name written in small case?
I always wanted to develop my own brand. Working as a designer for others has limitations and boundaries to the designs that I wanted them to be. With my own brand, I could design whatever I imagined, and create jewellery as extraordinary as possible.
As for the alphabet 'A' in small case, it represents the Greek letter alpha "α". It also signifies that the brand has the upmost value to me and that I treasure it a lot.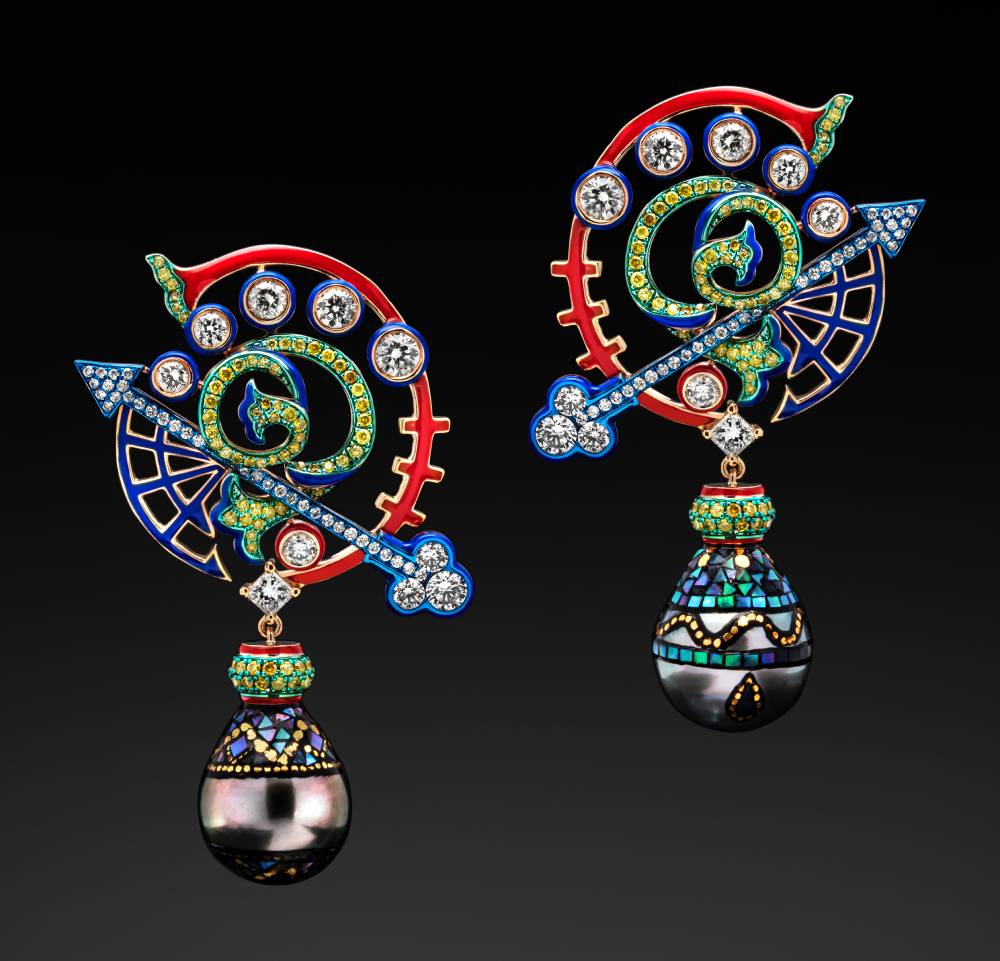 Since you are a trained product designer, do you view jewellery designing differently?
Yes. With the background of being a product designer, I do stress on the concept of the design; that I am presenting a story of a jewellery piece, not just simply assembling gemstones together.
The use of different materials and playing with forms in a jewellery piece are the mainstay of my design.
Besides using 18-karat gold, I apply a lot of different materials and inlays in a jewellery piece, such as enamel, mother-of-pearl, abalone shells, etc. I also ensure that the applications of different kinds of materials and the forms or structures of my creations are constructed naturally and are as eye-catching as possible.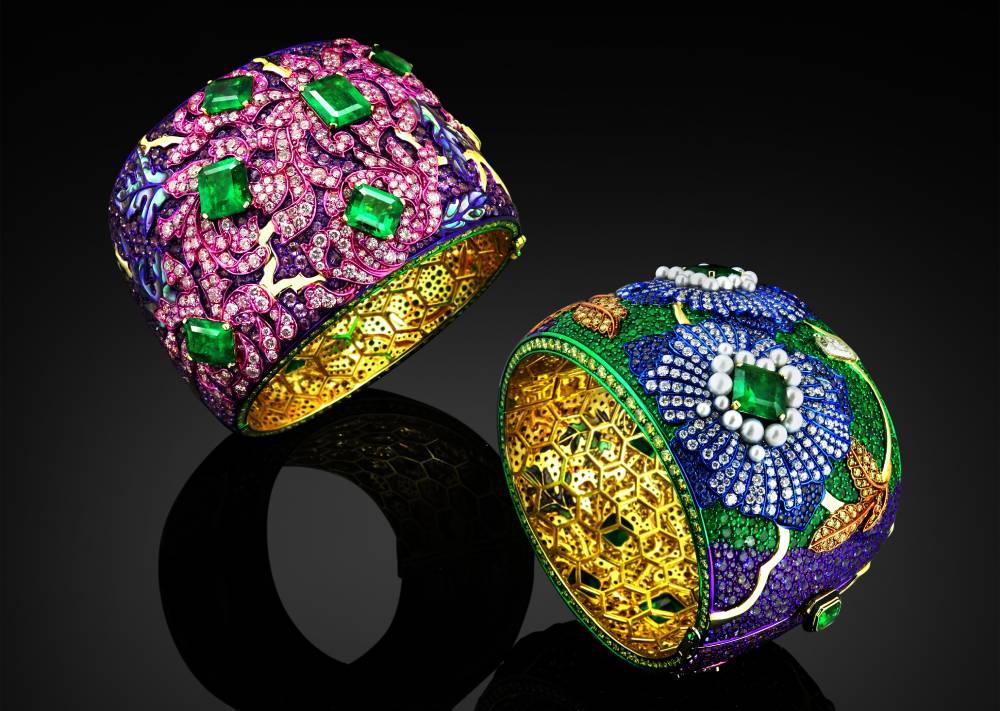 One can easily spot a creation by Austy Lee. How did you come to develop this vibrant psychedelic art?
I always want to do things that people don't usually do; create things that people don't usually see and to make a difference in the design industry.
I guess the style is innate with me. At the same time, I do read a lot of books about religions, cultures, histories etc. I also travel a lot, visiting museums and seeing different things inspires me a lot.
When I started my brand, I immediately came up with the theme "When Jewellery is Psychedelic Art", aiming to create jewellery pieces as boldly and otherworldly as possible.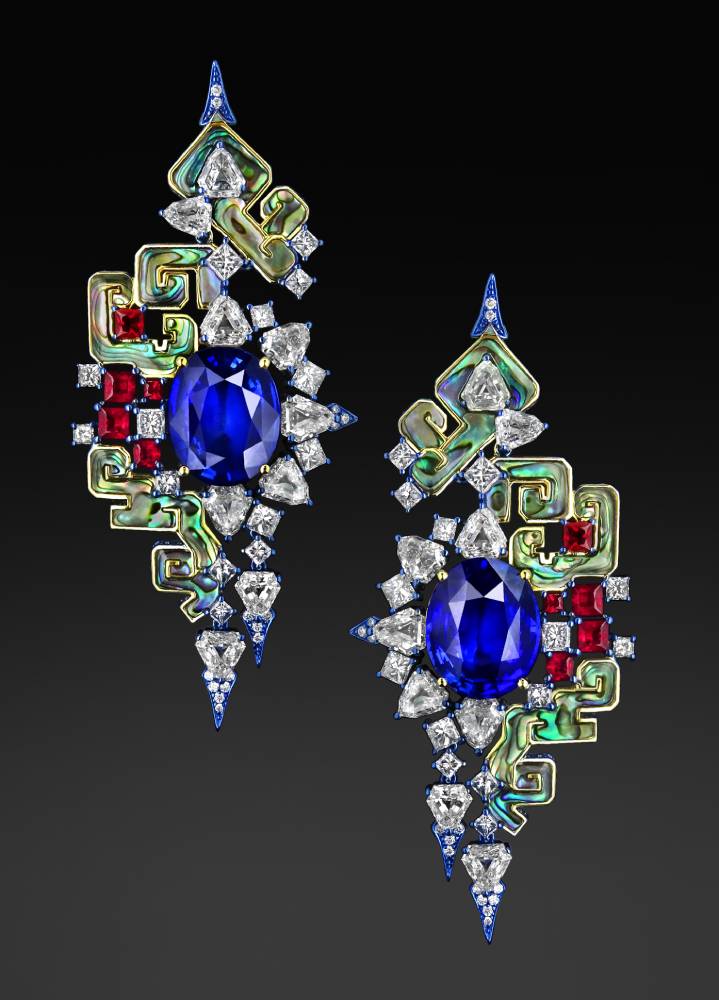 How do you manage to achieve that 3D sculptural feel?
I travel a lot to see different kinds of architecture around the world. I reference from the ancient Chinese structures to the European Gothic architecture to create unusual designs.
Meditation also helps me expand my imagination and to think out-of-the-box.
What are the three things that often recur in your themes?
Culture, Religion and Natural Creations … I love reading books related to these topics and I used to teach jewellery design and culture in an institution in Hong Kong. Incorporating the elements of culture in my design creates a storytelling for the art pieces and make the jewelleries even more special and meaningful.
I believe in Tibetan Buddhism, and the Thangkas and Mandalas (paintings or colourful patterns used for meditation or self-introspection) are the main inspirations for those psychedelic patterns. The use of different colours and patterns in my creations are similar to those seen in Thangkas and Mandalas
In my designs you may see occasionally plants and creatures like orchids, butterflies and sometimes mythical creatures. This is due to my interests towards nature and myths, especially orchids and ancient Greek mythology. I love to present their beauty in the form of jewellery, thus turning it into a timeless piece.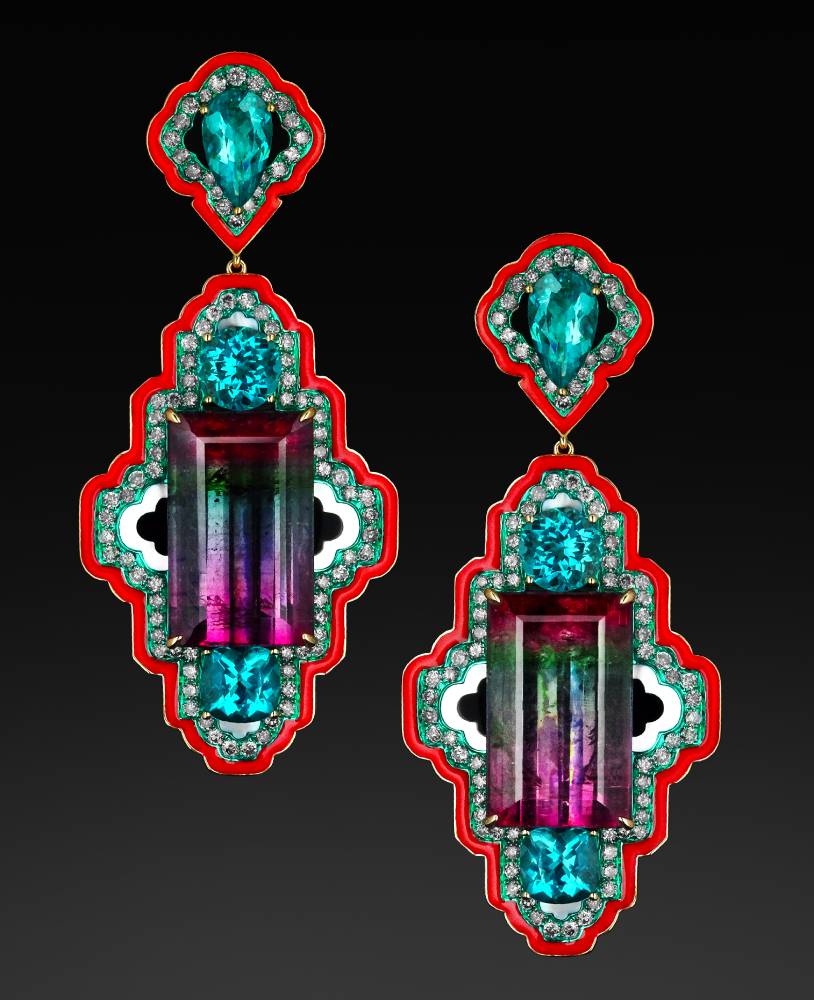 Do you have any favourite gemstones? Do you use alternative material, too, other than precious metals?
There are two – Blue Tourmaline (Indicolite) and Emerald. For me, both gemstones are very mythical. Indicolite's blue colour (Indigo colour) is meaningful in Tibetan Buddhism, and emeralds were involved in Egyptian and Jewish mythology.
Other than 18-karat gold, I like adding a lot of different elements/inlays in a jewellery piece, like ceramic, enamel, mother-of-pearl, abalone shells, etc. I also incorporate lacquerware in my design due to the impeccable beauty and meticulous workmanship of Japanese arts.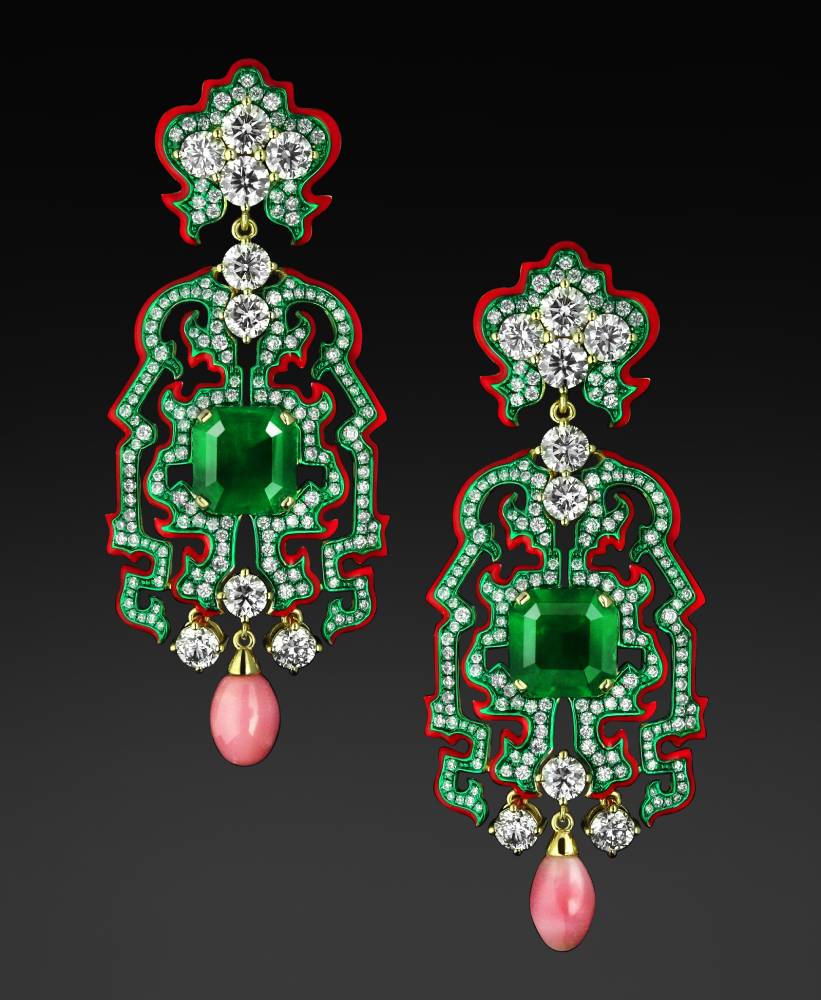 You have a predilection for jade… Do you also use it in jewellery?
Growing up infused with traditional Chinese culture, jade has been with me since young age. My mother gave me a jade peace buckle necklace for protection and blessing.
And my parents would take me to Chinese Arts & Crafts, a department store selling Fei Cui, different types of gemstones like agate, quartz, nephrite etc. My fascination towards jade and special gemstones started growing.
For the Chinese, jade is the embodiment of the Confucian virtues of courage, wisdom, modesty, justice and compassion. I am particularly into carved jades like dragon, phoenix and some jade pieces used for ritual activities, as these have different forms, pattern, meaning and complexity. And I would love to preserve these Chinese values, modifying and incorporating them into my jewellery.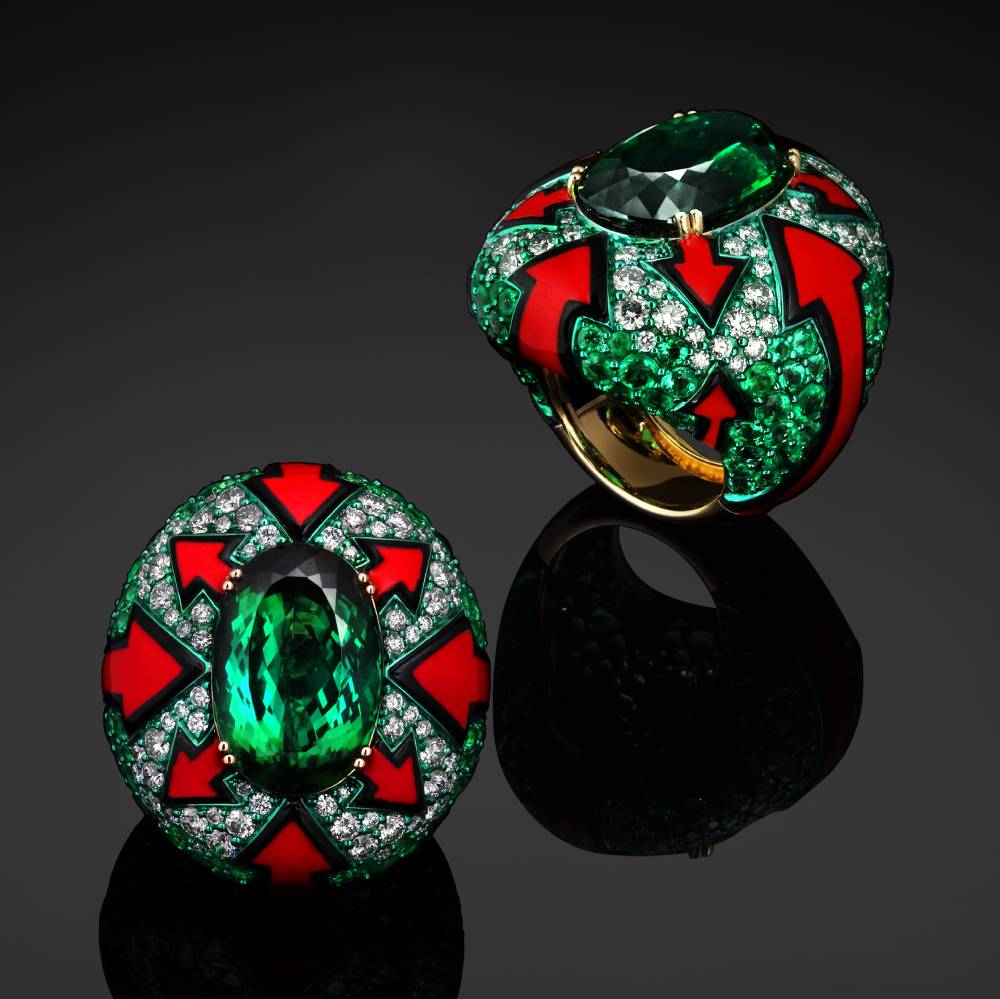 You trained with Adler and were the chief designer at Wendy Yue. What were the takeaways in terms of learning from those brands?
Both are high jewellery brands, and I am truly grateful for being a part of them throughout my jewellery designer journey. I learnt the classic and Art Deco jewellery design techniques from Adler. I got to see the most exclusive and important gemstones in the company. While at Wendy Yue, I got several opportunities to design one-of-a-kind jewellery using a lot of different gemstones. Each piece was detailed and colourful. I could practice the application of colour and the arrangement of gemstones in jewellery pieces.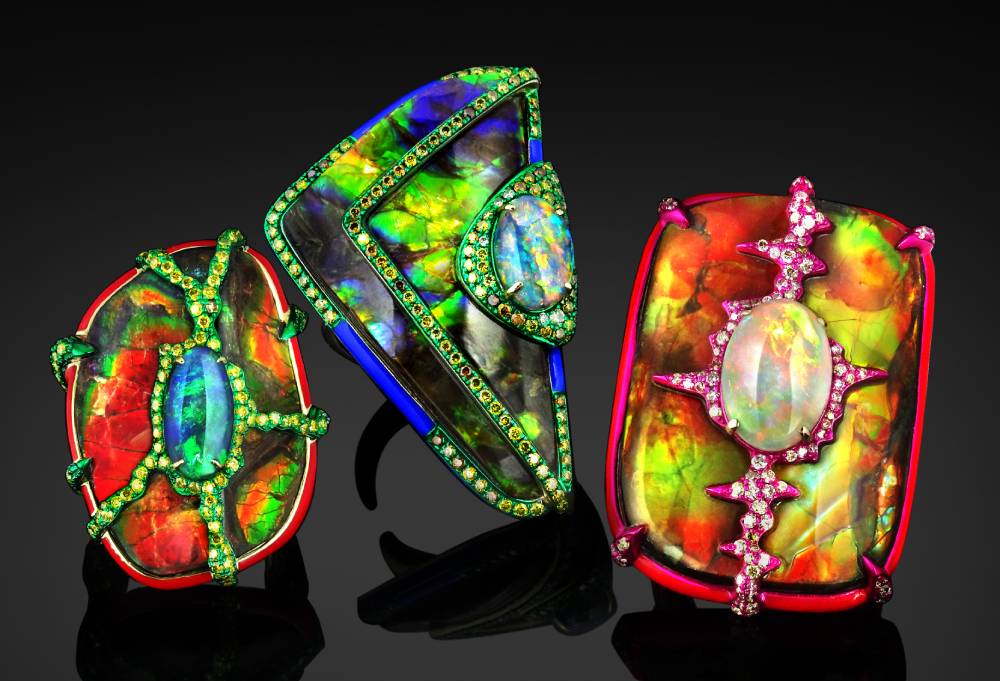 What role does fashion play in your jewellery creations?
I admire a few fashion designers – Dries Van Noten, Dolce & Gabbana, John Galliano and Jean Paul Gaultier. Each of them has given me a lot of inspiration in my jewellery designs.
For example, Dries Van Noten does influence me a lot and is my favourite designer. His style is distinguished by a profusion of colours, prints and patterns. Also, his designs are Art Deco, Bohemian, multicultural, exotic etc, which are my favourite styles.
As for Dolce & Gabbana, its Haute Couture has taught me that extravagance and exaggeration could be applied not only to clothing but also jewellery.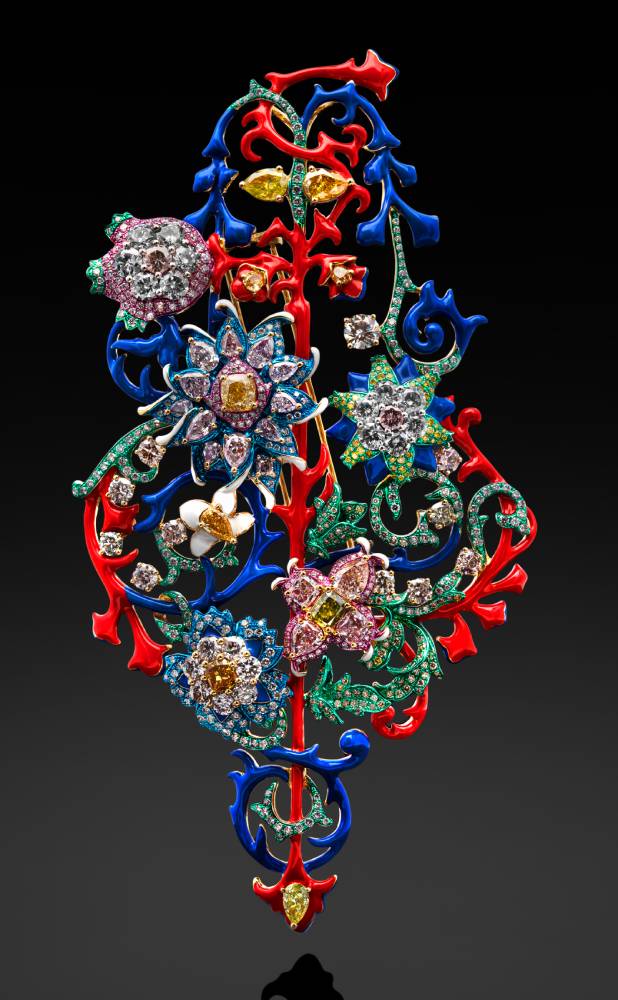 The Tree of Life is a diagram used in Kabbalah and various other mystical traditions. It usually consists of 10 or 11 nodes symbolizing different archetypes and 22 lines connecting the nodes.The nodes are often arranged into three columns to represent that they belong to a common category.
How many boutiques do you have across the globe?
Currently I have 2 boutiques in Hong Kong. My jewelleries are also selling in Harrods and Harvey Nichols in London, in collaboration with Annoushka, as well as JOYCE Store (Pacific Place) in Hong Kong. At the same time, many customers approached me on Instagram, and I can send the jewelleries overseas. The brand is expanding, and you may soon be able to see my pieces in every corner of the world.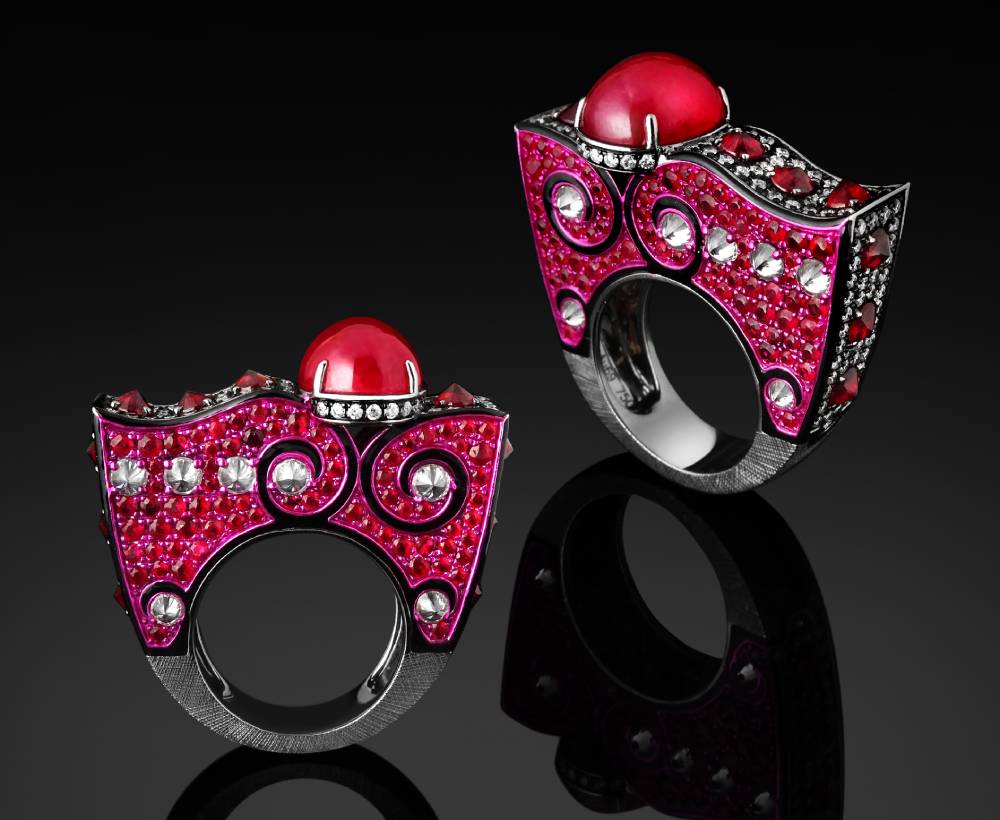 Have you ever visited India, or do you follow any Indian designer?
Not that I can think of. But I follow one Indian fashion designer, Shantanu & Nikhil, because I appreciate their clothing design and style and their uniqueness that you don't usually see anywhere else.
What is a day in the life of Austy Lee?
I work all the time. I usually wake up around 11am, and head back to one of my boutiques, follow my appointments with customers. At night, I usually sketch and come up with designs at home. Most of the time I work until 5 in the morning because I feel that midnight is the most tranquil time of the day to focus on drawing.