In 2014, the Gemological Institute of America (GIA) declared the ruby fields of Mozambique as the most important ruby discovery of this new century. Because of their recent unearthing, many consider Mozambique rubies younger than Burmese. Geologically, however, they are 500 million years old, whereas rubies from Burma were formed 15 to 25 million years ago. Our international correspondent, Richa Goyal Sikri, brings us the story of Mozambique rubies: its origins, key players, challenges, and future possibilities.
For rubies, we don't need a magic mirror to know they are the fairest in the land. Whether we peruse ancient Indian texts or rummage through the 13th-century works of Islamic scholar Ahmad al-Tifaschi, a ruby's superior value, its rare occurrence in top-quality and larger sizes, has been a common theme through the ages. Since antiquity, Burma has been the primary source for fine-quality rubies. The Japanese invasion of the country during the Second World War, however, triggered an exodus of ruby miners and merchants mainly to Thailand, and some to India. These families brought with them generations of knowledge, familial ties to those left behind, and expertise in rubies and other gemstones.
Over time, Thailand became the ruby capital with domestic ruby mining and stones from Burma, Nepal, Vietnam, and Cambodia, traded, treated, cut, and polished in Chanthaburi and Bangkok. The reduction of ruby supply from Burma coincided with the discovery of new ruby deposits in Africa (Madagascar, Kenya, Tanzania, Rwanda, and Malawi). Thai gem manufacturers developed treatments that increased supply of jewellery-worthy rubies, feeding the market's voracious appetite. But ruby supply and quality remained sporadic and inconsistent. 
The situation changed in the nineties. Coinciding with the end of the 15-year-long civil war in Mozambique, the gem community first saw rubies from this former Portuguese colony at the Tucson Gem & Mineral Show in 1991, as reported in the Gems & Gemology magazine.
Fifteen years later, the ruby mining area in north-eastern Mozambique was flooded with over 20,000 miners and merchants. Tony Brooke, Chairman, Gembridge, recalls the scene from one of his visits during the ruby rush, "I was visiting the area as a member of a Thai government delegation representing The Gem and Jewellery Traders Association of Thailand. We drove from Pemba to Montepuez to visit a small mining village that locals called 'little Chanthaburi' because of the 150 Thai who occasionally lived there. I recall taking cartons of medicines to donate to the two lone doctors who served the community. The living conditions were basic and the structures in the village rudimentary." 
Brooke took part in a discussion between Thai and Mozambique government officials on creating a trading platform to facilitate the declaration of actual export value and submission of taxes due to Mozambique. Brooke recalls international merchants were operating on tourist visas, and exported rubies were significantly undervalued.
In late 2009, after discovering rubies on their registered hunting concession, Mwiriti, a Mozambican company, applied for and was awarded a prospecting licence over the area. They partnered with a Thai entity. Two years of failed experiments and disagreements later, they parted ways, and Mwiriti joined hands with Gemfields to form the Montepuez Ruby Mine (MRM) in June 2011. Gemfields invested considerable resources (some $90 million of capital expenditure to date) in developing the deposit, resulting in a state-of-the-art ruby mining operation in Mozambique. Industry sources estimate MRM is the largest ruby mine in the world, covering 34,966 hectares, and responsible for 60% of globally mined rubies.
Since its first ruby auction in 2014, Gemfields has sold 13.6 million carats of rough rubies and generated $643 million in total revenue across 14 auctions. According to the company's financials, in the last five years, 30% of MRM's revenue has gone to the Mozambique government as mineral royalties and taxes.
Gemfields also pioneered a unique ruby grading system offering rough Mozambique rubies (via its auction platform) surgically sorted across 500+ grades as per colour, size, and clarity. The company is listed on the Johannesburg and the London Stock Exchange (AIM), and own and operate the world's largest emerald mine in Zambia.
Reflecting on the firm's journey since inception, Gemfields CEO Sean Gilbertson shares, "Our work in the last 14 years has shown that responsible mining and a transparent auction system can deliver a consistent supply of precious gems, vital to the sector's future growth. We were delighted to see, on 8th April, 2021, the results of our most recent ruby auction yielding $58.9 million, our third-highest revenue figure in the 14 auctions which MRM has held since June 2014. We were encouraged by the robust appetite from our clients and by the prices realised."
At Gemfields' recent auction in April 2021, the company sold 95% (343,952 carats) of rough ruby lots generating $58.9 million. The mine currently employs some 1,375 Mozambicans, and approximately 75 expatriates. Despite zero revenue for 15 months due to Covid, the company has made no redundancies.
Gemfields' visible success in Zambian emeralds and Mozambique rubies, and their consumer-focused marketing efforts have paved the way for others to enter the gem-mining sector. Two notable players training for the ruby games are FURA Gems and GemRock.
FURA's Journey So Far
Dubai-based FURA Gems entered the ruby arena this year with their maiden auction, which concluded on 12th September 2021. The company sold 74% of their 47 ruby lots totalling 190,000 carats, which, according to their Founder, President and CEO Dev Shetty, represented 10 months of production. Previously listed on the Toronto stock exchange, FURA is now privately held and mining across 140 square kilometres of operating licenses in Cabo Delgado, Mozambique (total land area, 682.84 sq km), with 500 employees.
Bidding at a ruby auction is not for the faint-hearted because of the high acquisition costs and superior skills required to cut and polish rubies for maximum value achievement. Ruby manufacturers tend to specialise in specific qualities depending on their client base. Buying from a formal mining company that offers graded material enables bidders to concentrate their funds towards ruby qualities desired by their customers instead of unnecessarily burning funds on unwanted parcels.
The ruby chapter in the gemmology course by the world-renowned Gemological Institute of America (GIA) states that the finest ruby has a pure, vibrant red to slightly purplish red hue. The highest-quality rubies have vivid saturation. Medium to medium-dark tones are preferred, as long as the tone isn't dark enough to have a negative effect on brilliance. At the other extreme, if the tone is too light, the stone is considered pink sapphire, even if saturation levels are high.
Ruby and sapphire both belong to the corundum mineral family, with their chemical composition being the colour differentiator. According to bidders at the FURA auction, 70% of the goods offered for sale could be considered ruby with balance, a mix of pink, fancy orange, and the coveted Padparadscha sapphire. Bidders confirmed, many of FURA's ruby lots exhibited high fluorescence under UV light (caused by low iron and high chromium). Most displayed a pinkish tinge, more attractive to the US and European market versus the Chinese, who prefer the intense red that manufacturers are using to seeing in certain grades of rough rubies from Gemfields' Mugloto mining pit. Bidders further observed that, except for 5 lots, FURA had combined varying grades/qualities of rough rubies in all other lots, with particular lots containing 6 to 8 different grades. Although some appreciated the opportunity to gain a diverse portfolio of rubies by winning a single lot, others found the 'mixed bag' approach confusing, especially during times of stretched liquidity.
Shetty shares his perspective, "The outcome of our maiden ruby auction exceeded our expectations. We aim to fill the gap created by lack of supply from Burma with highly fluorescent material more in the hue typically found in Burma's Mogok ruby." The 130,000 carats of unsold goods, according to FURA, were mainly of lower quality. Commenting on FURA's grading system, Shetty explains, "Our grading formula covers colour, clarity and size. Although it's still early days for us in terms of production, we offered rough rubies in colour grades from A to K. Our clarity differentiation is between A+, A and A1. A+ being internally flawless, offering possibly 50% recovery, A having minor inclusions delivering a 40% recovery, and A1, more included, which may require treatment. In this auction, we have offered A+ and A grade ruby in a single LOT. We've done this to push the colour category, as we feel the clarity difference between A+ and A is minimal." Like Gemfields, FURA is only offering rubies mined by their team in Mozambique with no treatment.
New Entrant GemRock
The third and the newest entrant in the Montepuez Ruby Complex, GemRock, is gearing up for its maiden auction in the first quarter of 2022. Rishabh Tongya, Creative Director of India-based high jewellery and timepiece brand DIACOLOR, founded GemRock in 2016 and is the firm's Chairman and Principal Shareholder. Providing an update on their progress in Mozambique, Tongya shares, "In a brief span, GemRock has emerged as Africa's newest, fastest-growing low-cost gemstone miner. This enables us to be EBITDA-positive. We currently hold nine concessions totalling over 589.6 sq km and are proud to be the only Indian-owned entity in the colour gem mining industry. We began mining in late 2020 and have over 300 employees. Our rubies are sourced from primary and secondary deposits, offering the customers a variety of qualities that will enable them to target multiple customer segments and markets."
Ruby Processing
The quantity of ruby-bearing ore processed by a mining company can show its scale of operation and ruby production. There are three broad parts to the process: mining and washing the ruby bearing ore, sorting the washed material to extract rubies, and grading. Gemfields currently wash around 125,000 tonnes of ore monthly, a milestone that took them nine years to achieve. The company has embarked on commissioning a second wash-plant, circa $35 million investment, which will take its ore-washing capacity to 240,000 tonnes monthly. In comparison, FURA's mini wash plant has been processing 25,000 tonnes of ruby ore per month. The company plans to increase to 125,000 tonnes post-October 2021 based on a plant expansion programme underway for six months. GemRock currently processes 60,000 tonnes monthly. 
Coming to the second part of ruby processing, in February 2019, Gemfields unveiled a $15 million state-of-the-art, industry-leading sort house at the Montepuez Ruby Mine (MRM). As per the company's release, 'the facility works by using the natural properties of rubies for automated sorting. The process starts with washing the raw material before passing it under ultra-violet (UV) light, where rubies naturally fluoresce. Optical sorters can detect the fluorescence and employ blasts of air to direct individual rubies to separate channels for further sorting and grading.' The company confirms the processing is now faster, more reliable, and more efficient than the human eye. It also allows the identification of finer ruby material than before.
The greater throughput of the sort house has caused an expansion of MRM's current active mining area, increasing their workforce. Additionally, MRM is creating the first group of Mozambican gemmologists specialising in selecting and classifying rubies, which marks a substantial step for the African ruby industry.
FURA also plans on using an optical sorter with their new wash plant, which should increase their ruby production. GemRock is currently doing manual sorting and grading.
The Dark Side
As attractive as ruby mining sounds, Mozambique is a relatively high-risk location. The expanse of the ruby concessions makes security and governance a challenge. Under Mozambican law, it is illegal to carry out mining on a licence held by another party, making informal/artisanal mining without a licence punishable by law. Interestingly, there are licences in the Montepuez ruby region expressly set aside for small-scale artisanal miners. While some mining occurs on those licences, informal miners frequently seek to mine on concessions belonging to mining companies. Despite the clear dictate of law, during the rainy season, the number of informal miners infiltrating company concessions can swell to several thousand – with only a few hundred security personnel patrolling the vast expanse. Many believe this is only possible because of systemic corruption failing the well-laid mineral mining rights regime.
The rubies are generally found in old river-bed gravels (paleo channels), anywhere from 1.0 to 10 metres below ground, easily extracted with hand tools. Once informal miners dig down and reach the gravel bed, which may contain rubies, they start digging laterally, collecting maximum possible gravel. This creates an upside-down 'mushroom' with a long, square stem leading to the surface. The 8 or so metres of overburden can't be readily supported because it comprises gravels and soils. This often leads to ground collapses that cause severe injury, often fatal, to informal miners. The ease of extraction, rich nature of the deposit, abject poverty in the region, and high levels of corruption make the environment rife for ruby smuggling syndicates to thrive. These parameters also create conflict between law enforcement agents, informal unlicensed miners, and competing smuggling syndicates.
In 2019, Gemfields chose to pay £5.8 million (about $7.8m) to settle a claim of human rights abuses brought against it by a UK law firm on behalf of a local Mozambican group residing near its ruby mine in Mozambique, on a 'no admission of guilt' basis. Later that year, an investigation by Gemfields explained how well-financed smuggling syndicates recruit miners (some juvenile) from poor households, tempting them with false promises of ruby fortunes. The syndicates, as the report stated, charge a fee for transport, food, lodging, and the opportunity to mine rubies. Those unable to pay are granted a loan, to be repaid from their ruby earnings. The individuals are then deployed in illegal and unsafe mining pits by the syndicates. Gemstones recovered by the illegal miners must be "sold" via the syndicate to a 'higher boss'. As per the investigation, the miner receives only a fraction of the sums involved (typically 5-10% of true international market value). Indebted to the syndicates and with no spare cash, these individuals cannot freely return home, and are effectively bound in modern slavery.
To make matters worse, attacks in northern Mozambique by armed insurgents have displaced over 800,000 individuals, driving them south and southwest. The government of Mozambique, bodies such as the UNHCR, and mining companies in the region are variously working to provide essential aid and support to those displaced. The coalition of security forces and the geographical divide has kept the conflict from reaching the ruby fields of Montepuez, which lie some 230 km – as the crow flies – to the southwest of the conflict area. A sliver of hope appeared a few weeks ago when (as per media sources), the Rwandan army on behalf of the joint forces reclaimed the Mozambican port of Mocimboa da Praia from Al-Shabab militants.
Building A Bright Future
In the last decade, MRM has created and continues to support several initiatives for local communities such as primary schools where over 2,500 children study, mobile clinics that provide critical care to remotely located 2,000 to 3,000 villagers monthly, and eight livelihood projects. Additionally, the company has spent over $120 million to build over 100 concrete homes and a village, supported by farmland and fruit trees, and a $1.2 million-dollar Vocational Training Centre in Namanhumbir, offering certified professional courses to local men and women in civil construction, carpentry, electricity, painting, plumbing and other competencies.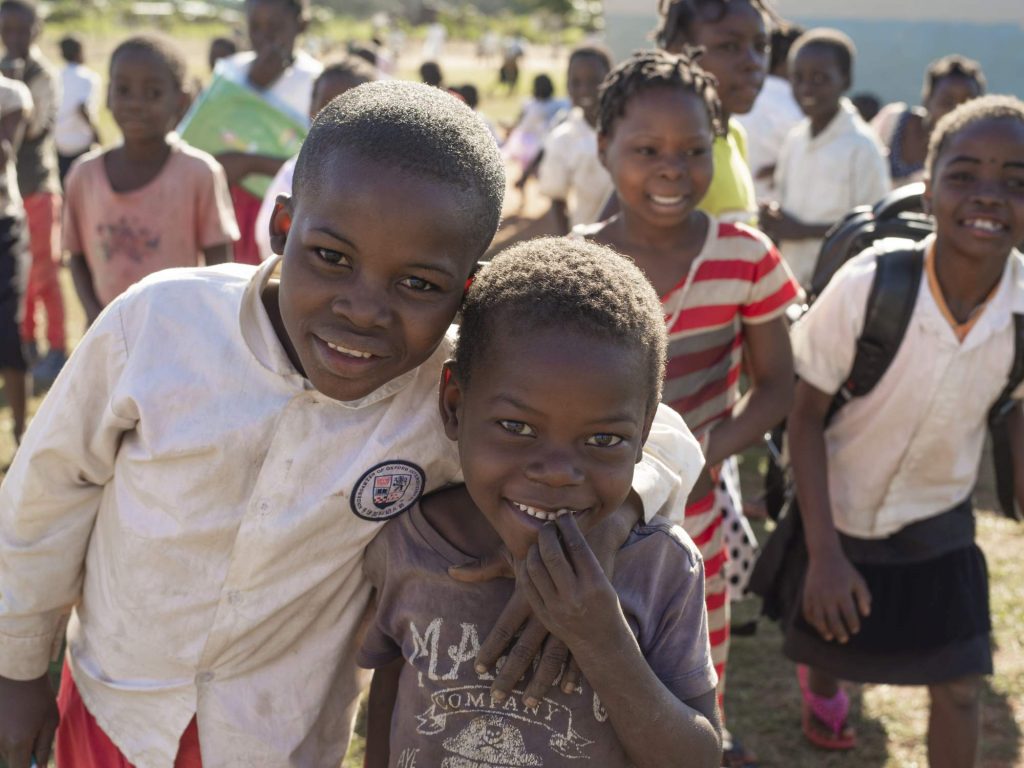 In August 2021, FURA Gems started construction of a school block at Napula Village, where they expect 680 students will study by 2022.
Africa is the world's largest supplier of colour gemstones with rubies from Mozambique, emeralds from Zambia, and sapphires from Madagascar considered the modern mineral trifecta of gem origin. For the 2,000+ Mozambican men and women employed by the ruby mining companies in Montepuez (and the larger ecosystem their presence supports), images of red rubies adorning high jewellery collections represents stability (courtesy a steady income), education for their children, medical and livelihood support, all of which enables them to build a better life and hope for a brighter future.