The maiden Vicenzaoro Dubai (VOD) show held in April at the Dubai World Trade Centre was the first business-to-business event to help establish Dubai as the jewellerysourcing hub for the Middle Eastern and top global buyers. The show has an enormous potential to generate business and boost trade in the coming years, report Shanoo Bijlani and Aliya Ladhabhoy.
he inaugural Vicenzaoro Dubai (VOD) opened a new chapter for the global gem and jewellery industry. Organised by Fiera di Vicenza (FDV) and Dubai World Trade Centre under the Dubai-based consortium, DV Link, the show was held from April 23-26, 2015 at the Dubai World Trade Centre.
VOD consolidated Dubai's standing as one of the world's leading luxury destinations and the undisputed jewellery capital of the Middle East as 500 fine jewellery brands from 20 countries showcased their latest lines over 12,000 square metres of exhibition space.
His Highness Sheikh Hasher Bin Maktoum Al Maktoum, director general of the Dubai Department of Information, inaugurated the show in the presence of officials from Italy, Dubai as well as from the Gem and Jewellery Export Promotion Council of India (GJEPC), its strategic partner for the event. The show was also supported by the Dubai Multi Commodities Centre (DMCC), Dubai Gold & Jewellery Group (DGJG), and L'Azurde, a Saudi Arabian company and market leader in the distribution of jewellery across the MENA region.
Speaking at a press conference, FDV president Matteo Marzotto said, "Vicenzaoro Dubai is an absolute novelty and an extraordinary opportunity for the entire global gold and jewellery supply chain, held at a time of the year which sees the sector at its most active – between the Baselworld and Las Vegas shows in a strategic market such as Dubai. Holding the show in Dubai was the most important decision that I have taken since taking over the FDV." Marzotto added that VOD is the coronation of a long-time dream to serve the industry. "While we have to be rooted in Italy, our three arms have to go around the world. We aim to become a cultural hub, create new content and discover new marketplaces for the industry," he added.
"The first-ever edition of Vicenzaoro Dubai marks an exciting new era for both Dubai World Trade Centre and the global jewellery industry. Our partnership will unite the global jewellery industry via Vicenzaoro Dubai – a bridge between East and West, between Europe and the UAE. Happily, our young partnership is already bearing fruit," said Ahmed Al Khaja, senior vice president, venues, Dubai World Trade Centre.
Pankaj Parekh, GJEPC vice chairman, stated that the Middle East accounts for 30% of India's gem and jewellery exports making it the largest export destination for the industry in current times. "The Council is pleased to collaborate with VOD and help promote business for 110 Indian exhibitors participating in the show."
Contingents of buyers from the UAE, India, Saudi Arabia, Iran, Pakistan, Lebanon, Turkey, Egypt, Syria, China, Russia, Jordan, Azerbaijan, Kuwait, Algeria, Bahrain, Afghanistan, Thailand, Yemen, Australia, Qatar and Iraq, amongst others, made it a point to attend the four-day showcase that included global brands, fine jewellery manufacturers, national pavilions, gemstones and diamonds and packaging & supply.
"In-line with our expectations, the debut of Vicenzaoro Dubai achieved very positive results," said Corrado Facco, managing director of Fiera di Vicenza and vice chairman of DV Global Link. "Despite unfavourable economic circumstances and geopolitical contexts in notable major markets for the global jewellery industry, the success of the inaugural event has strengthened our resolve to continue expanding the show over the next few years – especially in tactical capacity areas such as high-end consumption and luxury product absorption. This super show is a strategic operation for both Fiera di Vicenza and the international jewellery industry – the Dubai event has the capacity to connect global suppliers with emerging customers in the Far East and Africa. We hope this first edition represents the prologue of a great success story, one where DV Global Link builds its standing as a global player and Vicenzaoro Dubai establishes a position as one of the world's top five events for the international B2B jewellery and goldsmith sectors by 2020."
Design dominates
When two top countries such as Italy and India come together on the same show floor, there is no dearth of jewellery designs one gets to see – even if it means catering to different aesthetic tastes. It was a fair dominated with designer jewellery by top brands and jewellery artists. The collections were nothing short of awe-inspiring.
"It was fantastic to meet new people especially buyers from the Russian delegation at the show," exclaimed Michael Hakimian, CEO of Yoko London. "I can foresee this market to be a sizeable share of business. Though there has been very little of physical buying at the show, I congratulate FDV on putting this show together. Dubai is a very good location for the exhibition. Currently parts of the world are still in turmoil and are incapable of spending money, but in the long term, it will be an important trade show for the region."
Yoko London displayed stunning jewellery with purple pearls as well as another collection with powdery blue pearls. "At Yoko, we constantly think out of the box and create jewellery that is novel. Everyday jewellery has emerged as a popular category and the segment is only going to get bigger as women want to enjoy the jewellery every day rather than purchasing evening jewellery and wearing it just once a year. Asymmetrical earrings, single-ear ornaments, two- and three-finger rings, ear cuffs, pendulum earrings and jacket earrings are the hot sellers," noted Hakimian.
Frida Thaler of Hulchi Belluni informed that they met many clients from the Middle East, India, Australia and South Africa who picked up flexible bracelets that were unique, with good finish and studded with high quality of illusion-set diamonds. "Our brand has been created on the principles of feng shui. Martin Hul, the owner and designer, has an eye for aesthetics to enhance the beauty of a woman. We sell globally at all the international shows and the Middle East is our main market. We don't use colour stones – only gold and diamonds." Understandably so!
Anna Gaia, CEO, Utopia, Italy, said, "Shows like VOD help us to understand the requirements of new markets. Utopia's new collections Duetto and Bollicini are a marked departure from their earlier creations; the lines introduce gems such as rubies, brown diamonds and sapphires in good measure alongside pearls, their mainstay gems. "For the first time we have introduced small freshwater pearls, and played with colours to attract Middle Eastern and Asian buyers," Gaia said.
Studying the market is key to success, believes Marlene Nehman of Luca Carati, Italy. "I have been travelling to the Middle East for many years and we have a few customers here. Earlier, we also had a storein- store in the Dubai Mall in association with Damas, but we no longer operate here. Once again, we are looking at top retailers who could provide us retail space, and we hope to get some leads at VOD." Among a clutch of collections unveiled in the recent past by Luca Carati, its Plie line of flexible cage-like structures is still very saleable, especially in the Middle East. "They like movement in a piece and prefer round shapes." Among its other notable lines are pieces that are inspired by crochet featuring mesh structures dotted with diamonds strategically positioned to add more sparkle to the piece. The crochet line employs caged, semi-precious stones such as black onyx, chalcedony, quartz and green agate. The Obi collection takes inspiration from the knot of the kimono; the Sakuri collection from a flower species in Japan and so on.
Sara Fraleoni of Fraleoni, Italy, showcased a special collection of quartz, sapphires and diamonds set in yellow gold. "Last year, I had participated in an exhibition in Abu Dhabi and learnt that for consumers here yellow gold still reigns supreme. They prefer to wear large pieces, so I specially made a collection for this market that includes oversized floral rings and animal-inspired bracelets. I have already got a few queries at the show." Fraleoni's hefty amber pendants and sapphire and black diamond pieces were absolute showstoppers.
"Women express their individuality by wearing jewellery that fits their persona," noted Theodorakidi-Mamona, director of Thyreos Vassiliki from Greece. "The visitor traffic on the show floor could have been better, but our unusual and contemporary yellow gold jewellery received a good number of queries from the Gulf region, Africa and India. Even though the people from these regions love gold, they were hunting for designs in gold that steered clear from the traditional forms."
Ace-jewellery designer Farah Khan Ali from India came up with a mesmerising array of collections that were saturated with soft and strong coloured gemstones and the bold pieces were a perfect match for this market. She unveiled some extraordinary pieces including elaborate armbands, chandelier earrings dripping with colours and diamonds and detailed neckpieces suffused with rubellites, aquamarines, tanzanites and kynites. Farah Khan informed that she was very happy with the show and was flooded with queries for her designer collections."My brand is a one-stop shop for many buyers – I design, manufacture and retail and the buyers are very happy with the lines. I've even struck a franchise deal at the show. What more can I ask for?"
Anup Bohra of Jewels Emporium showcased a thematic jewellery collection, The Charm of Eight Arms at his booth in the Global Brands section of the fair. Depicting the sinuous arms of an octopus, the regal sea creature in diamonds, gemstones and enamelling, the eight-part collection showcased not only the mastery of design but also of technical capabilities ensuring that each piece is feather-light despite being voluminous in form.
Italy-based designer Maria De Toni said, "The overall footfalls were less but we managed to meet new buyers from Saudi Arabia, Turkey, Kuwait, Qatar and Egypt as we came prepared with a number of collections that we thought would appeal to this audience."
Elisabetta Molina of Garavelli did not come with any expectations but met buyers from Russia and Latin America. "The buyers loved my colour stone jewellery. I hope we can work something out," Molina commented.
India in the spotlight
The India Pavilion was the biggest national pavilion at VOD with 110 exhibitors. Footfalls at the show were less than average at the maiden show, but exhibitors were hopeful that the show of this stature will gather momentum in a couple of years.
Suvankar Sen of Senco Gold showcased light and heavy gold jewellery handcrafted in Kolkata. Sen informed that the collections reflected the globally trending floral and geometric motifs. Some of the pieces also sported hints of meenakari work and took inspiration from the Taj Mahal. Sen said that while Turkey also offers mesh jewellery, he is able to innovate with designs since it is entirely handcrafted. "There is no limit when it comes to the gold jewellery. Saudi Arabians like necklaces that weigh over 300 grams as well," said Sen.
Ramesh Vora, GJEPC coordinator for the Middle East informed that the Council visited retailers in countries such as Pakistan, Lebanon, Egypt, Turkey and Saudi Arabia in order to promote the VOD show and their marketing efforts paid off. "Around 25 Pakistani buyers visited the show and purchased gold as well as diamond jewellery," mentioned Vora who added that while the Middle East accounts for over 30% of India's gem and jewellery exports, most of it is distributed to other regions and countries.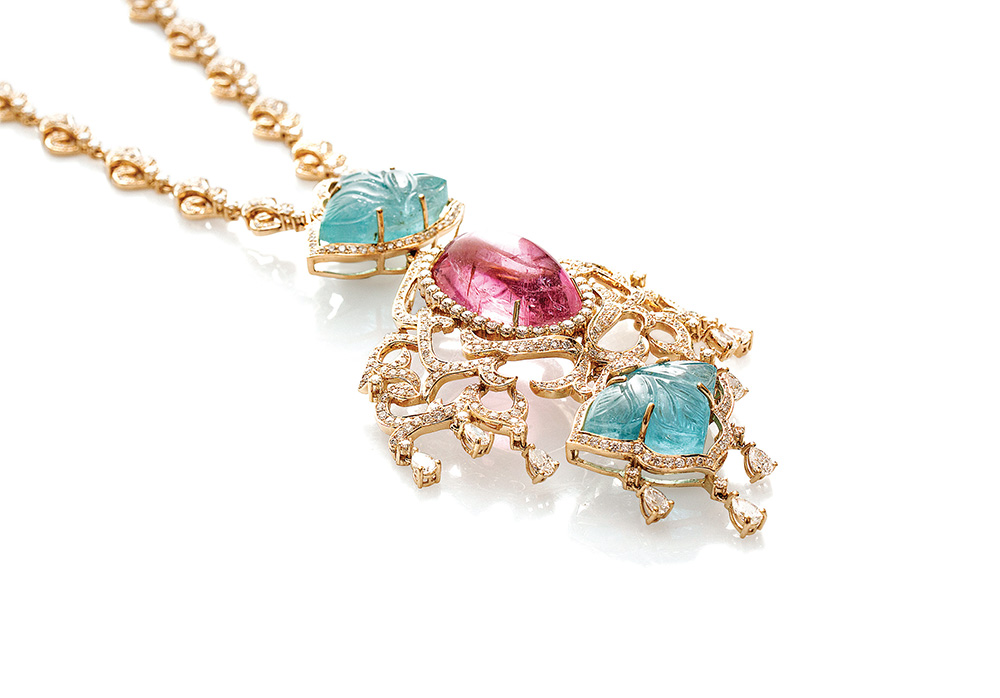 Vasupati Jewellers who has tied up with a Dubai-based manufacturer, showcased 22-karat antique finished textured, hammered, filigree and granulated chokers accentuated with floral motifs and a sprinkling of gemstones. "We met buyers from Dubai and Pakistan as well as the UK and US but I feel that the number of footfalls could have been on a higher side," said Mansukh Kothari, proprietor of the firm.
Imtiaz Ahmed of LKS Gold Paradise, Chennai, collaborated with Dubai-based Pure Zara Jewellery and Mumbai-based Mehta Jewels for the show. "This is the first time that we have participated in a business-to-business exhibition although we have been in the trade for 19 years now. Anika, our lightweight collection received a very good response from Saudi Arabia, UAE, Qatar, Iraq, Iran, Singapore, Malaysia and India. Vicenzaoro Dubai has given us a good amount of exposure and we have learnt a lot about preferences of consumers from different regions," commented Ahmed.
Vasant Birawat, director of Chain N Chains Jewels stated that he had met a few serious buyers at VOD. "Heavy and lightweight chains in 21- and 22-karat gold from 1 gram to 100 grams were in demand especially our mesh chains. We also introduced a fusion of handmade and machine-made chains, a hit with wholesalers from the Gulf who placed confirmed orders on the spot," said Birawat.
Ravi Sacheti, partner, V. Sacheti, Jaipur, was very happy to receive a positive response at the show. He met new buyers from Morocco, Turkey and Pakistan who were interested in their Arabesque enamelled jhumkis and chandelier earrings.
Bringing in 22- and 21-karat yellow gold and antique jewellery to the show, Manish Jain of Royal Chains stated that they did not meet any new buyers; they were expecting more buyers from Sharjah and Abu Dhabi, which has a huge concentration of Indian consumers.
While gold manufacturers were able to conduct some business at the show, the overall market for diamonds has been slow and this affected the diamond jewellery exhibitors. Nirav Bhansali, CEO of Prism Jeweller said, "VOD is a very good platform and, though my regular clients visited me at the show, I was hoping to meet new buyers but unfortunately that did not happen," he lamented.
Pranav Zaveri, proprietor, Abhay Navinchandra, Mumbai, said that although they got buyers who liked their jewellery, it was difficult to establish the trust factor in the first show. "It takes time for buyers to know the vendor and their quality, and this happens over a period of time," he noted.
Dr. Nawal Agarwal of Birdhichand Ghanshyamdas Jewellers, Jaipur, rued the fact that visitor traffic was sparse at the show. Although the company has been selling its top quality, gem-studded jewellery in the Middle East since 1991, this market is predominantly for gold and diamond jewellery sellers, Dr Agarwal said, adding, "We did receive buyers from other countries, including Lebanon."
A section of the VOD trade floor also formed the backdrop for fashion shows on day one and two. Luxury diamond brand Le Vian timed its Middle Eastern launch with Vicenzaoro Dubai and organised a preview at the Burj Al Arab hotel on the eve of the show which was followed up with a fashion show at the VOD venue. Le Vian's latest initiative takes the brand to another level by combining fashion and jewellery and introduced handbags and scarves by the brand for the first time in the Middle Eastern market. Eddie Le Vian, CEO of the brand commented, "The uniqueness of jewellery is escaping us. It's not how big a diamond is but how unique it is and we as jewellers have to bring this back into the business. Jewellery is a symbol of a woman's uniqueness and at Le Vian we celebrate every woman's individuality."
The World Diamond Mark too dedicated its parade to diamonds which included pieces from some of the exhibiting companies.
Beauty on display
Select visitors also had the rare opportunity to view some of the finest Italian jewellery through an exhibit, The Italian Beauty, which was held alongside the show at the Conrad Hilton on April 23. Organised by Vicenzaoro Dubai and the ICE (Italian Trade Promotion Agency), the exhibition featured 30 necklaces made by well-established Italian manufacturers and was curated by Alba Cappellieri, a jewellery design professor at Milan Polytechnic and the director of the jewellery museum in Italy.
Attended by the Italian Ambassador to the UAE, Giorgio Starace, the exhibit showcased varied interpretations of jewellery from the large maisons to more recently established designers.
Alba Cappellieri informed, "The exhibition showcases contemporary Italian jewellery according to its characteristics of 'beautiful and well done'. From the Renaissance to the modern day, Italian jewellery stands out for its extraordinary combination of aesthetic qualities and craftsmanship, a pairing of beauty and quality in which 'Made in Italy' continues to excel."
India Evening
The GJEPC also organised an India Evening for the hosted buyers on April 25, 2015 at the grand Jumeirah Beach Hotel in Dubai. Terming the VOD as a game changer, Parekh commented, "The Indian relationship with the Arab world and the trade of jewellery between them spans centuries, hence it is not surprising that Dubai and UAE is the largest trading partner of Indian gem and jewellery industry. The credit goes to Dubai for emerging as one of the leading trading and distribution centres for diamonds, gems, and jewellery in the world." Parekh added that when two giants such as the Fiera di Vicenza and the GJEPC come together they make eleven and not two.
Corrado Facco commented, "The GJEPC is an important and prestigious partner within Vicenzaoro Dubai. The success of this partnership defines a union that is not just businesswise highly valuable, but also for its cultural and institutional interconnection."
In order to make the event more interactive, the GJEPC brought in the talented Cyrus Broacha for an evening of light humour.
Trends at VOD
The show also laid emphasis on trends in the jewellery industry…
Paola de Luca, creative director of Trendvision Jewellery + Forecasting, Fiera di Vicenza's independent world forecasting observatory, hosted a seminar, Product Directions Update 2015- 2016 on the sidelines of the jewellery show in Dubai. Introducing the observatory and her projections to the Middle Eastern market, Paola stressed on the potential of the jewellery markets in the BRICS countries. "Brazil is one of the largest producers of coloured gemstones and has a strong jewellery market. Russia is the ninth biggest luxury market in the world although the current scenario with Ukraine has dampened its economy. India is one of the biggest gold-consuming nations and has a large number of high net-worth individuals. China too is growing rapidly and is forecasted to account for 55% of the worldwide luxury sales," commented Paola.
She also broached the topic of the e-commerce platforms which is fast becoming an intrinsic part of retailing today. Highlighting key differences between buying online and from a bricks-andmortar store, Paola noted that consumers can get layers of information and compare prices at the click of a button when purchasing online but consumers still visit stores for the luxury experience and the trust factor that they share with a particular store. A sales attendant also has the power to tell stories and offer valuable advice. "Today, people, especially from the millennium generation, do not buy jewellery based on grams and carats. Intangible values such as design and self-expression play a great role which is why it is necessary to tell compelling stories," informed Paola. Intangible values affect sales. In order to sell jewellery one needs to tell a story. India is still selling generic products and needs to create stories and collections that are consistent and coherent.
Paola listed four consumer profiles for 2015-2016 and their likely jewellery preferences.
Rationalists have a high level of awareness about societal and environmental changes and are conscious about the global economy. They make a conscious effort to consume less and prefer versatile and clean shapes.
Nostalgic people are attracted by ultimate beauty that has been lost due to industrialisation and mass production. They long for the past and gravitate towards jewellery that has a symbolic meaning or is linked to heritage and history opting for picturesque forms with a sense of strangeness, romantic swirls, lace and prefer body jewellery with a vintage twist.
The Voyager loves adventure and loves to travel and discover new places. Appreciating differences in culture, a voyager is inclined to pick jewellery that is edgy, exotic and has a rough aesthetic. Gemstones, beads, coloured enamel and alternative material find favour with this consumer category.
An expressionist or Digital (East) believes that technology is an extension of the body. They are attracted to jewellery that is fun, playful and experimental in nature and constantly look for ways to stand out yet add their own mark. Charms, cute symbols, jewellery with messages, celestial fragments and layering of necklaces are some of the key elements associated with this category.
Asymmetrical earrings, sleek designs, twists and knots, spherical forms, two- and three-finger rings, scattered clusters, floating diamonds, stackable cuffs, ear climbers and contraire rings were some of the design trends that Paola highlighted.