Diamond industry analyst Paul Zimnisky forecasts an average annual diamond output of about 127 million carats between 2021 and 2026.
Global diamond supply volume is expected to remain below pre-pandemic levels for at least the next five years. Despite the resumption of operations at most mines that were suspended or curtailed in 2020 due to pandemic-related measures, global natural diamond production is forecast to remain at multi-year lows for the foreseeable future as legacy mines reach depletion and few new mines offset the void.
The Argyle mine in Australia, which at one point accounted for almost 40% of global diamond supply by volume, mined its last ore in late-2020. Final primary-market Argyle supply will likely make its way through the market by the end of this year. Other important diamond mines such as the rich Jubilee mine in Russia and the prolific Diavik mine in Canada are forecast to realise decreased production in the coming years due to resource depletion.
Annual diamond output is expected to average about 127 million carats between 2021 and 2026, according to Paul Zimnisky forecasts (see below image), which compares to 142 million carats in 2019, the pre-pandemic proxy, and 152 million carats in 2017, the recent high-water mark. The 119 million carats produced in 2020 is estimated to have been the lowest level of diamond production since the 1990s.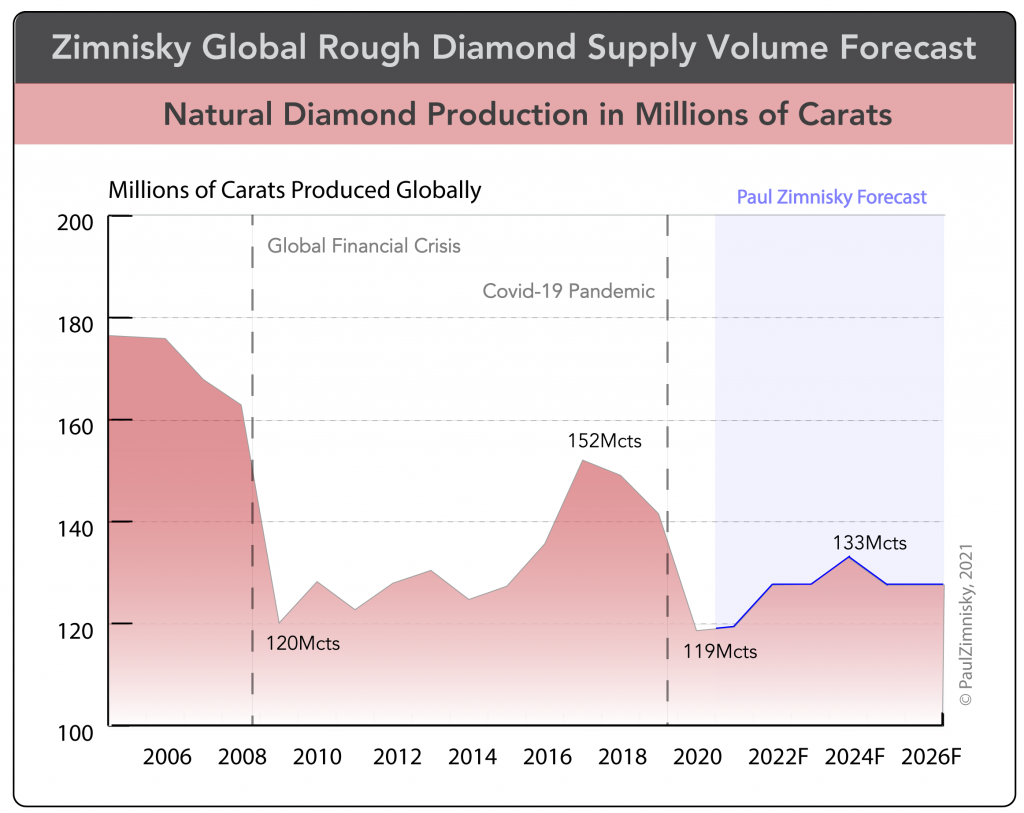 The largest contributor to new diamond supply is expected to be the Luaxe mine. Discovered in 2013, the Luele kimberlite pipe, which was found within the Luaxe concession in north-east Angola, represents the largest diamond discovery in over a half century. The deposit is only 20 kilometres away from the world-class Catoca mine, which has been in commercial operation since 1997.
Production at Luaxe, which is currently in development, could be as much as 3-4 million carats annually within the next two years, with a further production ramp-up to 6 million carats-plus by mid-decade. The average quality of Luaxe diamonds appears to be similar to that of Catoca, which tend to be in line with the global average on a price-per-carat basis of around $100.
Other commercial mines expected to come online within the next few years are Zaria, Mayskaya and Tongo-Tonguma, the former two in Russia and the latter, in Sierra Leone. Although, all three of these projects are expected to have a much smaller production footprint than Luaxe.
For most of the last decade, diamond output trended higher after rough prices hit an all-time high in 2011. Ultimately, this led to an oversupplied market, punctuated with the commencement of production at three new commercial mines in 2016 and 2017, which has limited diamond price appreciation in recent years. However, looking forward into the 2020s, it now appears that the opposite is happening as apathetic prices have resulted in limited new project development – consequently the future diamond supply trend now looks flat-to-down.
This price/supply mechanism has seemingly resulted in a "natural" paring of excess diamond supply, which should be fundamentally supportive of prices in the coming years.
—
Paul Zimnisky, CFA is an independent diamond industry analyst and consultant based in the New York metro area. For regular in-depth analysis of the diamond industry, please consider subscribing to his State of the Diamond Market, a leading monthly industry report; an index of previous issues can be found here. Also, listen to the Paul Zimnisky Diamond Analytics Podcast on iTunes or Spotify for wide-ranging and interesting discussions with prominent guests from around the industry. Paul is a graduate of the University of Maryland's Robert H. Smith School of Business with a B.S. in finance and he is a CFA charterholder. He can be reached at paul@paulzimnisky.com and followed on Twitter @paulzimnisky.