She has mastered the art of storytelling through her precious and distinct collections. A dancer and interior architecture by profession, Donna Hourani, Founder Designer, Donna Hourani Jewellery, Dubai, gravitated towards designing jewellery by chance. Ever since she founded her namesake label in 2016, she has been busy creating both bespoke commissions and off-the-shelf lines using only the highest-quality, natural precious, and semi-precious gemstones with 18 karat gold, all hand-picked from ethical sources by Donna herself. Known for blending aesthetics with functionality in her collections, Donna has recently been in the news for collaborating with Gemfields and producing The Bridge collection inspired by Persian poet and scholar Rumi's philosophy. She spoke to Solitaire International about her life and fascination for jewellery.
You have a degree in interior architecture and arts (dance). How did you venture into the field of jewellery to find your calling?
After having the second of my three boys, at a time when I had stopped teaching dance, I felt restless and wanted to do something I was excited about, but I didn't know what that was.
Eight years ago, during a coffee date in Dubai, my jewellery-loving cousin showed me some gemstones she had bought and introduced me to a dealer in Lebanon, who was open to creating pieces using my designs to sell and make a commission from.
I had never thought about working in the jewellery industry before, but it felt like an easy and fun project, so I started with just five sketches that he turned into beautiful pieces and sent it to me. This immediately sparked a new passion, and I was soon hunting for workshops in Dubai.
Most of what I have learned has been through hands-on experience, trial and error, but a few GIA classes have also helped. One thing led to another until the business gradually built itself. It was unplanned. I went with the flow and listened to what felt right.
Most of what I have learned has been through hands-on experience, trial and error, but a few GIA classes have also helped. One thing led to another until the business gradually built itself. It was unplanned. I went with the flow and listened to what felt right.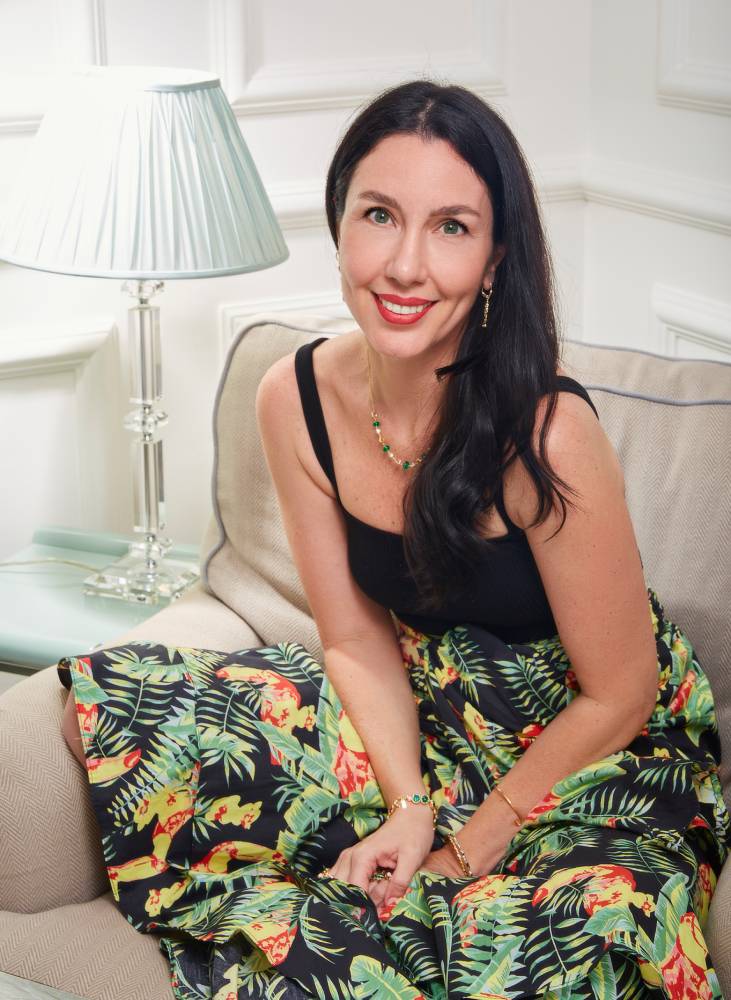 How does your experience as an interior architect help you in designing jewellery?
When it comes to designing anything at all, it is crucial to weave storytelling into the process. It guides the concept and filters the ideas through which the final design is developed and converted into a physical outcome. The process of creation is almost exactly the same. Functionality has been a huge part of both of my careers. I never liked interiors or spaces that were solely aesthetic with no functionality: every detail had to have a purpose or meaning. It's the same with jewellery: every element has to have a reason for being, and wearability is crucial.
Did you learn jewellery-making?
Yes, I did. And I'm still learning. I started my education in the workshop, learning from the craftsmen and goldsmiths who bring my pieces to life. And I am currently taking classes to learn how to work directly with precious metals. Creating jewellery with my own hands has brought me a huge amount of satisfaction and introduced me to a whole new world.

Tell us more about your creation process and what are your sources of inspiration?
Most of my creations are custom-made and one-off pieces. Whether they are custom or part of a collection, the inspiration always begins with a story. For clients, it is always about them and their journey. For a collection, it is always motivated by something I strongly believe in, be it a message I want to send out to the world or a quote that I love, or a person who has inspired me.
Whatever it is, it has to be relatable to other people, which it always is, because underneath it all, we are all the same. I was inspired by my mother, an artist, and my father, an entrepreneur, as well as by my love of nature and belief in the power of love.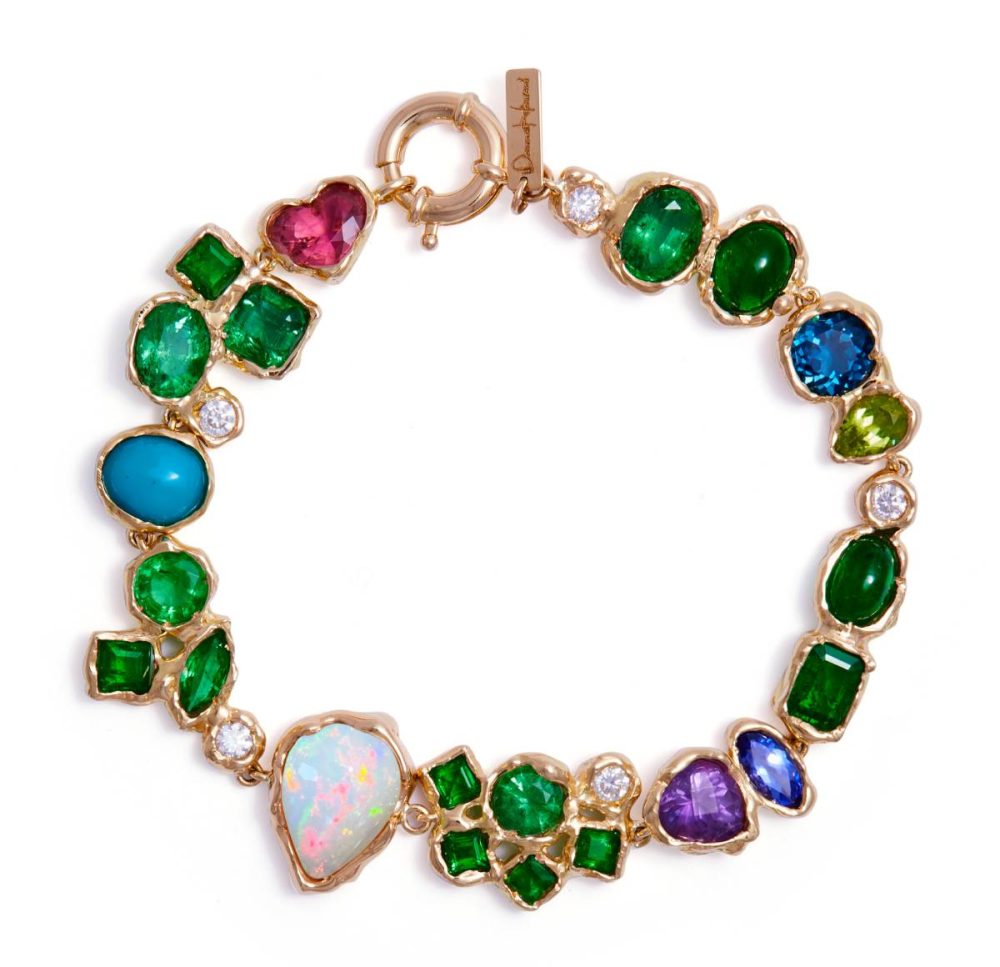 Your collections are an interplay of textures and gemstones with a unique signature of their own. Are all your collections handmade?
Not all are handmade. I handmake some of them myself, using the lost wax technique, which is then cast in gold, filed, set with gemstones and polished by the craftsmen in my workshop. This wax technique is a craft that I taught myself, and which I used to make all of the pieces in Donna Hourani x Gemfields 'The Bridge' collection.
For other pieces that I don't handmake myself, I sketch the design myself and then hand it over to my CAD designer, who I work very closely with throughout the process.
We would like to know more about the collaboration with Gemfields and the birth of 'The Bridge' collection.
Gemfields approached me about partnering on a collection featuring Zambian emeralds or Mozambican rubies. Emeralds are known to be the gemstone of unconditional love and the heart chakra. One of my favourite quotes of all time is by Rumi: "Love is the bridge between you and everything." And so, this was the inspiration for me to work with emeralds.
Naturally, the emeralds had to represent The Bridge, and this inspired the collection's name. Next, I thought about assigning a gemstone to represent the wearer, and other gems to represent their goals and achievements, in order to have emeralds serve as a bridge between the two in each piece.
I chose diamonds to represent the wearer, and the other gemstones were chosen according to their meanings.
One piece at a time, the collection revealed itself. It took about five months from start to finish.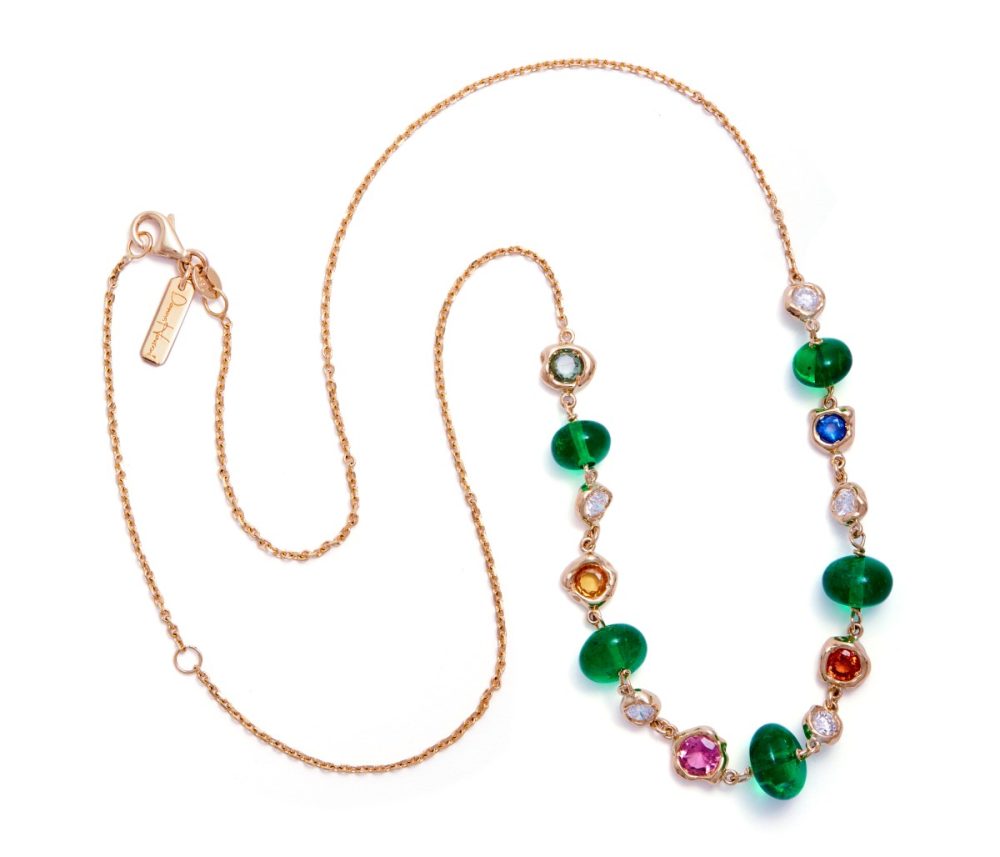 Tell us about how your affinity for emeralds?
To be honest, I started to love them more and more after working with them for this collaboration with Gemfields. I learned more about them through my research for the collection, and the gems I sourced from Gemfields were just too stunning not to love.
Where is it currently available to buy and what are the price points?
The Donna Hourani x Gemfields The Bridge collection ranges from $ 3,800 for the 'To Beauty' earrings to $16,800 for the 'To Glory' bracelet, and is available on donnahourani.com