Diamond analyst Paul Zimnisky studies the frenzied pace of store expansion undertaken by China's three jewellery retail giants.
Through just three quarters of the company's current fiscal year which ends 31st March, 2022, Chow Tai Fook has already opened a record number of net new stores. So far in fiscal 2022, the company has opened 1,055 net new stores, which compares to 741 in all of fiscal 2021 and 586 in fiscal 2020.
The aggressive store expansion is a component of Chow Tai Fook's "Duel Force" strategy which also includes "smart retail," i.e. enhancing the "automation level" of the company's supply chain. During a Virtual Media Day event last year, the management quantified that the store expansion plan aims to reach 7,000 stores by March 2025 – the company had 5,646 stores as of calendar-year-end 2021, which compares to under 1,300 stores a decade ago.
The strategy focuses on penetrating "lower tier and county level cities" in Mainland (China) via a franchising model given the ability to leverage local knowledge and access.
While the "tier system" is not formally acknowledged by the Chinese government, "Tier I" colloquially refers to the four largest cities in Mainland China including Beijing, Shanghai, Guangzhou and Shenzhen. "Tier II" is considered to include roughly 30 "larger" cities, and "Tier III" approximately 70 emerging cities. "Tier IV" is considered to include in excess of 70 smaller, but also quickly emerging cities, et cetera.
It is estimated that there are now over 170 cities in China that host a population in excess of one million people.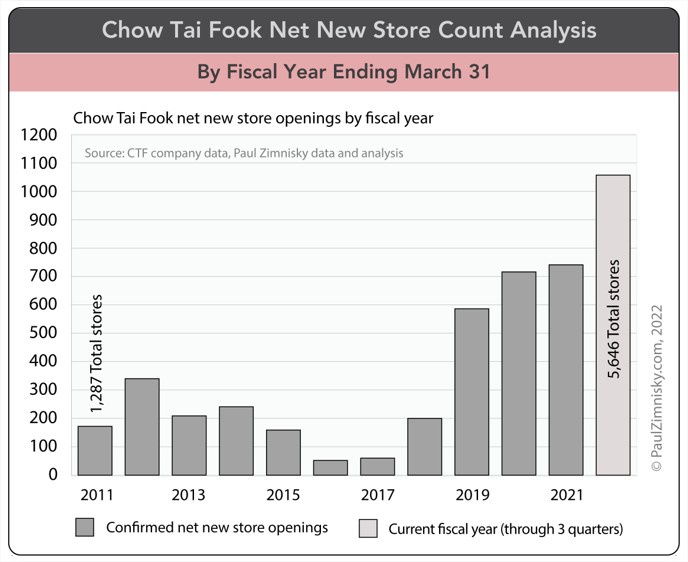 Other major jewellers in China, including Luk Fook and Chow Sang Sang, continue to rapidly open new stores as well. For instance, Luk Fook has plans to open 360 net new stores in the fiscal year ending March 2022, which would boost the company's store count by over 15% year-over-year to 2,322 locations.
In a direct communication with Paul Zimnisky last year, a Luk Fook executive said that the company also prefers to penetrate lower tiered cities with a "licensing" model, i.e. franchising, because "China is so big" and "it's a very efficient way to do fast expansion."
Last year, Chow Tai Fook said that it expects "sales in the consumer market in Mainland China (to) surge rapidly in coming years," driven by the Chinese government's "Dual Circulation Strategy" and "14th Five-Year Plan."
The former is a Chinese economic policy that was implemented in early-2020 aimed at stimulating domestic consumption while (at the same time) remaining open to international trade and foreign investment. The latter is the latest in a series of social and economic development initiatives first implemented by the government in 1953.
With the latest "Five-Year Plan," which runs from 2021 through 2025, the economic aim is to "stimulate consumption in all sectors" driven by middle-class growth. The Plan includes early-stage initiatives to grow the per capita GDP in China to the equivalent of $30,000 by 2035, which would be almost three times the 2020 level.
For context, per capita GDP in the US, Japan and India (three of the diamond industry's largest markets) is about $65,000, $40,000 and $2,100, respectively, according to World Bank figures. China has a population of about 1.4 billion people; the US, Japan and India, have an estimated 330 million, 125 million and 1.4 billion people, respectively.
Speaking to the anticipated impact of the Chinese economic initiatives, Chow Tai Fook management recently told Paul Zimnisky that "developments in lower tier cities and rural areas are expected to present huge potential."
Chow Tai Fook, Luk Fook and Chow Sang Sang represent the three large "corporate" jewellers in the Greater China market – which is considered to collectively encompass markets in Mainland China, Hong Kong, Macau, and Taiwan. Greater China is estimated to currently account for upwards of 20% of global diamond jewellery demand.
Paul Zimnisky forecasts that China and India, combined, could outpace the US as the largest consumer of diamond jewellery by the end of this decade. The US, by itself, currently represents half of global end-consumer diamond demand.
—
Paul Zimnisky, CFA is an independent diamond industry analyst and consultant based in the New York metro area. For regular in-depth analysis of the diamond industry please consider subscribing to his State of the Diamond Market, a leading monthly industry report; an index of previous editions can be found here. Also, listen to the Paul Zimnisky Diamond Analytics Podcast on iTunes or Spotify. Paul is a graduate of the University of Maryland's Robert H. Smith School of Business with a B.S. in finance and he is a CFA charterholder. He can be reached at paul@paulzimnisky.com and followed on Twitter @paulzimnisky.
Disclosure: At the time of writing Paul Zimnisky held a long position in Lucara Diamond Corp, Star Diamond Corp, North Arrow Minerals Inc, Brilliant Earth Group and Barrick Gold Corp. Please read full disclosure at www.paulzimnisky.com.