Hancocks of London, founded by Charles Hancock in 1849, offer jewellery featuring old-cut diamonds and recycled gold, presenting a more sustainably minded approach to luxury customers.
Hancocks have a distinguished history: the jeweller is the sole maker of Britain's Victoria Crosses, the highest award for gallantry in the armed forces.
They have held a series of Royal Warrants granted by the British royal family from the mid-19th century to the late 20th century, as well as appointments to other European royal families.
Today Hancocks, now owned by the Burton family, specialise in bespoke gemstone-set jewellery as well as offer antique jewellery, both signed and non-signed pieces, and are known for their preference for old-cut diamonds and gemstones.
Using old-cut diamonds means that the jeweller is effectively recycling or re-purposing existing material – a sustainable solution in keeping with the growing requirements of contemporary consumers.
Studies have shown that the younger generations of consumers, including Millennials and Gen Z, are becoming more insistent that jewellery supply chains are responsibly managed; that materials are recycled or re-purposed wherever possible; and that artisanal skills and heritage are supported.
Hancocks use only recycled gold in their handcrafted jewellery.
"We are recognising the best of those old diamond cuts and combining them with craftsmanship," said bespoke director Guy Burton, speaking in a recent interview at Hancocks' showroom in the Burlington Arcade in Mayfair, central London.
Hancocks' focus on old-cut gems, especially diamonds, is based on their belief that the older style of cutting produced a vastly superior stone aesthetically, compared to their modern counterparts mass-produced today.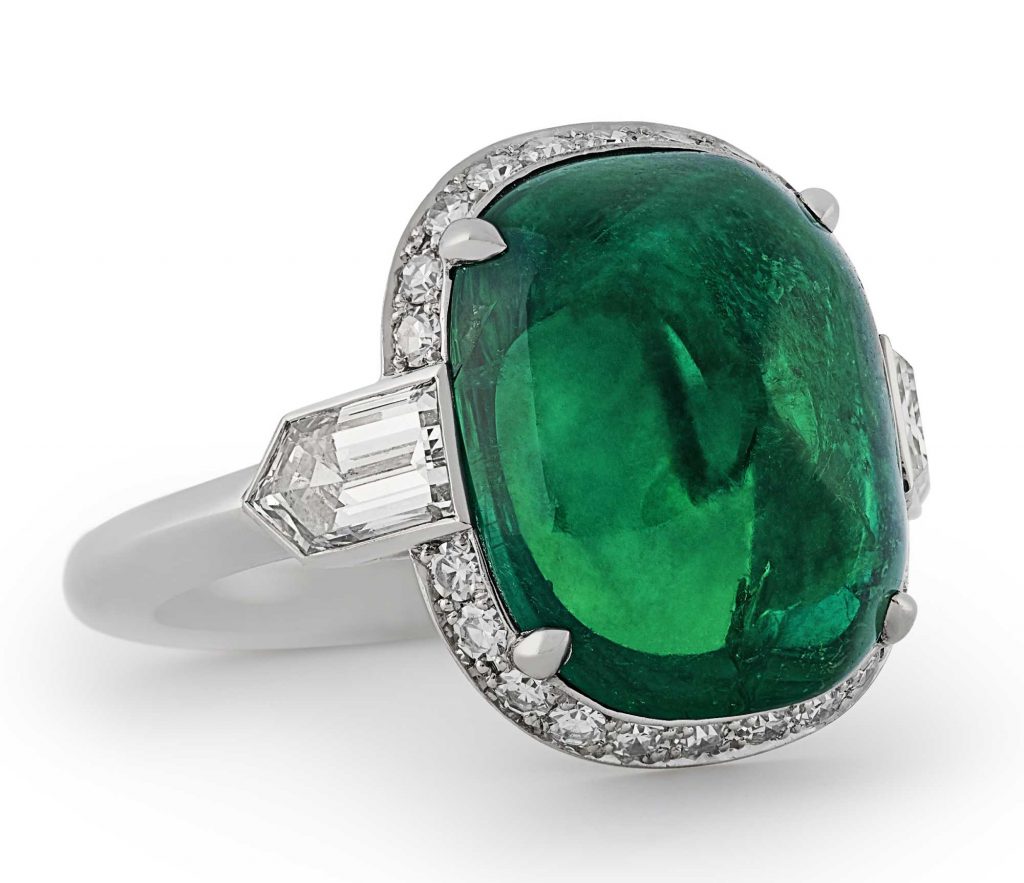 With these old-cut stones Hancocks create pieces that reflect the style of the age of the cut, or create bespoke, commissioned jewels.
Hancocks have two workshops in London where all of their jewellery is handcrafted, using traditional techniques and tools.
Before the travel restrictions triggered by the pandemic, Guy sourced exquisite old-cut diamonds largely from US trade shows.
Many old-cut stones had been exported to the United States from London in the 1920s as the US economy thrived.
One outstanding piece of jewellery showcased in the display window during the visit to Hancocks was a diamond tiara that had belonged to a British aristocrat, the Marquess of Anglesey, an example of late Victorian high jewellery which is presently much sought-after by collectors.
The tiara, made in around 1880, set in silver and gold, has a detachable riviere necklace.
Antique diamond tiaras have been much in demand in the auctions market in recent years, with achieved prices by far surpassing pre-sale estimates, often driven by Asian collectors.
In antique jewellery, signed Bulgari pieces are among the hottest names being sold by Hancocks, Guy said.
Cartier and Van Cleef & Arpels pieces are also very popular.
Bespoke Commissions
Hancocks, who remained active throughout the lockdowns, are seeing growing demand for custom-made commissions, notably for engagement rings, with tastes in coloured gemstone-set jewellery led by blue sapphires, which combine very well with white diamonds, emeralds, and Burmese (Myanmar) unheated rubies.
Demand has remained resilient during the pandemic, with some customers finding reassurance in precious jewellery as a store of wealth.
Guy spoke of growing demand for what he called "happy colours" in gemstones, a response to the pandemic mood.
"People are looking for stronger colours – gorgeous green and deep red stones," he said.
"The 'soft lemon' colour has exploded," he added, referring to a growing appetite for yellow diamonds.
Demand for yellow gold has also been rising. Rose gold jewellery featuring pink diamonds is popular, Guy said.
Silverware
Silverware has been a staple part of the business for Hancocks since the jeweller was established.
Today Hancocks offer some of the rarest and most collectible pieces by revered silversmiths such as Omar Ramsden to contemporary limited-edition pieces that are made exclusively for the jeweller.