Harakh Mehta's soulful renditions are patterned with rare and top-quality diamonds set in platinum or gold and have a lyrical quality to them. Every handmade piece also has a motif that spells joie de vivre and is denoted in the form of a swoosh-like tear drop that doesn't close at the apex, but reaches skywards – as if exploring an opportunity for growth and evolution – a philosophy that strikes a chord with the designer. In an engrossing and revelatory conversation, Harakh Mehta discusses his design inspirations, celebration of joyous moments, and his goals.
Harakh Mehta's namesake brand is barely a few years old, but he is already making waves on foreign shores. The unassuming and genial 42-year-old is a fourth-generation Mumbai-based jewellery designer, who debuted his first collection in the UK. He was chosen as the official jeweller of the 2019 edition of Le Bal des Débutantes, a Parisian ball and fashion event held annually. Participating in Le Bal and designing jewellery for accomplished participants aged 16 to 22, gave Mehta the scale and scope to experience the liberating power of unleashing his creativity.
Harakh wears his newly-earned fame rather lightly because his spiritual orientation keeps him grounded. Deeply introspective, he takes a day off – preferably once in a month – to get in touch with his inner self. Not many people outside his inner circle know – until now, as you read this article – that he confines himself to an upashray (Jain temple) to detox and declutter his mind, and it is from this atmosphere of peace and quietude where his ideas spring.
'Every creative person needs to connect with a source of energy, disengaging from the ambient noise of life,' he remarks.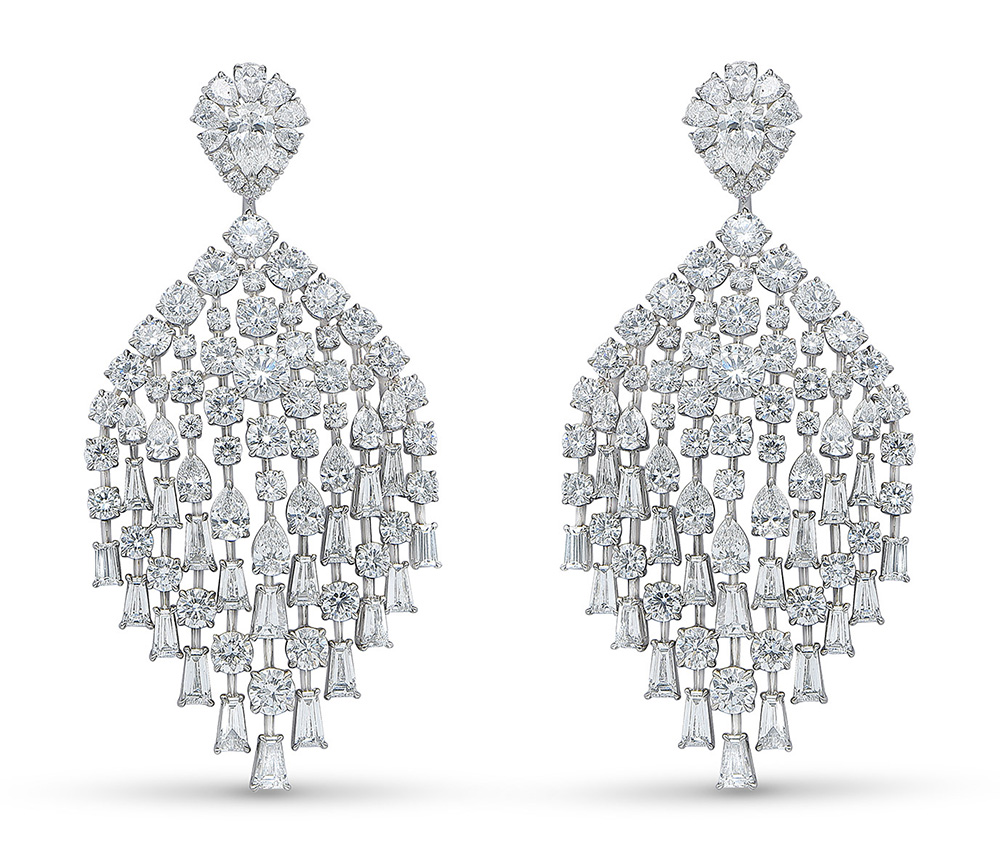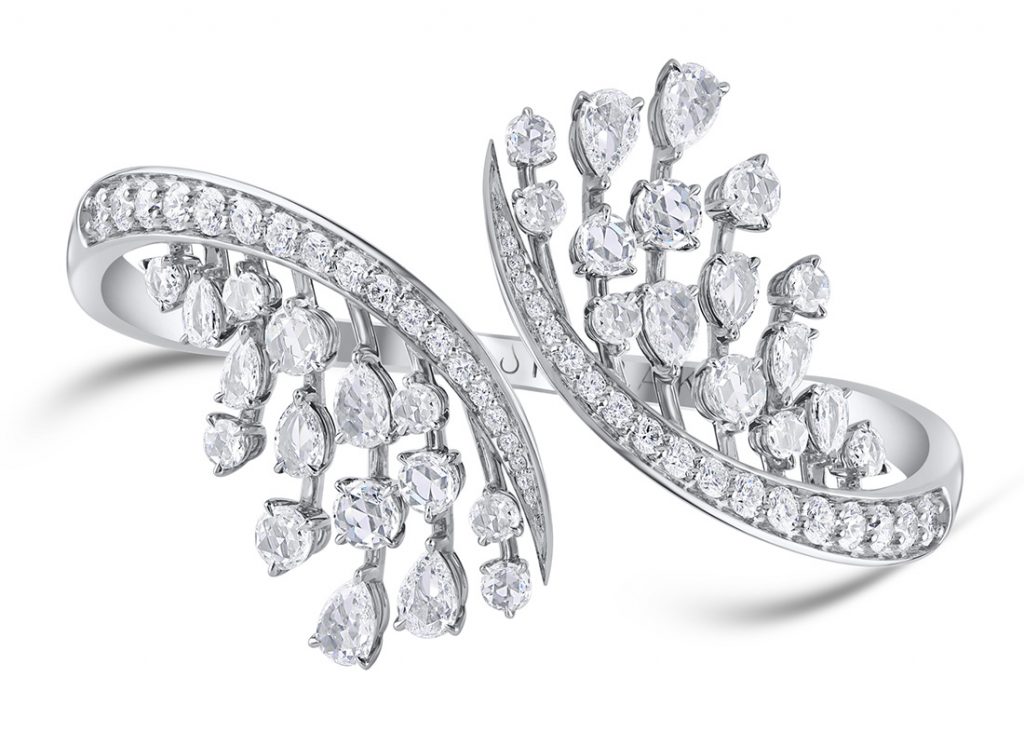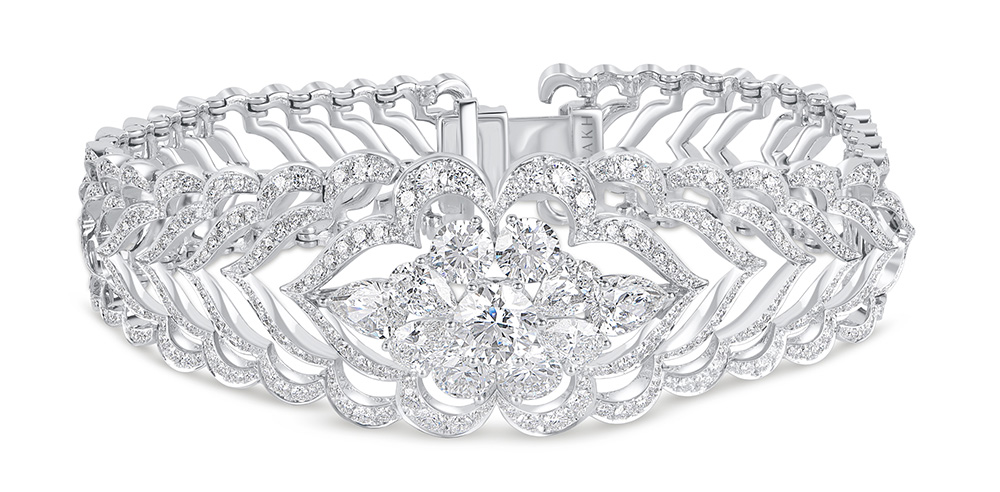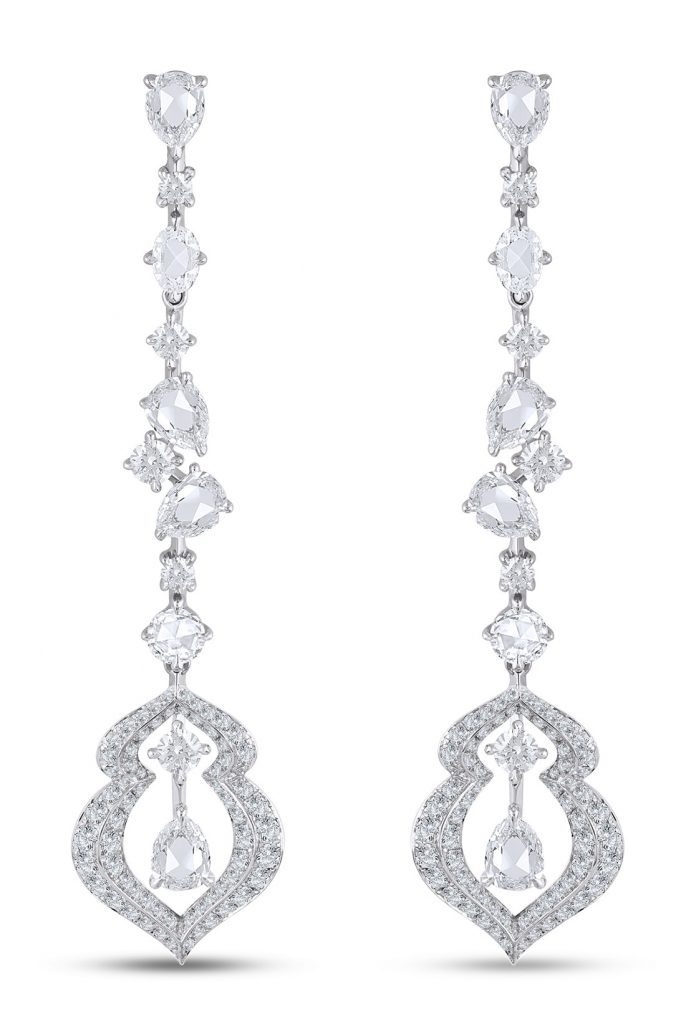 Early Days
Born in the late 1970s in Mumbai, Harakh recalls having grown up amid conversations of diamonds and design. His mother, Nayna Mehta, who he describes as a design genius, started making jewellery for friends and family. She grew so successful that in the early 1990s, her husband decided to turn her home-grown enterprise into a full-fledged business, and set up company Bombay Jewellery Manufacturers in 1992, for jewellery exports. The company was RJC certified in 2014.
The high-jewellery division was started by Harakh in 2017, and today, in keeping with the business ethics of the parent company that believes in 'Luxury with a Conscience,' the brand has acquired the Fairmined licence to ethically source raw materials.
But before starting his own brand, Harakh went on to graduate from the University of Rochester, USA, majoring in Economics with Psychology as his minor subject, followed by a Diamond Grading course in GIA, Carlsbad.
He worked as a management and marketing consultant for a boutique marketing firm that had clients ranging from a greeting card company to a pharmaceutical firm in the US, and that provided him a solid foundation on brand building early on in his career.
On his return to Mumbai in 2000, he joined his small but well-managed family business, where his father looked after sourcing gemstones, and his mother managed the design department. Harakh took on the responsibilities of marketing and branding, which required canvassing, marketing and selling around the world. With a strong network of established retailers in the US, UK, Australia, South Africa, Hong Kong, Europe, Dubai among others, Harakh notes, "That on-the-job retail education with inputs from the world's top jewellery retailers, in a nutshell, formed the cornerstone of our business. In due course, I realized that there is a niche at the very top end of the market for one-of-a-kind impeccably crafted jewels set with extremely rare or top-quality diamonds and gems," Harakh states.
He thought to himself, 'This is where I would like to be', and decided to try his hand at designing collectible jewels.
The Birth Of The Brand
In late 2017, Harakh officially launched his brand by holding a small preview in London with just ten pieces for select members of the press, high-net-worth individuals, and jewellery collectors. Bolstered by the success of the show, he started taking bespoke orders for customers, friends and even some Hollywood stars. Two years later, in 2019, he was at the JCK Couture show where he was spotted by Roberta Naas of Forbes, who walked into his booth and tried on a pair of earrings from the Cascade collection. The feature in the magazine gave him the much needed recognition, but it also whetted his appetite to explore other opportunities.
Soon, his wife drew his attention to Le Bal – the ideal launching pad for debutants at the much-talked about Parisian event. The Le Bal committee was impressed with his body of work and awarded him the contract just two months before the event. Driven by an adrenaline rush, Harakh worked round the clock and designed 100 jewellery pieces for twenty debutants, including the daughters of the Rockefellers, the Mellons, Julio Iglesias, Jean-Paul Belmondo and Jet Li. "There was never a dull moment. Le Bal proved to be a fairy tale," he notes.
In The Mind's Eye
No two artists are alike in expressing their artistry, and Harakh is no different. Even though he is not a trained jewellery designer, he sketches all his designs to near perfection. The technical team then takes over and Harakh modifies the pieces with plasticine clay, as he prefers to work with his hands.
Most of Harakh's collections employ only top-quality diamonds, barring a few pieces that are accented with rare coloured gemstones. "Our strength is diamonds. But going ahead, I will incorporate Kashmir blue sapphires, Colombian emeralds, Ceylon sapphires, and of course, spinels, which most designers fancy."
All of Harakh's collections are born out of joyous moments. For instance, the Raindrop line eulogises his unforgettable experiences of getting drenched in the Mumbai rains. The magic of raindrops soaking the skin transformed into pear-shaped diamonds and rose cuts coming together in his high-end collection.
A vivid scene from his childhood of the peacock dance was captured in his stylised Peacock collection.
"One day, my daughter came home ecstatic as her Kathak teacher presented her with a pair of ghungroos (bell-shaped anklets),' he recalls. "The joy that lit up her face became the mood board of my minimalist Ghungroo collection."
At a deeper level, Harakh's design philosophy signifies a celebration of life. "It is about listening to your soul, spreading joy, bettering the world, and enhancing the ecosystem,' he expounds. "That translates into wearable pieces of art. For me, it is a joy to create; karigars get joy by pushing their boundaries; and for the wearer, it is a joy to behold and acquire the piece; and we create joy in the ecosystem as these beautiful diamonds are ethically sourced!"
Every Harakh piece comes with a 'Reflection Card' that explains the artist's reflection of the mood board. Harakh designs and produces about 180 pieces (priced between $20,000 and $1 million) annually, which are sold mostly in the US.
Business during the pandemic fetched him a number of online enquiries. Harakh reveals, "Over the past 12 months, we have seen a huge increase in online enquiries about people wanting to invest in significant pieces of jewellery. The basic emotion behind this is to celebrate special moments and relationships in a way that gives them everlasting 'Joy'. We all need that sense of optimism, preferably something tangible to hold on to while navigating choppy waters."
Drop Of Joy
Each of Harakh's pieces bears a drop of joy, ensconced in the main design.
How did it find its place? There's a story behind this: On a plane ride from Chennai to Mumbai, Harakh, who had a rather tough day, dreamt of the drop splashed with colours. The dream was so vivid that he woke up with a start. He couldn't shake off the image, and so it was finally created and ever since then, has pride of place in his office.
"The simple swoosh, representing an open drop of joy on all my pieces, is a simplified version of the motif,' he explains, adding, 'The open drop reaching out towards enlightenment doesn't close at the acme. The journey upwards is unceasing. This is how spirituality is reflected in my piece … Showing joy and evolution towards a higher focus. That resonates a lot with me as I am a spiritual person."
Every creative person needs time to connect with his inner self. For Harakh, it is about packing off for a day and spending time at the upashray. That is where his vision to create is reinforced. "The spiritual activity helps me tap the deepest layers of the subconscious. As they say, the best ideas come when your mind is still. I feel an amazing sense of calm. Creativity is just a by-product of this action. Listen to your soul, and you will be rewarded!' he signs off on a philosophical note.