With the yellow metal rates shooting up to Rs.56,000 per 10 grams, buyers at the show are currently placing orders but with a watchful, need-based approach.
Solitaire spoke to Signature exhibitors and learnt that a couple of factors could have affected the buying – one is the high metal price; and second could be that the sales during festive season were strong, so buyers may have paused before making further purchases.
Vishal Jain of Shah Vanaji Kesaji & Co, featured some exquisite lines using gemstones such as tanzanite, tourmaline in gold. "We made fusion lines using a combination of casting, handmade, CNC, laser soldering, 3D printing in one piece of jewellery." Lightweight jewellery is trending and the average weight of a complete set is from 12 grams to 30 grams, with price points between Rs. 60000 to Rs.2 lakhs proving popular.
"Buying is cautious and bookings are happening as per the demand at the consumer end. We are getting a number of queries, but sales are lower than expected because of higher gold rates by at least 20%. Yes, buyers are curious about the new collections, new designs in the lightweight range, but are waiting. If the prices go down by $50, they may book the same after the show," Jain said.
Amit Soni, Director, KIK Jewells, believes that the show has been held at a proper time since retailers can meet the demand for the premium wedding season that spans the first three months post Jan 15th to Tritiya. "Our collection Swaratna was launched yesterday and it consists of jadai working, carved gemstones, and are exclusive. The line is getting us lot of orders from UP, Jaipur and Mumbai. We have put in efforts to reduce the weight of gold in our sets by almost 15% keeping in mind the skyrocketing prices. And that is the reason why we can play with big forms. Inclusion of gemstones also enhances the pieces, and so the collection is doing well. Not just bridal, but even our occasion wear jewellery weighing up to 35 grams has been received well."
Mansukh Kothari, Owner, Vasupati Jewellers, noted that most of the gold jewellery manufacturers had come with low expectations because gold prices had climbed nearly 10% in a short period of time. "However, we have been meeting a good number of buyers at the show. I'd say business is 30% less than the previous year, but we are getting serious buyers. The Council has put in tremendous efforts to bring in quality buyers from across India."
Modern Jewellers commented that they have been getting buyers throughout the day and most of them are from the northern region. Darshi Zaveri of Modern Jewellers said, "Bridal jewellery as a segment is a need. Yes, the gold rates have gone up which is a concern, but if nothing else, it is only strengthening the trust of the consumer that gold, as a commodity, has always appreciated. Brides are given gold so that it is a security for them, so such times only strengthen people's trust in gold."
Buyers are serious but conversions are slow, stated Deepak Seth of SK Seth Jewellers. "Although our designer bridals sets weighing 1 kg and up have been already booked by a couple of clients, we exhibitors always wish that the inventory is booked by visitors across India. It could be high price or even a slack season till 15th January because of Adhik Maas (an extra month according to the Lunar calendar)."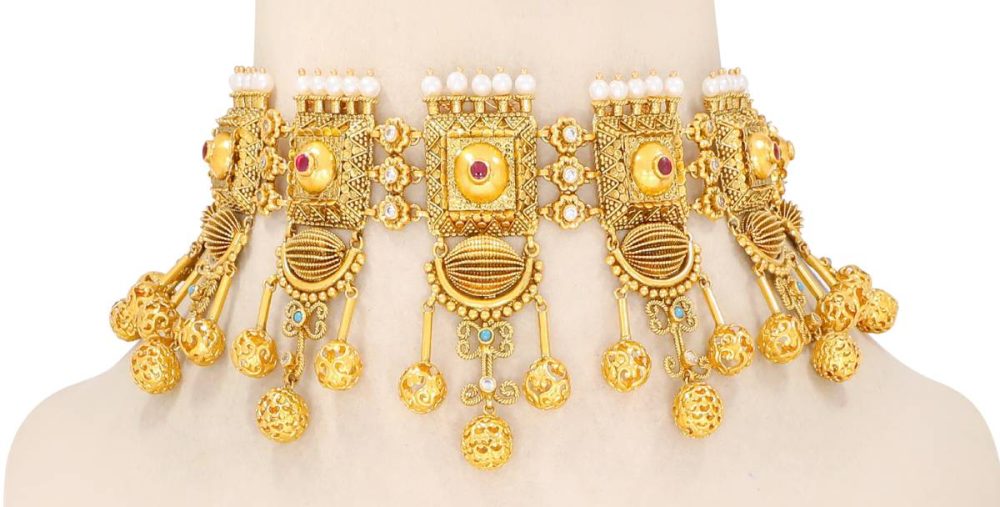 Mukesh Seth of Shanti S Seth Jewellers, "The wedding season is round the corner so we are experiencing very good demand specifically in bridal segment. The engagement has been good with a lot of potential buyers from across the country for the heritage collection which we had lined up for the IIJS Signature 2023."
Pankaj Kodnani, Owner, Krown Jewels, also noted that even though the visitor traffic was slow, buyers were keen to book orders across various categories of their inventory. "We did get buyers from Gujarat, Maharashtra and Madhya Pradesh, but southern buyers were missing. Quantum buying has not happened yet as corporates, though present at the show, may be still window shopping."