Paola de Luca, founder of The Futurist Ltd, who was currently in Mumbai for the two-day Design Workshop organised by the GJEPC, expounded on the topic of Art Deco – the 2020 theme of the Artisan Awards. She spoke about the design philosophy of art deco going forward and more in a free-wheeling chat with Shanoo Bijlani
How is Art Deco viewed today?
"It is a very interesting time in history. The Digital era has created new values, and is in resonance with the Millennial and Gen Z. The new trend, Digital Dharma is all about keeping the legacy and embracing the future. In a way, we are seeing spirituality growing – not in a religious way. So how does jewellery translate into this kind of mindset? It is about crystals, imperfection in terms of stones with solid craftsmanship. The new future is cleaning up the clutter and embracing new minimalism.
And for that, a lot of inspiration comes from the world of art deco – the movement that started in the early 1920s. In some ways, we are facing similar times like it was then. The geometries that are emerging are no longer regular – it is becoming more 3D, palindrome hexagons; the shapes and volumetric architecture is looking unreal, almost anti-gravity.
There is modernism slowly creeping into art deco motifs. It is an evolution of art deco – and the lines are cleaner and graphic.
A lot of colour is seeping in by way of enamel. In Europe, they are using natural gemstone powder in enamelling. It could be motherof-pearl or lapis lazuli powder … technology is adding cool elements to jewellery. It is nice to adapt an ancient technique, but view it with a different perspective.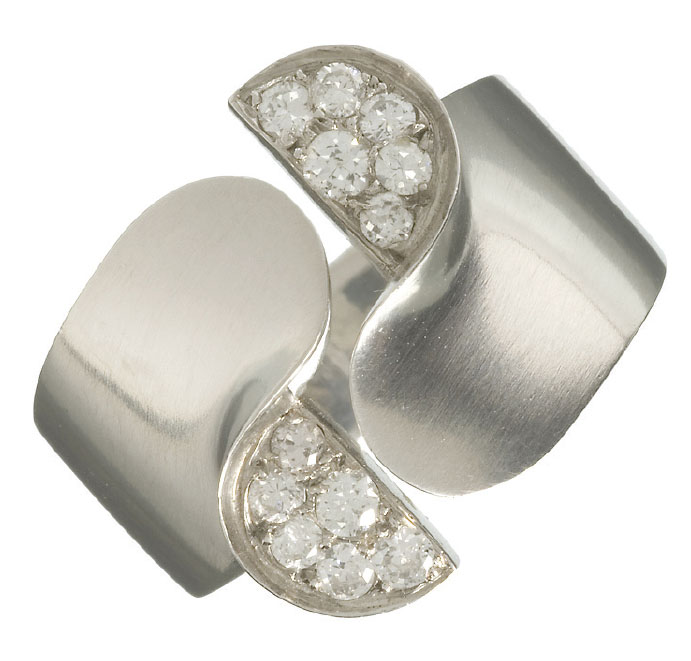 Describe the new futurist and where does India fit in?
India is very forward, one of the first nations to embrace technology. And when the concept of technology and algorithm comes together in jewellery you are presented with a modern vision.
The new future is not about cancelling the past, but embracing the legacy, the values and taking it to the next level. India has all the talent, vision and skills to be ranked at number one in the world of jewellery … You all are hungry for knowledge, design and beauty. You are enthusiastic and cool … so you all have the capacity to break the rules and push the norms to define the future.
For example, retaining the charm of polkis but looking at it from a different perspective; or it is about wearing bridal jewellery but reconstructing it into everyday jewellery. Mismatching – not doing exactly what grandmother said, but mixing heirloom pieces in your own stylised way.
But the process is gradual… India has to figure out how it should not just be a manufacturing hub. Indian designers have to find their own voice. Experimenting will dissolve fear and constraint in terms of templates.
It is a great thing that India has preserved its past – jewellery crafts, carvers, cutters, designs – despite being colonised for so long. Fall back on your rich heritage but take it global. It is a cultural process – and it takes time to change. Nothing is achieved overnight.
Trade shows with a curated design room…
I strongly recommend that IIJS Premiere and IIJS Signature should have Design Rooms where you can have a curated collection of pieces designed by 10 or 15 companies or artists so that viewers can get a glimpse of your artistry all at once. Think about it!