Platinum jewellery demand in 2019 is expected to see a marginal decline, according to a quarterly report published by the UK-headquartered World Platinum Investment Council (WPIC), based on an independent analysis by its research partner SFA (Oxford).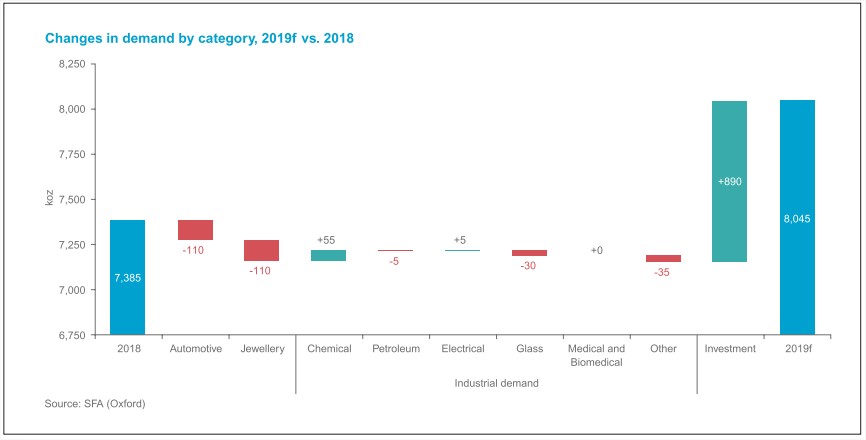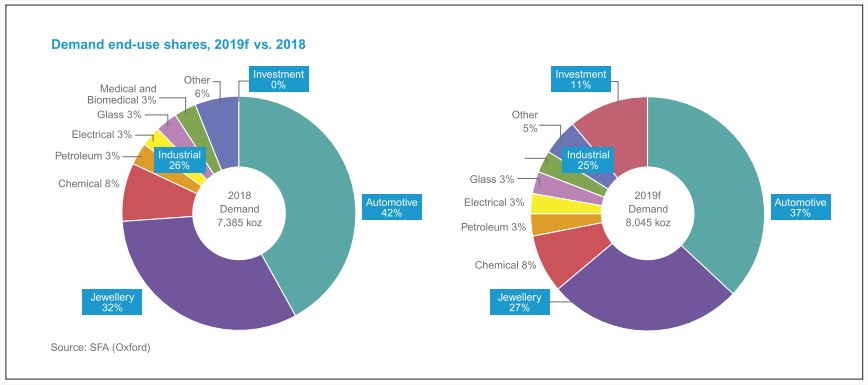 Global jewellery demand for platinum is projected to fall by 5% to 2,215 koz in 2019. Jewellery demand continues to be held back by the ongoing fall in sales in China, which is by far the largest market, and thus outweighs gains in other regions, it noted.
In India, platinum jewellery demand has been facing several headwinds in 2019, the report said, as the jewellery retail sector experiences a number of challenges, including high gold prices affecting footfall in jewellery stores, weakening economic growth (Q1 2019 saw the weakest growth in five years), an election year, cash restrictions and an erratic monsoon season. Indian platinum jewellery demand is still expected to see double-digit growth, but at a slower rate than over the last two years, WPIC said.
Another year of lower platinum demand in China is largely responsible for the worldwide decline in platinum jewellery demand. The Chinese platinum jewellery industry is still suffering from slower-than-expected sales in the second half of 2018 and excess stocks. Shanghai Gold Exchange (SGE) trading fell by 18% yearon-year in Q1 2019 and by a further 7% in Q2 2019. Mainland jewellery retail sales have improved as the year has progressed, rising by 3.5% year-on-year in H1 2019, according to China's National Bureau of Statistics, but there has been a sharp fall-off in sales in Hong Kong.
Japan's platinum jewellery demand is set to remain largely flat in 2019. Relatively strong demand is anticipated in Q3 2019, but this is partly due to expected pre-buying ahead of the scheduled sales tax increase from 8% to 10% in October that is likely to impact jewellery purchasing in the final quarter.
Similarly, European demand for platinum is set to remain largely static in 2019. Lower platinum prices are helping to boost platinum jewellery sales, as reflected in higher hallmarking statistics, which were particularly strong at the beginning of the year, but this is against a backdrop of a difficult retail environment where sales have been falling.
Elsewhere, US demand is forecast to rise modestly in 2019, primarily due to lower platinum prices, more platinum products, and continuing consumer confidence. However, as in other regions, jewellery retail sales as a whole are coming under pressure.
Jewellery recycling is projected to decline by 5% this year to 485 koz, owing to the low platinum price.
Lower Q2 demand
WPIC said the second quarter of 2019 was generally a difficult quarter for jewellery, with platinum demand from jewellery fabricators dropping by 5% year-on-year to 555 koz, a similar rate of decline compared to Q1 2019, due to a continued decline in Chinese demand.
In China, excessive platinum stocks that built up in 2018 continue to be drawn down through 2019, while a sharp fall in jewellery retail sales in Hong Kong has further impacted the requirements for new metal. There has been some improvement in overall jewellery retail sales in China, but largely to the benefit of gold rather than platinum. This is being reflected in the ongoing decline in purchases of platinum by manufacturers, either via the SGE or through imports. One bright spot is Japan, where two quarters of negative growth have turned positive, with growth of 6% year-on-year in Q2 2019. The arrival of the new era of Reiwa on May 1st, after the abdication of Emperor Akihito, was marked by extra holidays added to the Golden Week season at the end of April which led to additional jewellery sales.
There is a mixed picture from the US, where jewellery retail sales have been contracting and tourism spending on jewellery is down. Nonetheless, purchasing of platinum by manufacturers has held up. Similarly in Europe, jewellery retailer sales are down in all major markets, but hallmarking figures increased by 5% year-on-year in Q2 2019.