Indian jewellery demand had its best quarter of year-onyear growth since Q2 2017, according to the World Gold Council's (WGC's) latest Gold Demand Trends report. Demand gained 12% to 168.6 tonnes compared with 149.9 tonnes in Q2 2018, largely due to two factors: a higher number of auspicious wedding days compared with 2018, and local gold prices moving lower from the levels seen in February and March.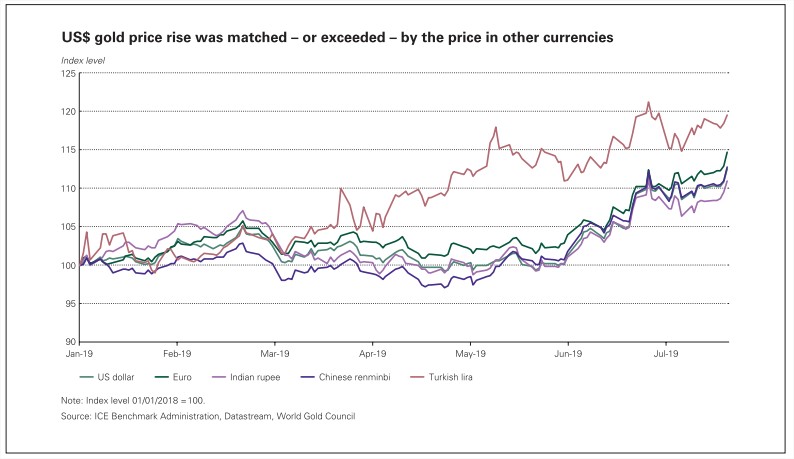 WGC noted that wedding season and festival buying was spurred by lower intra-year gold prices in April and May. In a similar trend to Q1, a higher number of auspicious wedding days in Q2 compared with last year (37 versus 21) was a boon to India's jewellery market during the first two months of the quarter.
The fact that this coincided with a fall in gold prices from Q1 magnified the positive impact: prices dropped to around R31,500- 31,600/10g compared with R32,000/10g at the end of March. And with prices almost R2,000/10g lower than the R33,500/10g seen in February, consumers rushed to purchase gold on the auspicious day of Akshaya Tritiya (May 7th). Purchases were strong in southern and western India; the southern states of Karnataka, Tamil Nadu and Kerala witnessed particularly robust Akshaya Tritiya sales.
But India was not without its headwinds. The slowing economic environment and restrictions on the movement of cash during the elections were a drag on demand in April and May. As the wedding season came to an end, the monsoon set in. And then the gold price rocketed.
Demand fizzled out in June as the gold price took off, reaching new highs. Mirroring the rise in the US dollar price, the domestic gold price traced a steep upward trajectory, breaching R33,500/10g by June 20th to reach a near-record R34,006/10g. With such lofty domestic prices, demand almost ground to a halt in the last ten days of the quarter. Retailers ran promotional campaigns to attract consumers – for example, offering discounts on labour charges – but consumers steered clear, wary of the sharp price volatility.
As demand tailed off sharply, the price discount in the local market reached $23/oz by the end of the quarter – a level not seen since August 2016.
A contributory factor to the subdued demand in June was an expectation among consumers that the Indian government would announce a reduction in Customs duty on gold in its early July Budget. As it transpired, these hopes were entirely unfounded: the duty on gold was raised by 2.5%. "Although we do not expect this to have a long-term impact on gold demand in India, we do see it having a dampening impact on Q3, particularly as gold prices have remained elevated," WGC stated.
Global Jewellery Demand
Worldwide gold jewellery consumption in Q2 2019 of 531.7 tonnes was 2% higher than Q2 2018. Total H1 demand of 1,061.9 tonnes was up 1% on last year's 1,048.2 tonnes. WGC noted that while much of this growth came from India, there were a few areas of modest improvement, including the US and a handful of Middle Eastern countries, but the June price rally curtailed jewellery demand across many markets.
The sharp rise in the US dollar gold price in June was replicated – if not exceeded – by the gold price in other currencies. This had mixed implications for demand in those markets where retail prices more closely respond to the underlying gold price, including much of Asia and the Middle East. For consumers who saw it as the beginning of an extended rally, it was a signal to buy before prices rose further. For others, it was a signal to hold off and wait for prices to settle or fall back.
China's jewellery market saw a third consecutive quarter of yearon-year decline; jewellery demand in Q2 dropped 4% to 137.8 tonnes. When combined with the relatively soft Q1 number, this resulted in a 3% decline in H1 demand to 321.4 tonnes.
In what is traditionally a seasonally slow quarter, Chinese jewellery demand was relatively upbeat in April and May as showrooms tempted consumers with promotions and continued innovation/development of premium products. But demand ground to a halt once the June price rally began and retailer's promotional efforts could not tempt consumers back. Reportedly, showrooms were deserted as the quarter came to a close.
Notwithstanding the difficult conditions witnessed in the final few weeks of the quarter, the retail landscape continues to develop as leading brands expand their networks and extend their reach into lower-tier cities. Chow Tai Fook, for example, opened a net 115 stores in mainland China during the quarter.
Consumers continue to shift their attention towards the more innovative and higher-purity, premium ranges that have been developed by the industry in recent years, and in part this reflects the efforts of the trade in promoting these higher-margin products. Sales of ultra-high purity, 99.999% pure gold jewellery continued to grow, as did the new "5G" gold sector – although the latter remains small compared with other categories.
In the West, the tenth consecutive quarter of growth in US jewellery demand lifted H1 demand to a decade high of 53.4 tonnes. The US market recovered from the effect of the Q4 2018/Q1 2019 government shutdown and consumer confidence rallied in the first two months of the quarter, before slipping back in June as concerns grew over the trade war with China.
Europe saw marginal losses in Q2: demand edged down to 14.3 tonnes. Modest improvements in France and Germany failed to match losses in the UK and Italy, due to Brexit concerns and fragile consumer confidence respectively. As a region, Europe accounts for just 3% of global jewellery demand.
Middle Eastern demand grew fractionally: several markets across the region improved, led by an 8% recovery in Egypt.
Total Gold Demand
Global gold demand grew to 1,123 tonnes in the second quarter of 2019, a rise of 8% on the same period last year. Continued central bank buying and sustained growth in gold-backed exchangetraded funds (ETFs) were the key drivers of this increase.
Central banks bought 224.4 tonnes of gold in Q2 2019. This took H1 buying to 374.1 tonnes – the largest net H1 increase in global gold reserves in WGC's data series. In a continuation of recent trends, buying was spread across a diverse range of – largely emerging market – countries.
Holdings of gold-backed ETFs grew 67.2 tonnes in Q2 to a six-year high of 2,548 tonnes. Continued geopolitical instability, dovish commentary on monetary policy from central banks, and the rallying gold price in June were the main factors driving inflows into the sector.
Alistair Hewitt, head of market intelligence at the WGC, commented: "June was a big month for gold. The price broke out of a multi-year trading range to hit a six-and-a-half-year high and gold-backed ETF assets-under-management grew by 15% – the largest monthly increase since 2012. While the Fed's dovish turn was a key driver for this, it also builds on a strong H1 which saw gold demand hit a three-year high, underpinned by extremely strong central bank buying. But we also saw an uptick in sales at an individual level as investors took advantage of June's price rally to lock-in profits; jewellery recycling and retail bar and coin liquidations both rose.
"As we head into H2, we believe the factors underpinning ETF inflows and central bank buying, including looser monetary policy and geopolitical uncertainty, will continue. Consumer demand, however, may be a bit soft as people adapt to the higher price level."