Vaibhav Jewellers, a unit of Manoj Vaibhav Gems N' Jewellers, is a privately held entrepreneurial group from the city of Visakhapatnam. The group traces its roots to the small town of Eluru, Andhra Pradesh, from where it made a humble beginning in the early twentieth century. The group is now an established name in the jewellery business. Four generations of business lineage, knowledge and expertise in this domain has been a key to the group's success.
Vaibhav Jeweller's history dates back to a century when the family started with textile business. The business legacy was carried therefrom by the future generations, and diversified into jewellery segment.
CSR Initiatives
For years, Vaibhav Jewellers have been giving back to society incrementally by contributing in the field of education and healthcare by providing basic amenities to schools at village and mandal levels. They also inculcate this culture in-house by awarding meritorious children of the staff annually. The company also encourages its employees to complete their higher education under the 'Education Continuity Programme'. Every year, they conduct an exclusive research to understand the needs and requirements of primary schools and Zilla Parishad High (ZPH) schools in the neighbouring mandals and districts to plan its CSR activities.
Recognizing and honouring artists: Vaibhav Jewellers has always been a patron of art and music. It has been sponsoring the Visakha Music & Dance Academy's National Eminence Award Function since 2002 and has been honouring eminent musicians and artists across India by presenting them 'Swarna Kamalam' (a lotus made of pure gold) every year. Vaibhav Jewellers will continue to be taking its corporate social responsibility in the future and contribute towards promotion of Indian cultural renaissance.
Organizing blood donation camps: On the occasion of 47th birth anniversary of its former Chairman and Managing Director, Late Sri Manoj Kumar Grandhi, the management and employees, in association with A.S. Raja Voluntary Blood Bank, Visakhapatnam had organized a blood donation camp. Nearly 300 employees of V Square donated blood. The management also announced scholarships for children and merit awards in the name of Late Sri Manoj Kumar Grandhi.
Honouring meritorious students: On the occasion of 48th birth anniversary of Late Sri Manoj Kumar Grandhi, the management recognized meritorious students by giving away cash awards. Vaibhav Jewellers also donated a sum through Round Table 92 for constructing a new block at Sri Krishna VidyaMandir, Dwarka Nagar.
Supporting cleanliness drive: Vaibhav Jewellers has supported the 'Clean & Green Vizag' initiative by providing yellow bins and working for cleanliness around Timpany School, Dwarka Nagar and also planting trees.
Encouraging plantation: In October 2014, Visakhapatnam was hit by Hud Hud cyclone which destroyed a large number of trees. To make the city greener, the company planted nearly 1,000 saplings with cement tree guards around them, in association with GVMC, Visakhaptnam.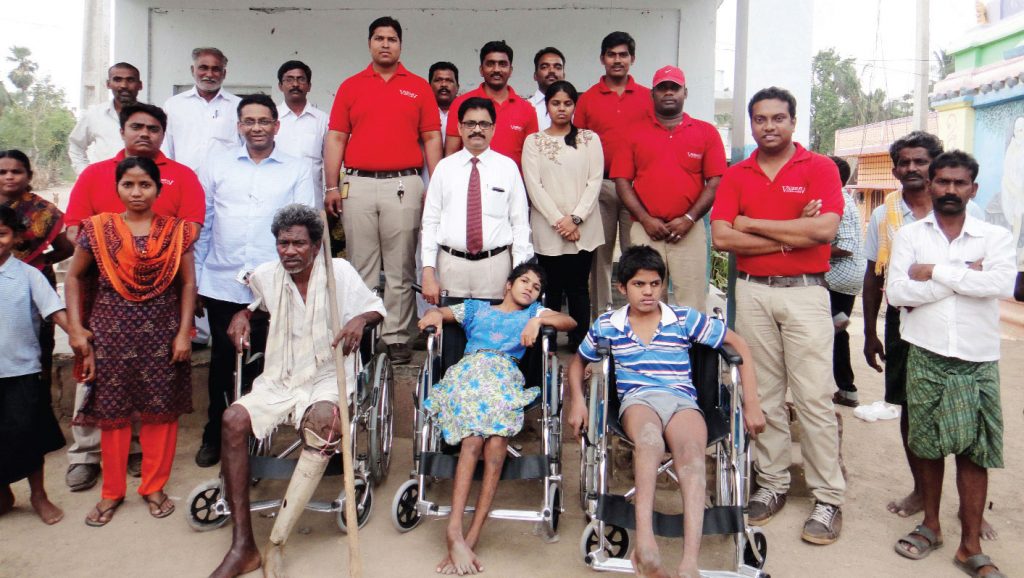 Aiding in health and education activities: "November 2014, Vaibhav Jewellers started CSR in village and mandal level primary health and education activities from the mandals of Coastal Andhra. Since then, Vaibhav Jewellers identified Primary schools in more than 425 villages where there were no minimum amenities available for the public and children and provided amenities like toilets for girls, benches and chairs for schools, water tanks, water purifiers, fans, tube lights, mic. systems, tumblers and plates for schools. refrigerators, wheelchairs and beds for primary Schools & health centres".
Promoting education in tribal areas: Vaibhav Jewellers has adopted a school near Aruku valley, a tribal area in Visakhapatnam district. It provides the students with minimum amenities like drinking water, facilitating books, chair, tables, fans, dresses, etc.
Amazing Moments in CSR Initiative
Project Shakthi: Project Shakthi is a project that trains girls, from rural areas, on self defence techniques. demonstration and training for girls on self-defence techniques at village level. Under this project, they have trained hundreds of girls in more than fifty schools so far and it's an ongoing programme in association with 'We the People-For the People Welfare Association, Visakhapatnam'.