The Natural Diamond Council (NDC) has released the third edition of their Jewellery Trend Report that highlights the upcoming natural diamond trends for the season, with a focus on how these trends bring a new opportunity to start conversations and create consumer desire for these billion-year-old wonders of nature.
The report has been compiled with inputs by 'The Style Collective', experts from the fields of journalism, fashion, and design, comprising of Rhea Kapoor, HH Maharani Radhikaraje Gaekwad of Baroda, Bibhu Mohapatra, Roohi Oomerbhoy Jaikishan, Katerina Perez, Sarah Royce-Greensill and Nonita Kalra.
The Natural Diamond Council's latest trend report reflects changing consumer behaviour and is an important conversation-starter for the retailer. Featuring 48 brands from India and the UAE, the 2023 Trend Report revolves around the theme of maximalism, which inspires consumers to embrace the unabashed expression of themselves through their jewellery. The report identifies three main trends to embody the philosophy of abundant styles and being unafraid to be seen this year, while staying rooted in sustainable slow fashion.
The first trend is XXL Earrings & Chokers, featuring large and extravagant jewels glittering with natural diamonds. This trend motivates consumers to make adventurous choices and express their individuality through statement jewellery for maximal impact.
The second trend, Diamonds with Gemstones, promotes the idea of embracing the playful side of natural diamonds by complementing them with colourful gemstones. This trend is expected to be popular with consumers who are spiritedly glamourous and have a youthful approach to jewellery.
The third trend is Modern Solitaire, which celebrates the timeless elegance of a single diamond and highlights the 'power of one'. This trend speaks to those who appreciate the essence of exclusivity and eternality. Solitaire jewellery needs to now be considered beyond the traditional norms of engagement rings and become a staple in every modern heirloom one adorns. This twist to the classic is expected to be popular amongst the chic sophisticates.
Richa Singh, Managing Director, Natural Diamond Council India & The Middle East, said, "Our 2023 jewellery trend report is an ode to the rising popularity of maximalism, as consumers look for innovative ways of self-expression. At the same time, even though trends may be cyclical in nature, what remains constant is our love for jewellery. We are asking consumers to celebrate their individuality through the beauty of timeless natural diamonds, albeit in a larger-than-life manner, because they are the perfect symbols of slow fashion; whether it's through Statement Jewellery, mixing them up with colour or as modern solitaires."
Sarah Royce-Greensill, Jewellery & Watches Editor, Telegraph UK, said, "We're seeing pared-back looks when it comes to hair and makeup. Colourless chokers in natural diamonds reflect this clean aesthetic, imparting modernity, while oversized earrings have become newly relevant when hair is slicked back, rather than loose and voluminous." 
Nonita Kalra, Editor in Chief, Tata CliQ Luxury, commented, "When there is optimism, there is colour. I'm also enjoying this insouciance with natural diamonds. Earlier, there were rules that you couldn't mix them with less precious stones, but people are having so much fun with this rainbow palette."
HH Maharani Radhikaraje Gaekwad of Baroda, stated, "Solitaires are eternal in more ways than one. It's the diamond that shines through, and I love that about it because there is so much simplicity and grace, with just the sparkle of the diamonds where there's no overlap of design. And I have found myself wearing a string of solitaires or a ring more often."
Katerina Perez, Gemmologist, Journalist & leading jewellery influencer, noted, "In the way they underline the neck, chokers help us explore our feminine side and express our sensuality. There is a resurgence now because they are more modern, more interesting, adapted to the way we style jewellery today."
Rhea Kapoor, Film Producer & Stylist, said, "Stones and metals close to a person's face can change the way they are perceived, especially in a photograph. Emeralds can light up one's face, whereas gold and silver both have a different effect. One of my favourite necklaces that I inherited from my mother is with amethyst and uncut natural diamonds. Jewellery shouldn't be about telling people how precious it is. It should be about you are enjoying it and finding value in it."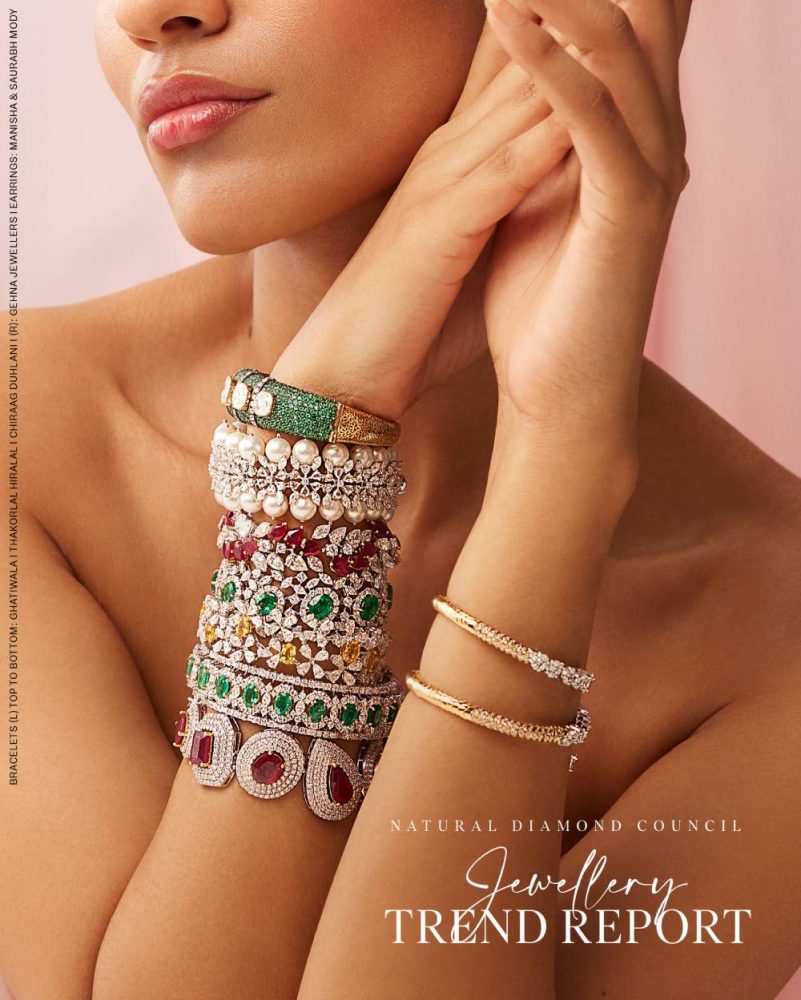 Roohi Oomerbhoy Jaikishan, Entrepreneur & Fashion Icon, said, "There is romance and adrenaline in buying a natural diamond. The feel of a solitaire that is yet to be set between your fingers is sensorial and tactile, a fully immersive experience. When it comes to solitaires, I have a predilection towards different shapes and cuts. I wear heart-shaped natural diamonds and have variety in my collection. I do covet an Asscher cut." 
Bibhu Mohapatra, Global Fashion Designer, explained, "Jewellery is now about asserting your story, every day, rather than saving pieces for special occasions. And don't we want to encourage one another to tell our story louder and clearer, so we can rise above the noise? Natural diamonds are precious, but they're also among the oldest and last forever. So, using them a bit more effortlessly will define how we evolve our relationship with them. The ease of making the natural diamond your friend is that you can morph it to suit you, by layering pieces, playing with different cuts and shapes. "
Check out the trend report here: https://www.naturaldiamonds.com/in/style-innovation/the-diamond-jewellery-trend-report-2023/