Assael's modern wearables that we discovered at the Couture show included the popular Bubbles series by Sean Gilson with a transformable tiara-necklace, tassel necklaces and danglers featuring Sardinian coral and some cool pieces like the Split Decision pearl rings and Flex bracelet with pearls channelled inside.
Assael has long been synonymous with pearls of the highest quality. Celebrating magnificent pearls such as the South Sea, Tahitian and Akoya pearls alongside responsibly sourced corals, the brand has designed numerous collections and limited-edition pieces. The brand snapped up the 'Best in Pearls' award and the 'People's Choice Award' for its Winter Branches earrings, which has articulated platinum branches that hold silvery blue South Sea pearls, rare blue Akoya pearls and briolette diamonds.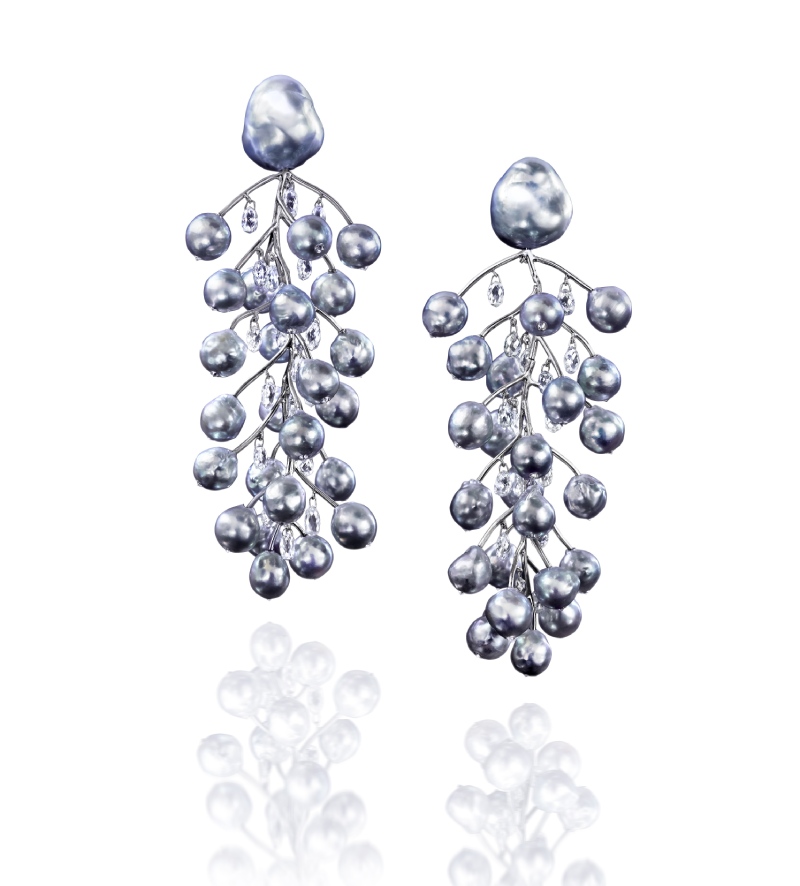 Peggy Grosz, Senior Vice-President of Assael, walks us through the fabulous new designs.
Tells us about the jewellery highlights at Couture.
I continue to be amazed at the role gemstones and hard stones can play in showing off the colour tones and lustre of pearls. The right juxtaposition of colours and surfaces can be magical. The collection of Golden South Sea Pearls paired with a particular turquoise that has a golden-woody veining is one of my favourites, and it felt great to know that it's appreciated by the Couture retail community.
What led to the minimalist forms of the Geometrix collection – is this a way forward to woo millennials?
It is absolutely for millennials and men and women who want a toned down, modern accessory, to create their own pair or choice of a single, but more individual than a simple stud. Sean Gilson designed our Geometrix line. Form is a strength of Sean's, whether it be round Bubbles or geometric forms, so we asked him to design a group of studs with an edge.
You showcased a good number of jewels designed using Angel Skin and Sardinian corals. What sparks Assael's love of corals?
Christina Assael has always had a love of precious coral. She wanted the company to deal in the 'other' biogenic gem from the sea. Through a special relationship and partnership with Liverino, a multi-generational coral supplier in Torre del Greco, Italy, we were able to obtain a tremendous inventory of legally imported, ethically and sustainably sourced coral, both Angel Skin and Sardinian. We just may be the first North American true dealer of precious coral; others have pieces and strands, but we have a large range and depth in strands and other forms. Of course, we have also incorporated it into our jewellery offerings.
The show comes after a rather bleak year. How did Assael fare at the event?
We really did not know what to expect, but I'm happy to tell you that this Couture was Assael's best show by far! The retailers that came were very serious about acquiring what they felt they needed, and Assael pearls and pearl jewellery was a part of it. We know that pearls have become an important category, and we worked hard to arrive with a group of collections that can't be found elsewhere.
Which pieces grabbed the most eyeballs? 
We left Couture and Las Vegas feeling very excited. Our Bubble Collection by Sean Gilson for Assael and our Colors Collection were definitely the stars. And we were incredibly honoured that our Winter Branches won 'Best in Pearls' Design, as well as the People's Choice Award. I cannot ignore the classic strand of pearls, though. There has clearly been a comeback of pearl strands, thanks to the fashion industry and the historical 'swinging of the pendulum.' It's pearl time!