Ace jewellery creator Smriti Bohra's artistry speaks louder than words! The Creative Director of the famous heritage jewellery house, Jewels Emporium, in Jaipur, prefers to remain low key and work behind the scenes, and is in her element in the atelier. A trained textile designer, her textured and organic bejewelled collections depict a tapestry of multicoloured gemstones and diamonds accented with French enamelling. The magnetic display of harmonising colours, form and high finish in the creations, demonstrate her dexterity to strike a balance between beauty and functionality. Comfortable with any medium, be it gold, silver or even alternative materials or crafts like bamboo and bidri, Smriti creates enthralling jewels that are backed with powerful narratives. She speaks to Solitaire International about her transit from textiles into the world of jewellery!
Smriti Bohra's delicate and desirous artworks sumptuously enriched with a myriad of gemstones are inspired by nature. A regular practitioner of Vipassana, Smriti's soul-nourishing activities rub off on her jewellery collections as well. Every creation exudes quietude and serenity – like a painting of yore with depth and proper tones that befit a masterpiece.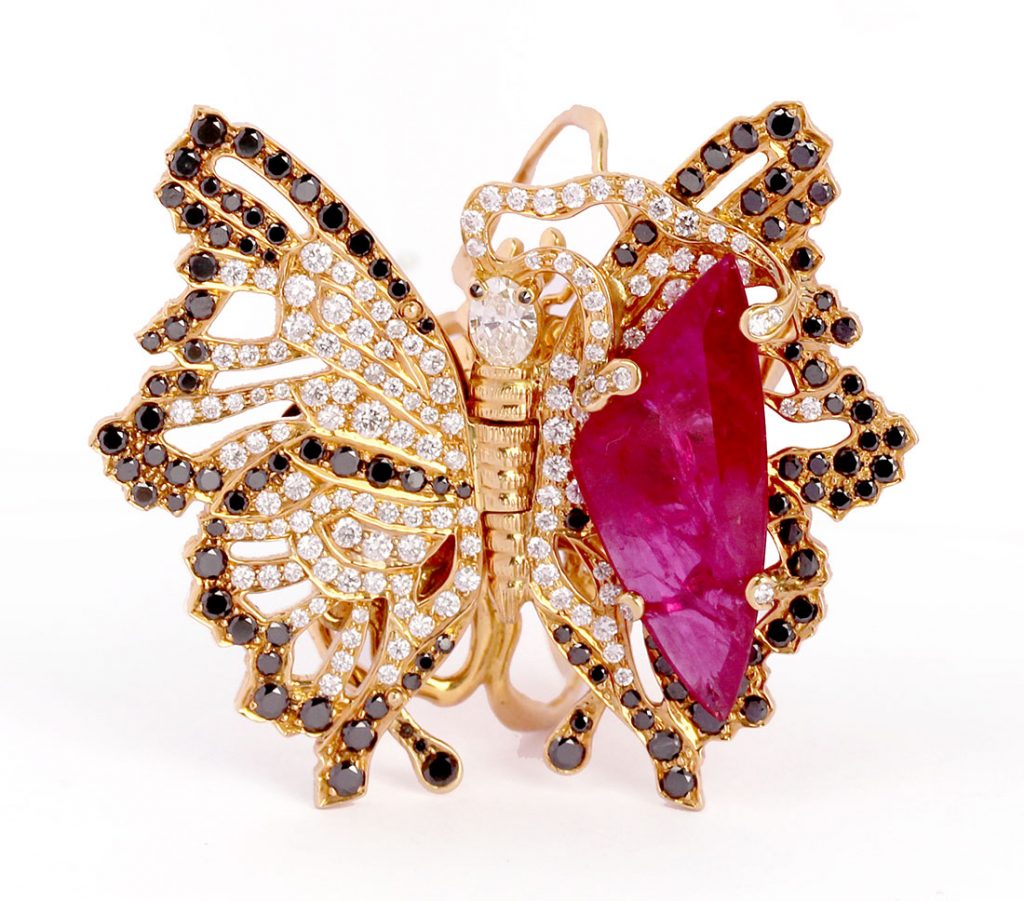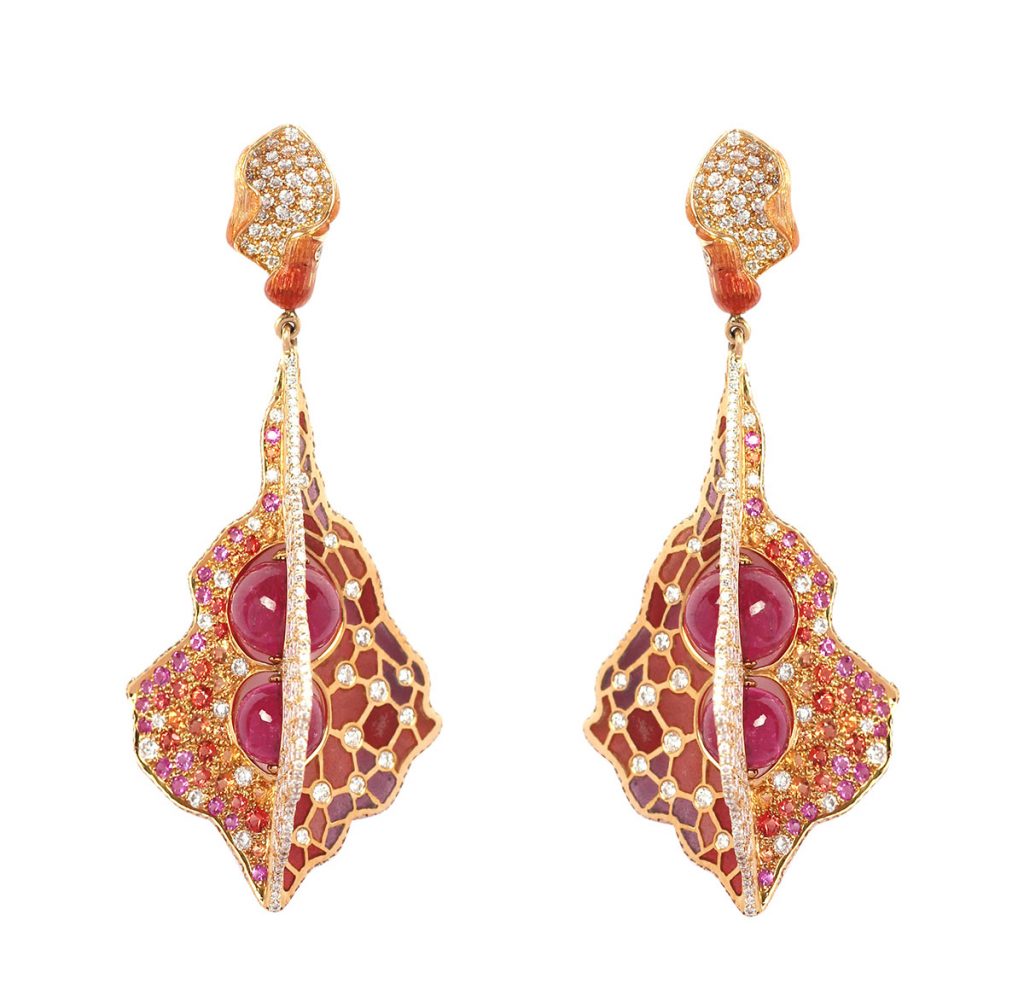 Journey So Far
I was born in the royal city of Jaipur, and although my family was into the emerald business, I implored my father to allow me to learn textile and fashion designing. I was fortunate to find a mentor in Ms. Poornima who taught us to think differently, to de-clutter our minds of preconceived forms and notions. I am greatly indebted to her because I understood the power of expressing myself freely.
I got married into a family that belonged to the jewellery industry; I was always fascinated with gemstones. I pursued Arts as my major and completed my professional qualification in textile and fashion design since that was my area of interest. For a few years, I was successfully running a business in my area of expertise and then I joined the family business, Jewels Emporium, in 2000. Since I had studied textile and fashion, my thought process was unconventional and different than most of the trained jewellery designers. I began by creating high design jewels ever since, translating myriad themes from abstract to nature in precious metal accentuated with diverse coloured gemstones, diamonds and French enamelling.
Textile designing and jewellery making are similar in many ways, but while one is limited to doing one-dimensional prints on the fabric, jewellery can be fashioned in three dimensional forms. Each year, we work on new themes or adding one-off pieces to our limited edition Masterstrokes.
Inspiration
An admirer of all art forms, my creativity stems from my passion for colours. I select and combine colours from a palette of 350 hues in French enamel and create exotic 'paintings' on the canvas of gold. Being my own harsh critic allows me to challenge myself as well as my team to surpass themselves; and I believe in selecting gem materials that may be deemed difficult to design. I ensure that every design is detailed in all aspects and work on each piece until I am satisfied with the finish and quality. Learning and evolving each day is a process that I enjoy.
When we participated in a project initiated by the Gem & Jewellery Export Promotion Council to revive dying arts, I remember creating a collection based on bidri (metal craft originated in Bidar) and bamboo jewellery. I would often visit Bidar with my colleagues and spend time with local artisans to work out modern creations. The challenge was to combine gemstones and precious metals with bidri and bamboo jewellery, and I loved every bit of that exercise.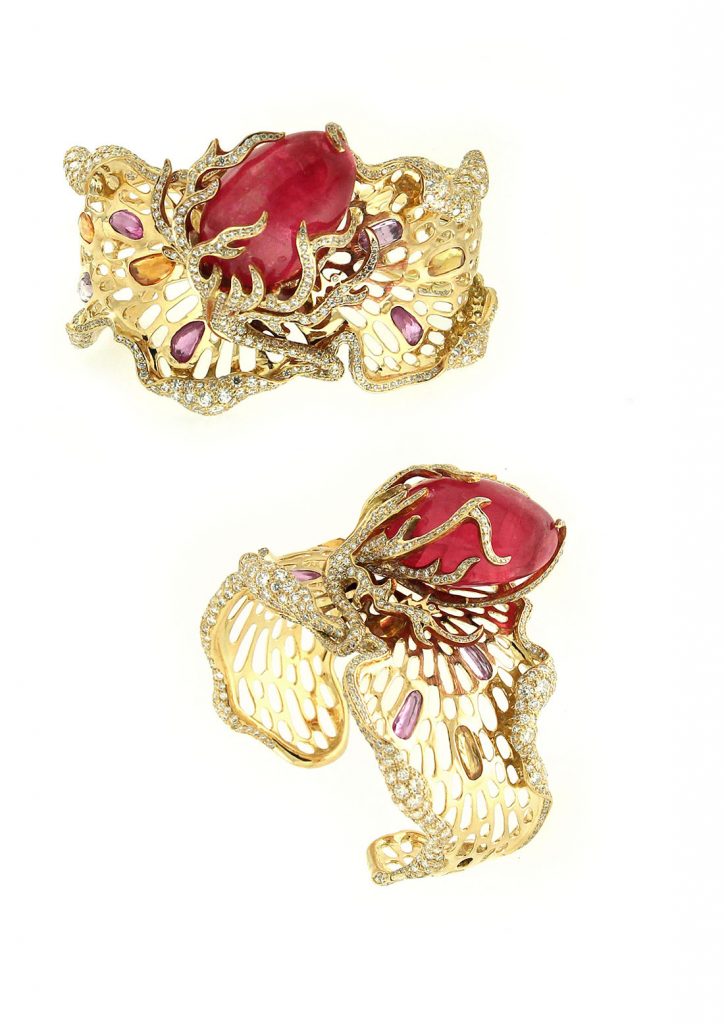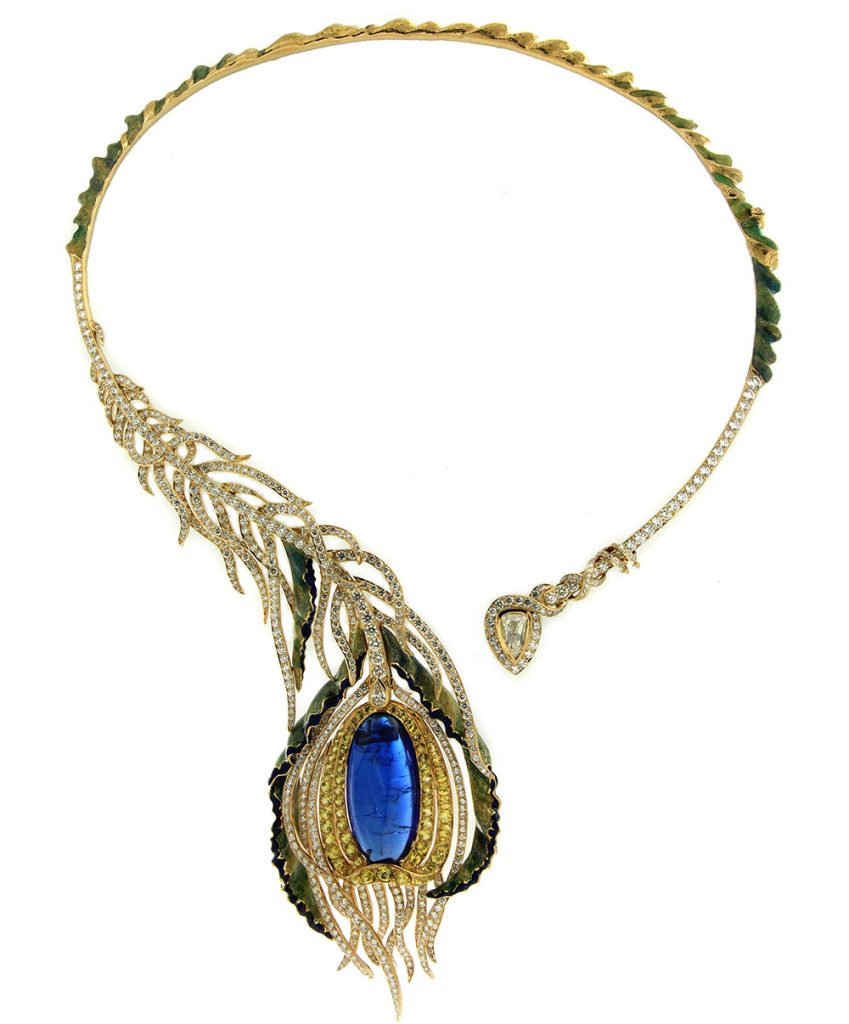 Latest Collections
Apart from working on Masterstrokes, a brand of limited edition one-off creations produced by us, I initiated a different project just to satisfy my inner creative impulse. And this time, I veered towards silver in order to create something new. The pandemic-induced lockdown gave me time to deep dive into the project and work towards bringing these creations to fruition. Around six months back, I finally put everything together and started building the soon-to-be-launched brand Tichu, which happens to be my nickname.
This brand is like a piece of my heart, and I have been working on it for almost six years now and I am deeply connected to every single piece. All the designs are created with utmost intricacy and have a sense of boldness to them; they are conversation starters.
Trends
For me, jewellery is timeless and ageless. I believe in creating trends that transcend time. Jewellery is not just a possession but a lifetime experience and a joy to wear. Each piece created has to have an individuality. Every jewel that I design is finely detailed from the unseen to the seen. Creativity is the route through which I share my soul with the world.