Multiple lockdowns, stay-at-home sagas and zoom meetings; that's how life wrapped up for almost all of us in 2020. The year made us crave for something bright and peppy. Enter enamels in candy-coloured shades!
The 2019 enamel jewellery trend effortlessly wiggles and loops alongside diamonds and coloured stones in an effort to uplift the mood.
"It has been a great time for those with perhaps more reserved styles, to experiment with more adventurous colours. It is also a fun way to mix and match pieces with more traditional gold jewellery that one already owns," says Harriet Hedges, fine jewellery and watches brands partnerships assistant, Threads Styling.
Enamel is now more prevalent than ever, particularly neon colours in all shades, points out Libby Page, Senior Fashion Market Editor at Net-a-Porter. Melissa Kaye, Eera, Yvonne Leon, Alison Lou, Foundrae, Alice Cicolini, State Property, Brooke Gregson, Selim Mouzannar, Marlo Laz and Lito are hot favourites on Net-a-Porter, who bring out cool enamel fine jewellery pieces on the luxury e-commerce platform. "We have seen a trend for 'feel good fine jewellery' with styles in bright coloured enamels being popular for us. There is a demand for pick-me-up pieces and a pop of colour is a serious mood lifter," adds Libby.
For her latest offering Flower Funk, Bea Bongiasca reimagines three fluorescent colours – Japanese Orange, Lime Green and Hot Pink – by mixing different enamels to ensure they are unique to her jewels and "to get that perfect hue." Enamel, explains Bea, allows for the use of colour in her 9-karat gold jewels without having to resort to the traditional ways of adding colour by using a big gemstone or multicoloured pavé. "When I did my first collection, during my final year at the university, I used enamel because I have always envisioned colour in my work." Now that enamel has become "super popular," Bea is glad she stuck to her "true aesthetic" and believed in it.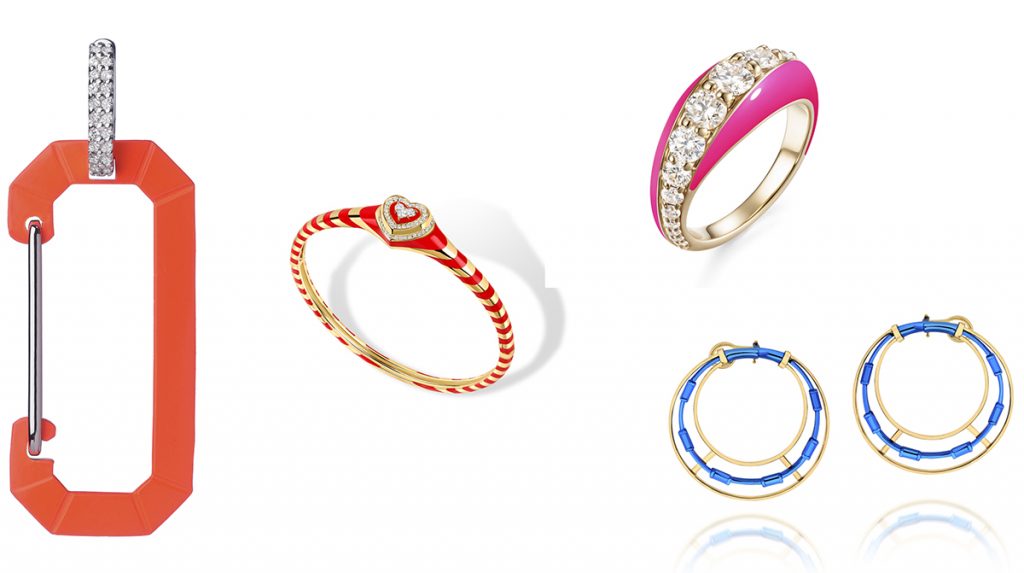 Harriet concurs. "Bea Bongiasca's colourful enamel and gem-set ring combinations continue to be desirable and are available at a more accessible price point," she adds. As an avid jewellery lover who keeps an eye on the latest trends, Harriet sees a definitive trend in coloured enamel, and more recently neon coloured enamel. "I think that, especially now, everyone is in need of colourful, mood boosting jewellery." Clients on their platform, including the Gen-Z community, seem to be leaning towards cheerful enamels. Interesting forms and adorable shapes in enamel fine jewellery ensure a steady stream of converts.
Middle East TV presenter and founder of The Jewelry Tales digital platform, Samah Wahbeh says enamel fine jewellery is seeing a significant growth in the region's market. "Enamel jewels in an array of colours coupled with stackable options find a good number of takers. Enamel earrings, in particular, are hugely popular with women sporting multiple ear piercings, says Samad, adding that emerging regional brands like Sumaya Bakkar and luxury brands like Dior, with their enamel creations, are paving the way forward in the Middle East.
Earrings were the most popular category in 2020 for the Threads clients, who bought into Kamyen, Eera and Melissa Kaye. "Threads had exclusive access to Melissa's new green and blue enamel colourways that she launched in June and were a hit," explains Harriet.
If you're looking for options that are perfect for everyday wear, you can't go wrong with Melissa Kaye's designs. Although 18-karat gold and diamonds have always been at the core of her collection, her enamel offerings lend a textural element and are available in a range of colours.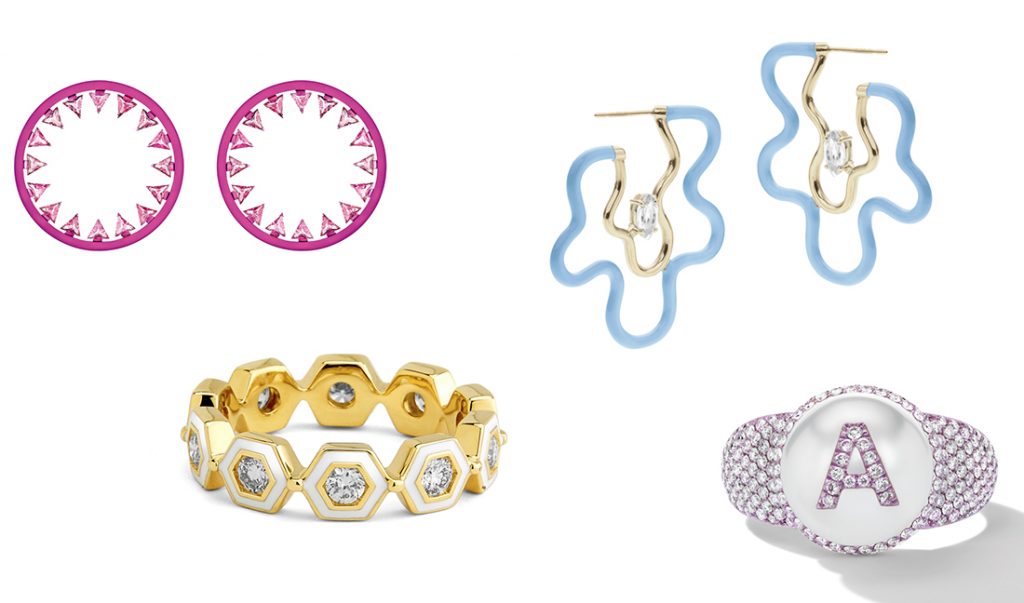 "Enamel gives the jewellery a more relaxed feel, taking the formality out of fine jewellery – and making it more wearable for every day." Launched in 2019, Melissa and her team spent a year developing the pieces for their debut in enamel. "We were working with a new material, creating a new collection and adjusting models. We had to make sure we achieved the exact colours we wanted; a lot of research and development went into getting us where we wanted to be," says Melissa. "Neon, which we launched in early 2019, gives the jewellery a fashion-forward point of view that is not only super luxurious, but also fun." Offering the full spectrum of the rainbow, the brand most recently introduced neon blue and green to the collection.
It is not just enamel that is popular in the jewellery scene; special metal coatings, nanoceramic and PVD (physical vapour deposition) coating on precious metal lend a glamorous sheen to it.
Five years ago, Carol Kauffman discovered a new gold metal coating, which she describes as 'Color Gold.' This technique led her to explore her creativity in a new direction. "We design a new collection every year and in amazing colours in gold that we never considered could be possible," adds the designer.
Colour has always played a role in Wilfredo Rosado's jewellery. "I enjoy the challenge of finding new techniques to incorporate it. In this case, I love how the nanoceramic creates a striking visual backdrop for the white diamonds," says the designer of his new line, W.Rosado, which is contemporary yet timeless.
We can't help feeling happy that designers are infusing a distinct formula of happiness into their jewels – and this is the colour therapy we need right now.