India is known for its exceptional handcrafts that are being practised by skilled artisans through generations, but sadly some of these traditions are on the verge of dying chiefly due to lack of patronage.
Fortunately, some Indian manufacturers have been making concerted efforts to revive, promote and nurture these heritage crafts while at the same time, empowering artisans, generating employment and attracting new talent.
Since the last 10 years, Rahul Mehta, Managing Director, Silver Emporium, has been supporting local artisans across India in a bid to keep silver crafts alive. The company has been supporting these long-term, one-off projects, and "we have been successful in finding a niche for our silver artefacts that employ different crafts," says Mehta, adding, "The potential for domestic market is huge, but, I believe, it is time for all to take the unique story of Indian crafts on the global stage."
Tell us a little about your company.
Silver Emporium was established in 1981 by Mr. Kantilal Mehta, and today, we have one of India's largest manufacturing set-ups for handcrafted silver artefacts in Jaipur and business-to-business stores in Mumbai, Chennai, Bangalore, and Hyderabad.
Why did you divert your business to artefacts?
The artefacts segment was developed solely based on our customer feedback. A customer had once suggested that we explore different Indian crafts in silver and the idea took root instantly. As a company policy, we always believe in acting on the suggestions from our customers; this has always given Silver Emporium the right direction and encouraged us to offer products in different categories, and, in turn, expand the silver market.
Indians buy gold and silver jewellery or artefacts for adornment as well as investment, with the intention of displaying one's style or status. So, while we invest heavily into artefacts and home accessories, we also develop unique silver jewellery.
Tell us about your method of salvaging different crafts.
We appointed a team in mid-2013 to identify different arts and crafts, which have not been developed due to lack of resources and marketable designs.
Our team travelled across India in search of master craftsmen to provide them employment and revive different crafts. Many of the craftsmen we came across had switched to pottery or taken up other work to support their families. The next generation doesn't want to learn jewellery crafts due to lack of lucrative opportunities in our industry.
Could you name the specific jewellery crafts that you've worked on?
We focus only on handcrafted artefacts or jewellery and have worked with artisans proficient in hand Nakashi work, Bidri, Damacus, Thewa, Filigree/ Tarkasi, Metal Inlay, and Meenakari enamelling from different regions of the country.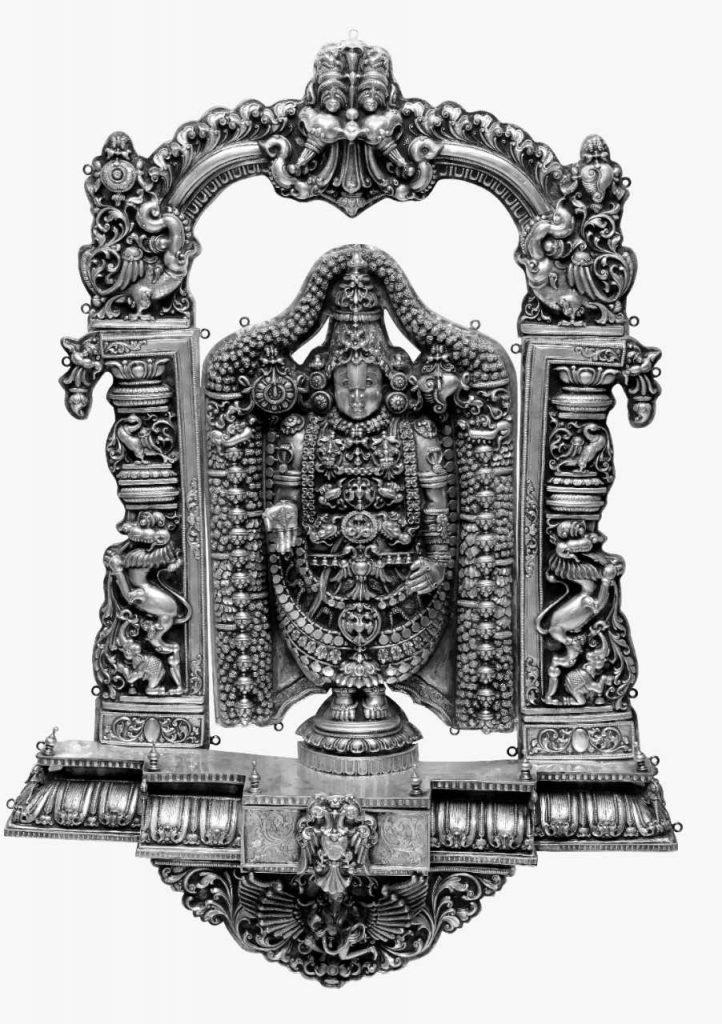 Tell us more about important masterworks like the gold-plated treasure chest (pictured at the top) featuring the reclining Vishnu. How did you sustain the livelihood of craftsmen for the nearly 12 months that they took to make it?
This project was very special for us. The entire process of identifying the craftsmen, hours of meetings with them to understand their problems, giving them enough compensation to develop this product as per our guidance, and having ample patience … It was worth it when we saw the stunning final product.
The craftsmen were given monthly compensation irrespective of whether the project succeeded or failed. We invest a lot of time and money because we are passionate about our work and respect our skilled craftsmen. Post the completion of the project, we received many serious enquiries from buyers and connoisseurs to develop an entire collection. We have many other products lined up in the months to come.
Tell us about the filigreed vintage car showcased recently at IIJS Premiere in Bengaluru.
Skilled craftsmen also need help regarding design; they also need handholding and training to improvise their skills and create products which are commercially viable.
The vintage car on display at IIJS took several months of planning to identify craftsmen, design the product, adaptation of skills to develop a unique product.
The lead time for such products is typically between 8 and 12 months. Patience and good compensation are the key ingredients to get the best output from artisans.
How many craftsmen are under your wing? Do you train them further to improvise or upgrade their skills?
We have realised over a period that many craftsmen want to work as entrepreneurs and don't want to move out of their locality. To make the project worthwhile, we provide them training, financial assistance, design guidance – all at their place of work, and at our cost. And believe me, we have seen fantastic results!
How do you propagate Made in India abroad?
We haven't yet explored international markets. We are looking for the right platform to showcase these products … A platform where such craftsmanship is appreciated. These products are precious artworks, and they are akin to sculptures made by master craftsmen.
Are any of your artefacts displayed at a museum?
We have been crafting masterpieces for over a decade now and these pieces are museum-worthy. We have yet to figure out how we can showcase Indian handcrafted artefacts in museums across the world. Currently, though, most of our pieces are bought by private collectors, who are connoisseurs of art.