The French author Victor Hugo had rightly said, "You cannot resist an idea whose time has come." And that maxim fits the rising sector of lab-grown diamonds.
Though a current favourite, LGDs were, until recently, surviving under the shadows of their counterpart – natural diamonds. However, during the period when imports of rough natural diamonds slowed down considerably, it was the LGD sector that stood up to the test of time.
Let's substantiate it with numbers to get a better perspective of the rapid rise of the LGD segment in the country: polished LGD exports grew 106% in 2021-2022 totalling $1.3 billion year-on-year. There are over 3000 LGD units in India, and nearly 30% of the diamond polishing units in Surat process LGDs.
This year's Union Budget, too, aims to bolster the newly emerging sector by announcing sops that will make the country more self-reliant across the entire diamond value chain.
Reduction in import duty of LGD seeds was one of the key recommendations from the Gem & Jewellery Export Promotion Council (GJEPC) to the Govt. to promote indigenous manufacturing in the emerging LGD sector.
Lab-grown diamonds or LGDs have been identified as a major growth area by the Government of India in the latest Union Budget 2023-24. The policy thrust given to LGDs is consistent with the Government's vision of driving the country and its citizens towards self-reliance in all areas, now including the sunrise sector of diamonds grown in a lab.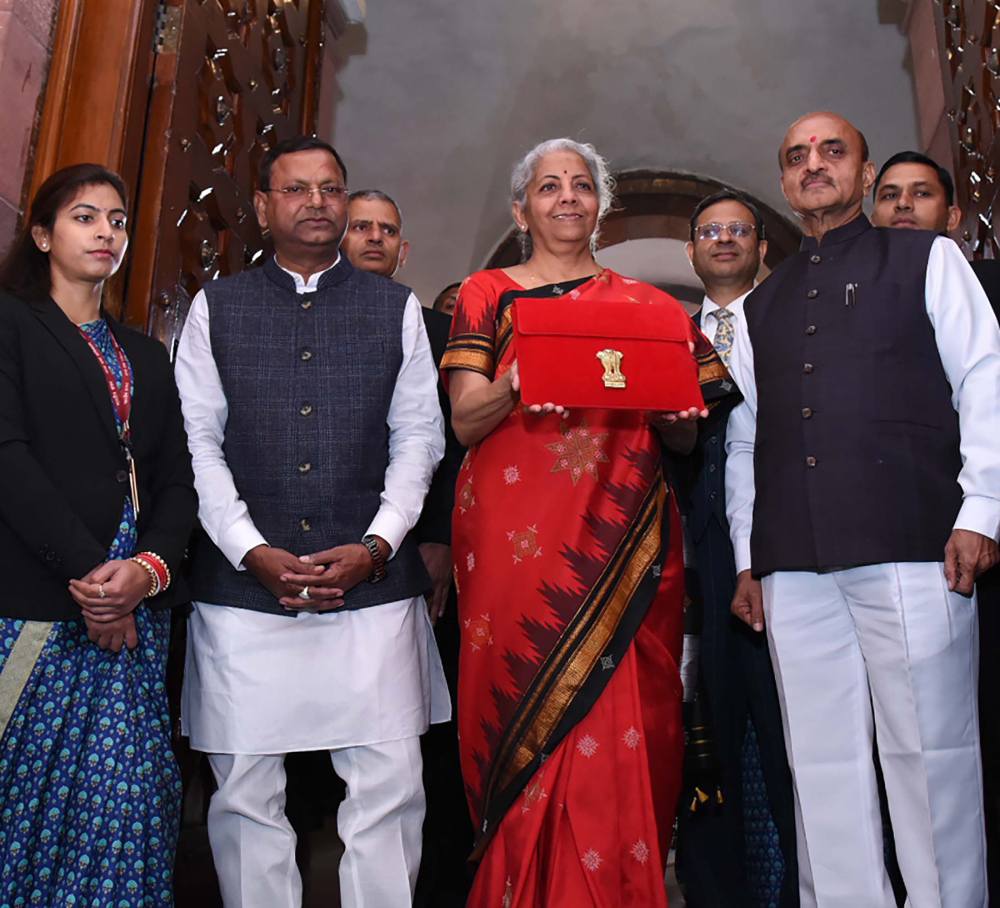 In her speech delivered to Parliament on 1st February, Smt Nirmala Sitharaman, Minister of Finance, called LGDs "a technology-and innovation-driven emerging sector with high employment potential."
The Minister noted that these "environment-friendly diamonds" have optically and chemically the same properties as natural diamonds.
To encourage indigenous production of LGD seeds and machines and to reduce import dependency, a research and development grant will be provided to an Indian Institute of Technology (IIT) for five years, she noted.
Thanking the Govt. for accepting the Council's recommendations, Vipul Shah, Chairman GJEPC said, "Lab-Grown Diamonds is an emerging sector and holds high potential and Govt. has realised at an early stage and have taken steps by providing Research Grants to IIT for 5 years and by reducing Customs Duty on LGD seeds to zero from 5%. It will ensure India's end-to-end world leadership in rough to finished lab-grown diamond and jewellery manufacturing. These measures will help make the LGD manufacturing sector in India a leader in the same manner as diamantaires rein natural diamond processing sector. In addition to that Govt. has also accepted to have clear segregation Customs (IT HS) codes for Silver and Platinum studded Lab-grown jewellery for better differentiation and identification at consumer level."
Smit Patel, Convener, Lab-Grown Diamond panel, GJEPC, told Solitaire, "The Indian Govt. is a role model to all countries and diamond industries of the world. Our Union Budget touches several sectors with the new policy in the lab-grown diamond industry. It upgrades the industry along with the Export-Employment-Infrastructural Development of the nation. The lab-grown diamond sector is one of the major focuses in export promotion and a 5% reduction in import duty (on seeds) is the biggest encouragement to Indian growers."
In order to reduce the cost of production, the Customs duty rate on LGD seeds used in manufacturing of rough LGDs has been reduced from 5% to nil – which aligns with a pre-budget recommendation made by GJEPC. The Customs duty reduction is subject to the Import of Goods at Concessional Rate of Duty (IGCR) condition for a period of two years.
The reasoning behind the added focus on LGDs is that India is already the world's no. 1 cutting and polishing centre of natural diamonds, contributing about three-fourths of the global turnover by value. With the depletion in deposits of natural diamonds, the industry is moving towards LGDs as it holds huge promise, the Minister noted.
Patel added, "India is already a leading player in diamond processing over the world. Now our new Union budget is highly industry-friendly which can make the diamond cultivators of India a global juggernaut in the lab-grown diamond industry."
In the April-November 2022 period, India's polished LGD exports grew 60.08% (in rupee terms) and imports of rough LGDs rose 23.8%. "Among the gems and jewellery sector, the lab-grown diamond division alone contributes a sharp rise in the export sector," Patel noted.
According to a budget note by consulting law firm Economic Laws Practice (ELP), the 7104 entry has been further sub-classified to bifurcate rough/polished LGDs into industrial/ non-industrial LGDs.
India has also proposed to insert specific entries for classification of lab-grown diamonds under sub-heading 7104 21 under the Customs Tariff. A supplementary note has been inserted into Chapter 71 to define LGDs so as to crystallise the meaning of what constitutes LGDs. Such diamonds will now include:
Chemically produced stones which have essentially the same chemical composition and crystal structure as a particular natural diamond and are produced using various methods including High Pressure High Temperature method (HPHT) and Chemical Vapour Deposition method (CVD)
Stones obtained artificially by various means, e.g., agglomerating, pressing or fusing together (usually with the aid of a blow pipe) fragments of natural diamonds which have generally been reduced to a powder.
Given that the industry was looking towards obtaining avenues to boost the growth and development of LGD manufacturing in the country, the measures announced today have the potential to make India atmanirbhar in the entire value chain of diamonds, and not be dependent on foreign imports, ELP noted.
"Apart from considering LGD as a luxury symbol, it is emerging as a high research area with market value. In association with IIT, the technical infrastructure of LGD manufacturing will develop with an upsurge in high employment. I am sure this year our industry can contribute more to the Indian economy. However, it can be a remarkable contribution to the Make In India initiative. So this Union Budget is purely growth-oriented," Patel concluded.