WALLACE CHAN, the Leonardo da Vinci of the jewellery world, is a gem carver, sculptor, painter, researcher, jewellery artist, and a philosopher, who conjures magical creations that have a dream-like quality to them. He's an alchemist, who can transform any material into wondrous works of bejewelled art. The gifted artist envisions images and patterns in his mind's eye to create the impossible.  
Undeniably the most venerated jewellery artist across the globe, Wallace Chan maintains a meditative approach to work, a clear influence of his time spent years ago as a Zen monk. Challenging himself is a daily ritual, as he patiently engages himself to work on new cuts or tame the material that can sometimes take years before transforming into indescribably magnificent works of art.
Although he belongs to this planet, most often Wallace Chan lives in an imaginary world, which impels him to fulfil his quest for designing incredible pieces that satisfy his creative spirit.
Here's what the wizard has to say in his own words…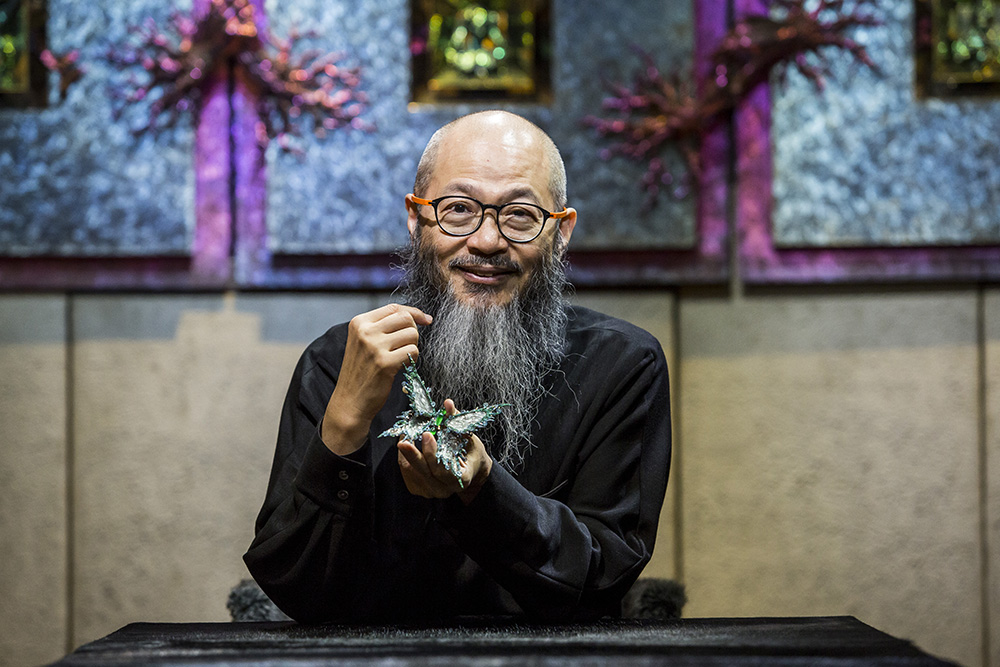 You began to learn gem carving at age 16. Tell us about the turning point that made you explore jewellery designing. When did you establish your eponymous brand?
I began as a gemstone carver in 1973, when I was 16 years old. It didn't take long before I realised the importance of creative freedom. I left the gemstone carving workshop and started carving on my own after just nine months. I was so eager to learn about everything that could help me create, so I didn't only carve, I also sculpted and painted. Driven by my curiosity, I explored a wide array of gemstones, techniques and themes.
By the end of the 90s, I was invited to create a stupa to house a sacred relic – a tooth of Buddha, in Taiwan's Buddhist Mountain (Fo Guang Shan). The project took a total of two years and seven months, during which my mentor, who was also my best friend and biggest collector, was diagnosed with cancer. He passed away not long after I completed the Great Stupa.
His death left me in despair, and I had a lot of questions about life and death, so I decided to become a monk. I gave away all my belongings and followed a Zen master for six months. I practiced meditation and fasting.
When I returned to "the earthly life", things had changed. I didn't have any contacts or resources anymore. But my desire to create remained. I began to create with more affordable materials, such as steel, copper, and even concrete.
One day, someone came to me with two diamonds. The person remembered me from my "Wallace Cut", which is an illusionary carving technique I created in 1987. He asked me to create a pair of earrings. At that time, my idea for the art of jewellery was very limited, for example, ergonomics – the human factor – is of utmost importance. But I was curious, and I loved (and still love) challenges. And so, my affair with jewellery art began.
I don't think anyone should consider Wallace Chan a brand, though. It is just me, a person, flesh and bones, who strives to create freely.
Many artists work with an inspiration to begin with … you start off with a blank canvas and fill in your own magic by creating never-seen-before artworks. Do you visualise forms even before you begin working on them?
If you want to see things in new ways, new light, you have to first give yourself a new pair of eyes, eyes that are unbiased – I sometimes refer to that as "child's perspective". Many artists have said it before, and it is true, inspiration does come from curiosity. But empathy is the most important quality.
Empathy is one the most important lessons I learnt when I was a monk. A flower has its story to tell, a bird, too, an ant, a fish, a stone … I think of myself as the medium for their stories to be told. I have a lot of dreams, and many of them all happen at the same time – sometimes at the oddest hours – I make quick, rough sketches so I can remember them, but my first real step is always to sculpt with clay because that is how I can experience my imagination in 3D.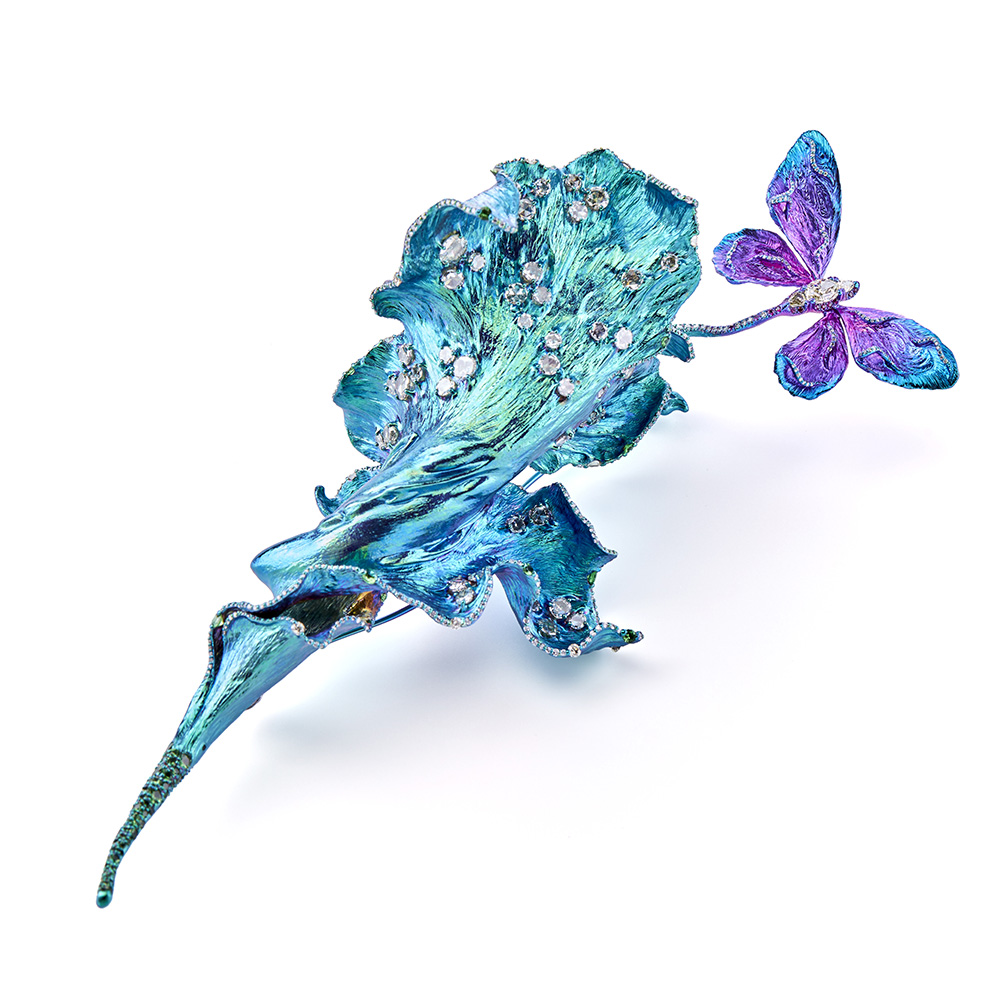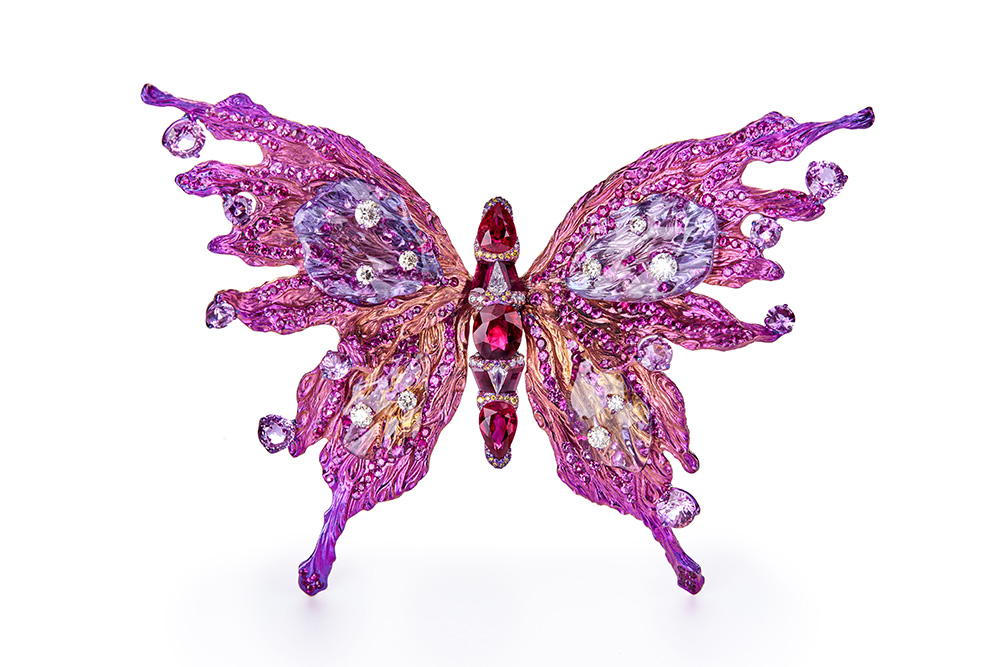 What impels you to take the paths unknown – you were the first to work with titanium or creating the Wallace Cut or the Wallace Chan Porcelain.
I began each innovation project with a specific reason, the Wallace Cut (1987) was inspired by the multiple exposure photography technique. I saw it at an exhibition and wanted to know if I could re-create an optical illusion through carving.
My research on titanium was inspired by the pacemaker, a medical device for the heart (which is made with titanium). I thought that a metal so biofriendly, strong, colourful, light and futuristic would be the ideal material for jewellery art, so I could use bigger stones without big, heavy metal structures.
Porcelain is a material heavily rooted in culture and history, a material that I am familiar with, and I hold dear to my heart. I wanted it to grow. I wanted it to be part of my creative world. So, I spent seven years to innovate the material. The Wallace Chan Porcelain is five times stronger than steel; it has rich colour, intense lustre, strength, toughness, and a contemporary spirit. It has further expanded my creative freedom.
So, in the end, my drive to innovate, to take the paths unknown, is simply fuelled by my desire to create. All of my innovations come together to create possibilities for my creations.
You have a great affinity towards titanium. Any particular reason?
My love affair with titanium began in the early 2000s, and it has now been over 20 years. I am still fascinated by titanium. To me, it is all about the future. It is light, strong, colourful and biofriendly. It is so calm and cool, and it doesn't oxidate easily. It brings to my creative world limitless possibilities. I still feel that it is the perfect metal to embody my presence on earth.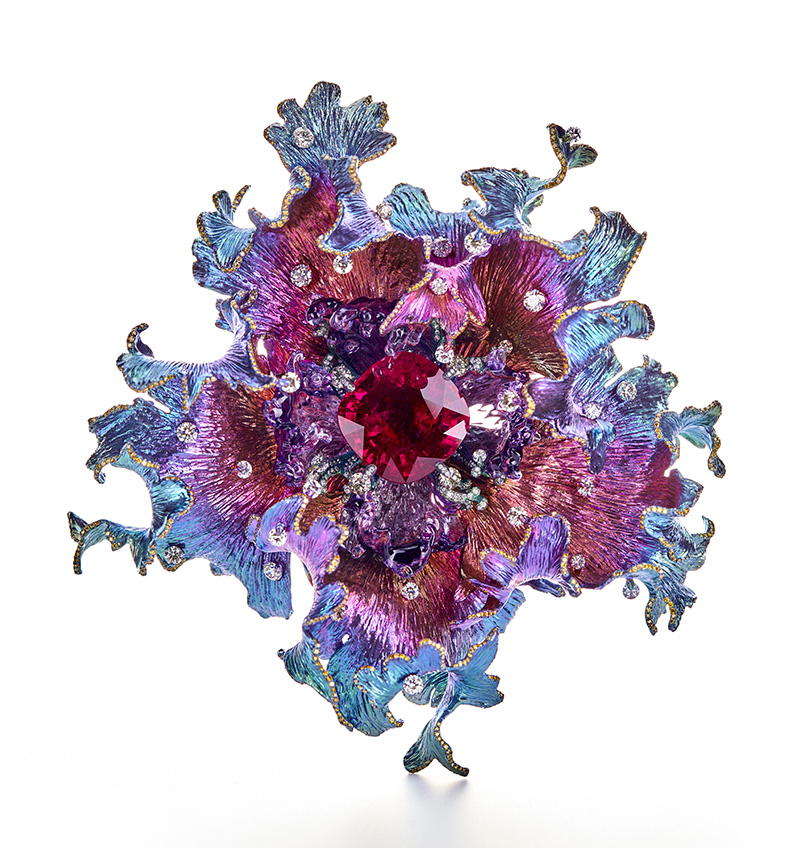 Your art is the result of years of research. Are there moments when you face disappointments at the work bench? Does it frustrate you or do you have a zen-like approach to work… personified with patience and a keen mind and determination to achieve what you set out to?
I don't hope, and I don't get disappointed. When I set out to do something, I don't hope for it to happen, I will find a way to make it happen. I believe that everything is difficult, but nothing is impossible, one just needs to be creative and flexible. I am trained by my experiences as a gemstone carver, working with stones. For example, you begin your project thinking that you want to carve a beautiful goddess, halfway through the face, you discover a black spot on the stone where you are supposed to carve the nose. What should you do? When I was a young carver, I could only afford one stone at a time, I had to find a way to make it work, the stone would not change, so I had to be the one to change, to think of a creative solution.
You have an extraordinary hold over technical aspects of jewellery making. How important it is for a jewellery artist to balance the act between being a designer and a metalsmith?
I am a creator, and that's my only act. But what does it take to create a piece? Creativity, culture, philosophy, gemmology, metallurgy, ergonomics, light, colour theory and so much more. To create something, I just have to combine all my knowledge, skills and resources to make it happen. If I don't have the knowledge and skills I need, I must learn. If I can't find the right tools, I must create them. If I can't find the right materials, I try to innovate the existing ones. I never feel the need to "find the balance" because everything just happens naturally as part of the creative process. Everything is already in perfect balance.
How long does it take for each collection to come to life?
"Collection" is a term often used in fashion, Spring Collection, Fall Collection…… But I am not fashionable at all. I am just a creator, and I don't tie my creativity to a certain theme or timeline. The only timeline I have is my life. Every piece is unique, and every piece happens at its own pace.
Your work cannot be classified as Eastern or Western, as it cuts across all boundaries and cultures. For you, art is a universal language… How did you manage to achieve that balance?
I never received a formal education, so I am not confined by any schools of thought or practices. Perhaps that is one of the reasons. Art is meant to transcend us and that's also what I strive for in my art.

What is the similarity between a gem carver and a sculptor and where do those similarities end?
A gemstone carver carves on a gemstone to create motifs or shapes. But a sculptor may not use only gemstones. A sculptor can use a wide array of materials and skills to create a sculpture, and carving is one of those skills. For example, my large-scale titanium sculptures are created through casting, modelling, carving and assembly, etc.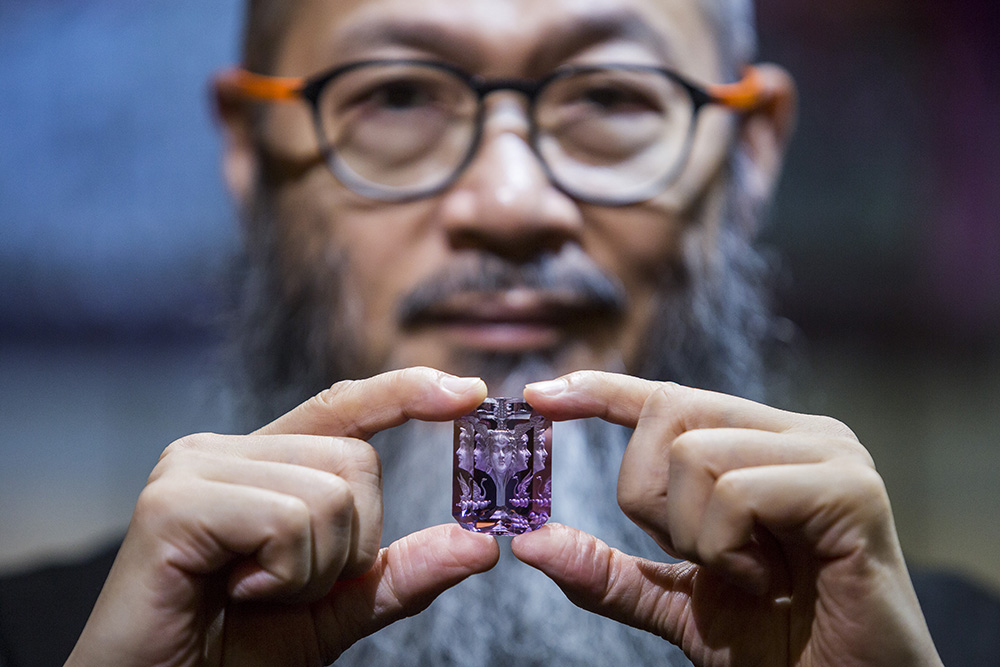 If you were not a jewellery designer and sculptor, what would you be?

I will still be a creator. To me, to live is to create, to create is to live. I cannot imagine not creating.
What is a day in the life of Wallace Chan?
That's an interesting question because I don't have an interesting answer like everyone always expects! Anyone who knows me knows my daily life is not as exciting as my creations. My favourite place to be is my workshop. My favourite way to spend my time is to work through the day without having to take a break. Physically, I don't live on the Avatar planet surrounded by flowers of dreams … But in my head, when I create, I do.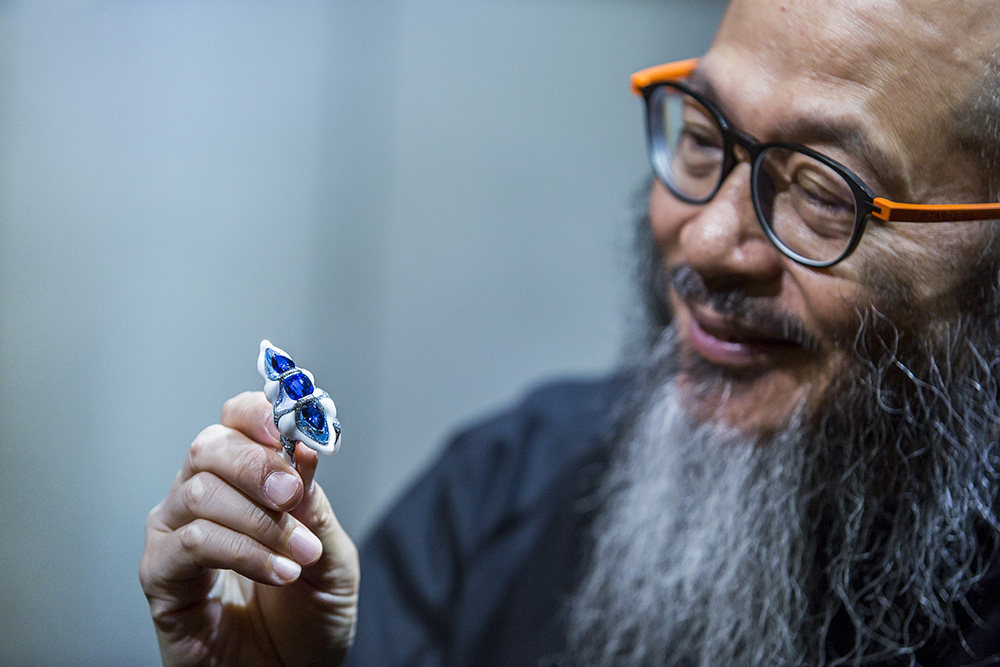 How does it feel to become the cynosure of everyone's eyes? Is fame intimidating?
I am happy that my works are appreciated and recognised. I think most people who understand and enjoy my art are very discreet and I have not experienced an intimidating scenario.
What are your hobbies?
When I am not creating, I enjoy visiting museums and galleries.
Do you follow any Indian designers? Would you wish to visit India (post covid, of course?)
I am too absorbed by my own creative process; you may find me a bit of a hermit. But I have fond memories of India – one thing I have always remembered is the Indian chai (tea). I look forward to visiting India again in the future.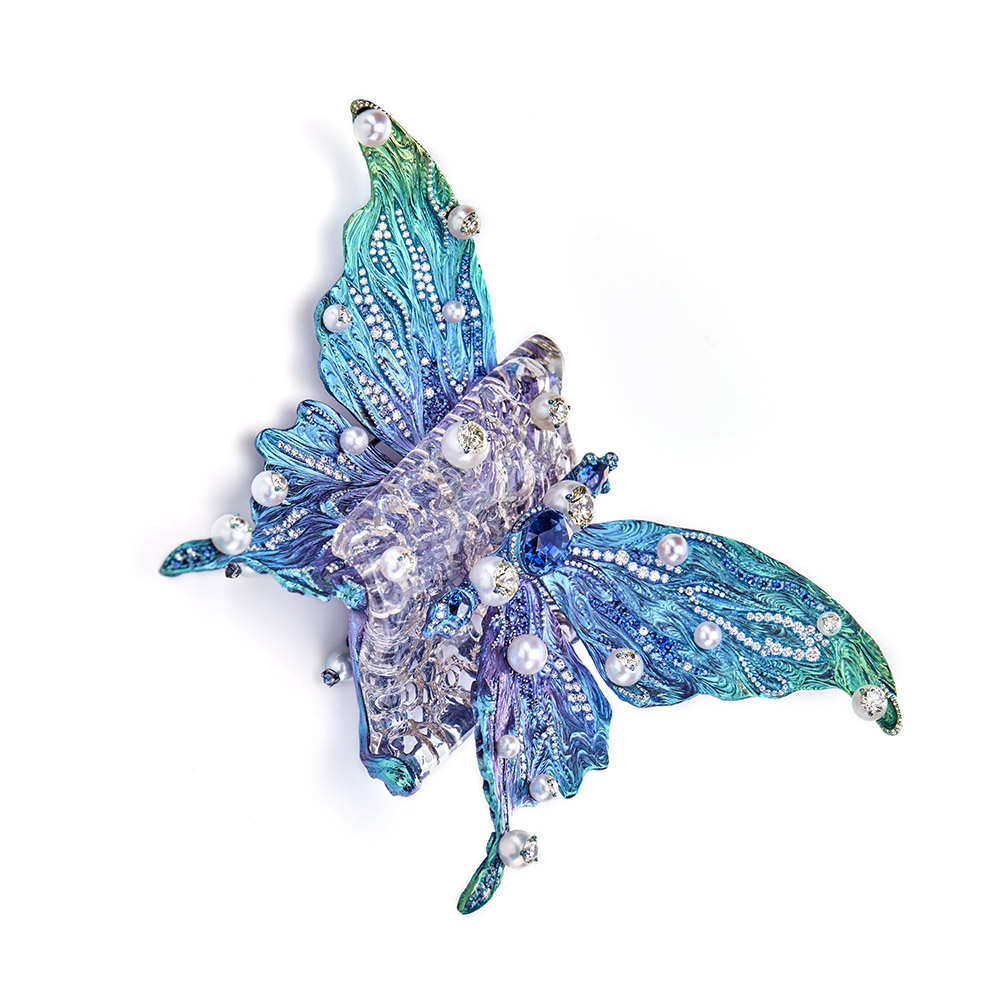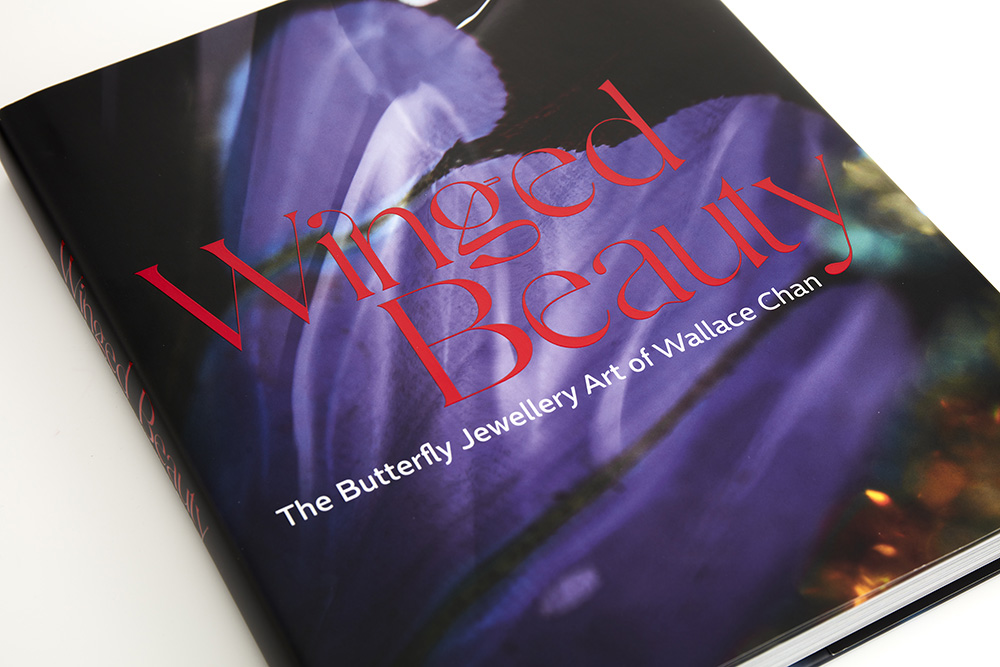 A quick look at his achievements:
THE WALLACE CUT, 1987
The Wallace Cut established Wallace Chan's status as a master sculptor. It is a technique based on reverse thinking, combined with precise calculation, gem faceting, and 360-degree intaglio, to create multiple reflections. Wallace Chan also invented the tools to carry it out (by modifying dental drills) and had to complete the carving process in water to prevent heat and tension, which would damage the stone. This invention creates a mysterious fourfold reflection on a transparent stone from one carved face at the stone's back.
TITANIUM MASTERY, 2007
Titanium is an important material for modern technology. It is strong, light, hypoallergenic and colourful. Wallace Chan spent eight years on the research of titanium before mastering it in jewellery creation. In 2007, Wallace Chan turned a new page in the world of haute joaillerie with his "wearable sculptural art".
PATENTED JADE TECHNIQUE, 2002
Wallace Chan's profound knowledge of light and jade enabled him to invent a jade refining and brightening technique that sends light racing and pulsating along the material's surface. Green refractions then magnify each other and sharpen the deep green colours.
GEMSTONE SETTING TECHNIQUES, 2000
In his quest to reveal the gemstone's colours, brilliance and charm, Wallace Chan invented techniques to set one gemstone within another: "diamond claw setting method" and "inner mortise and tenon setting method". The former allows diamonds and other gemstones to function as claws to secure gemstones in place. The latter is a method inspired by Ming-style furniture (15-17 BC), famous for their mortise and tenon joints. Gemstones are given special cuts to form mortise and tenon joints so they can fit perfectly without the use of metal claws.
THE WALLACE CHAN PORCELAIN, 2018
Research, experimentation and development of The Wallace Chan Porcelain took seven years. The Wallace Chan Porcelain is five times stronger than steel. Heavily rooted in culture and history, the material has rich colour, intense lustre, strength, toughness, and a contemporary spirit. A New Generation, the first piece ever created with The Wallace Chan Porcelain, is in the permanent collection of the British Museum since 2019.