A forecast of global diamond supply for 2022, by US-based diamond industry analyst Paul Zimnisky.
While the diamond industry saw an enormous rebound in end-consumer demand for diamonds in 2021 following a pandemic-locked-down 2020, upstream supply struggled to keep pace – which allowed for incremental demand to drive prices up some 25% in 2021 according to the Zimnisky Global Rough Diamond Price Index.
In 2021, global natural rough diamond production stood at an estimated 117 million carats, which was relatively in line compared with 2020, despite a return to production at multiple mines that were temporarily shuttered due to pandemic-related disruptions in 2020.
For example, the world-class Ekati mine in Canada's Northwest Territories; a handful of mines in Russia, including Aikhal, Verkhne-Munskoye and Zarya; Renard in Quebec, Canada; Liqhobong and Mothae in Lesotho; and Williamson in Tanzania, were all at least temporarily placed on care-and maintenance in 2020 – accounting for combined lost production of up to 4 million carats on an annualised basis.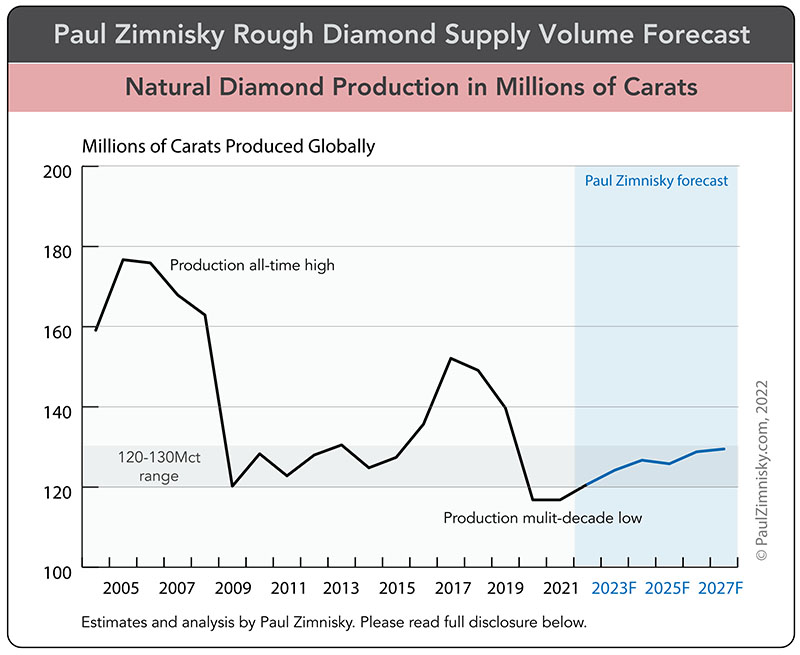 While most of the above, including Ekati, Aikhal, Verkhne-Munskoye, Renard, Williamson and Mothae have since resumed production in some capacity, global diamond supply struggled to gain ground in 2021 as the permanent closure of the Argyle mine in Australia in late-2020 and a significant decline in production at the Venetia mine in South Africa in 2021 (as the mine transitions to underground from open-pit) limited incremental global production.
Looking forward, supply is forecasted to hit just over 120 million carats in 2022 according to Paul Zimnisky estimates, which would be a marginal 4 million carat increase over 2021 and 2020. The incremental production is expected to come from a slight boost in Russian alluvial deposits and a return to full-capacity production for some of aforementioned mines that resumed production sometime 2021 after being temporarily halted in 2020.
Of note, the two majors, De Beers and ALROSA, which combined are estimated to account for over half of global production in volume and value, are forecasting relatively stable production of ~32 million carats and ~34 million carats in 2022, respectively, which compares to an estimated ~32.0 million carats and ~31.5 million carats in 2021.
Looking longer-term, production is expected to be relatively bound in the 120 to 130 million carat per annum range through end-decade as the only significant source of new supply is likely to come from the Luaxe mine in Angola which is estimated to ramp up to full commercial production of upwards of 6 million carats (per year) towards mid-decade.
ALROSA Deputy CEO Evgeny Agureev commented on a Paul Zimnisky Diamond Analytics Podcast in January 2022, "we don't anticipate any sizable recovery in rough diamond supply in the next five to ten years as the industry lacks new discoveries (and as) existing assets are already well known and offer little chance for supply growth surprise."
For context, global production hit almost 155 million carats in 2017 – the highest level since the mid-2000's, following the commencement of production of the world-class Gahcho Kué mine in Canada. In 2020, in the midst of the early-stages of the pandemic, global production fell to 116 million carats, marking the lowest level since the 1990's.
–
Paul Zimnisky, CFA is an independent diamond industry analyst and consultant based in the New York metro area. For regular in-depth analysis of the diamond industry please consider subscribing to his State of the Diamond Market, a leading monthly industry report; an index of previous editions can be found here. Also, listen to the Paul Zimnisky Diamond Analytics Podcast on iTunes or Spotify. Paul is a graduate of the University of Maryland's Robert H. Smith School of Business with a B.S. in finance and he is a CFA charterholder. He can be reached at paul@paulzimnisky.com and followed on Twitter @paulzimnisky.
Disclosure: At the time of writing Paul Zimnisky held a long position in Lucara Diamond Corp., Star Diamond Corp. and North Arrow Minerals Inc.