Chetan Prabhu, CEO, Trilokesh Exports, Bengaluru, is confident that Indian consumers will soon embrace HPHT grown diamonds as a cost-effective, high quality counterparts to natural diamonds.
Tell us more about your company.
Trilokesh Exports was established in September 2022, and has collaborated with the world's largest producers of HPHT Type 11 lab-grown rough diamonds who are pioneers in this field. These best quality assorted lab-grown diamond roughs are directly imported to India for manufacturing. The rough lab-grown diamonds are further cut and polished at our state-of-the-art manufacturing facility by experienced artisans to get excellent cut and polish grade of finished diamonds. These diamonds are then assorted and the best among them are offered in D, E, F colours & VVS1, VSS2 and VSI Clarity to jewellery manufacturers and jewellers, in an array of sizes and shapes.
Trilokesh Exports deals in all sizes of loose lab-grown HPHT diamonds from +000 sieve size and above, which are further sorted and packed into 0.25 sieve sizes. We supply stunning solitaire diamonds in sizes of 1 carat and above, and deal in a wide range of fancy shapes of lab-grown diamonds which come with the IGI certification.
We also have 6000+ pieces of readymade jewellery crafted in 18-karat and 22-karat yellow, white and rose gold and we sell luxurious solitaire-studded jewellery like solitaire rings, earrings, bracelets, bangles and necklaces.
We also deal with exclusive items like nose pin, baby ear studs, earrings and Tanmaniya sets.
India is known for growing CVDs. We would like to know your trajectory and diverting to HPHT
High pressure high temperature (HPHT) is comparatively an expensive process and these diamonds grow in a cuboctahedron shape and have 14 different growth directions, while a CVD diamond has a cubic shape and only one growth direction and this can sometimes cause a CVD diamond to show evidence of strains . HPHT treated diamonds offer excellent value as they are of high colour and clarity.
What are some of the challenges that you face when producing HPHT lab-grown diamonds, and how do you overcome them?
High Pressure High Temperature method replicates the natural process of diamond formation under the Earth's crust like a giant pressure cooker. HPHT process is a cutting-edge technology that offers consumers a more sustainable and environmentally responsible option for acquiring highquality diamonds. With the increasing demand for sustainable options in the diamond industry, the HPHT process is poised to play a significant role in shaping the future of industry.
Typical growth conditions are 1400° to 1600°C and 50 to 60 kbar, and such conditions are within the field of temperatures and pressures where a diamond is the stable phase of carbon. With this type of equipment and these conditions, diamond crystals are produced by the "temperature gradient" or "reconstitution" technique and best colour like D,E,F is possible only in HPHT process.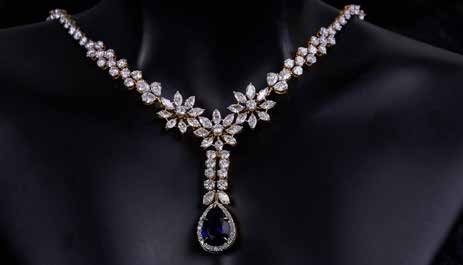 What are some of the common misconceptions that people have about lab-grown diamonds, and how do you address them?
LGDs are gem quality diamonds that are the same elementary structure and the same physical, chemical, and optical properties as their natural counterparts. There are many misconceptions regarding the quality and also durability of the diamonds, and all we have to explain to people is that LGDs are the same as natural, and above all, we also have a buy back policy to give confidence to our customers.
How do you see the lab-grown diamond industry evolving in the next few years?
A diamond is a diamond whether it's grown in a lab or taken from the Earth, but the fear amongst many is that lab-grown diamonds may overtake market share of natural diamonds in the same way that cultured pearls did. It plummeted the price of pearls altogether and brought on the demise of the industry.
In the next few years, I am expecting a lot of Indian consumers to accept LGDs as they are far more affordable, especially for those who couldn't afford natural diamonds.
Can you share any interesting or innovative research that you are currently working on in the lab-grown diamond space?
The technology behind labgrown diamonds has made crucial advances in the recent years, allowing companies to grow higher quality diamonds more rapidly.
How do you work with retailers and consumers to educate them about the benefits of labgrown diamonds?
We are closely working with the retailers to educate them and also in India where the consumers give more value to the purity of the diamonds where we, from Trilokesh exports, are working hard to give the best of best quality diamonds and also encouraging the retailers to educate the consumer about this exciting new line of diamonds.
Which are your main export markets? And what are your expectations from IIJS Tritiya?
North America and Europe being our biggest export markets, and our expectations from IIJS Tritiya show is huge as we all know that this is a big stage where we can introduce our quality lab-grown diamonds to the world market. With IIJS Tritiya happening in our own city, we are excited and looking forward to it.
How do you see the demand for lab-grown diamonds changing in the coming years, and how are you preparing to meet that demand?
Lab-grown diamonds are becoming increasingly popular. A report from Allied Market Research stated that the global LGD market size is projected to reach $49.9 billion by 2030, registering a CAGR of 9.4% from 2021 to 2030. Trilokesh Exports have worked hard in the backward integration and we are prepared to satisfy the market demand with our promise to offer the highest quality of HPHT diamonds.