De Beers Group Executive Vice President for Brands & Consumer Markets, Stephen Lussier's contribution to marketing diamonds has been unparalleled and immense. Solitaire covers his grand send-off held jointly by GJEPC and De Beers as well as his farewell press conference.
GJEPC along with De Beers celebrated the life and times of the legendary Stephen Lussier, De Beers Group Executive Vice President for Brands & Consumer Markets, who will step down on 1st April, 2022 after a 37-year long tenure.
His nearly four-decade long stint to nurture and promote the cause of natural diamonds is something that cannot be replicated but only be used as an inspiration for his successor, Marc Jacheet, who has a rich and diverse experience in the field of global luxury marketing, and most recently was President of Tiffany & Co. Europe, the Middle East, and Africa.
In his keynote address, Colin Shah, Chairman, GJEPC, said, "The multi-billion-dollar Indian diamond industry owes a lot to Stephen Lussier. He has played a significant role and is one of the chief architects of the India diamond success story. It is our good fortune Stephen that you chose to dedicate your life to the cause of promoting diamonds."
Sachin Jain, Managing Director, De Beers India, noted, "Stephen Lussier is a rare gem and has shaped the entire marketing of miracles of nature. He is always bursting with ideas and is a huge inspiration for all of us."
Lussier was the star of the glittering event attended by the world's leading diamantaires on the evening of 28th February, in Mumbai, where industry leaders heaped praise on him and recounted his many milestones and fun moments. Lussier's quick wit, humility and immense love for India was evident during the rapid-fire round with famous model and actor, Rochelle Rao. His impromptu jig on stage to a peppy Bollywood dance number reflected his sporting spirit.
Lussier said that three Ps were the reason why he spent his entire career at De Beers: Passion, Product and People. "These are the three reasons that have kept me engaged. We work in an industry where diamonds are part of the happiest moments of one's life."
At a press conference the following morning on 1st March, Lussier elucidated the journey of De Beers Forevermark and some of the proud moments in his bright career.
2021 – The Brightest Year for Diamonds
In his final press meet in Mumbai in his current role, Lussier said that despite the covid crisis hitting everyone across the globe, "2021 turned out to be the strongest year for diamonds in my memory. It was an extraordinary time."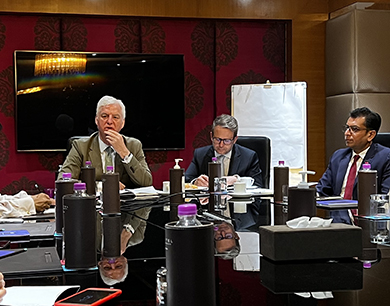 "Retail demand came back stronger than ever – first online, and then offline. Consumers came back much faster than the industry was able to recover at that speed." This, according to Lussier, helped in 'cleansing' the pipeline.
"So, 2021 became probably the best year for diamond demand in a generation, which was up between 20% and 25% globally. The US, the world's biggest consumer of diamonds, saw a growth of 30%; China 20% and India, was slightly slower, at 10% growth on the year. But that's because the lockdowns were harder in the first half. But India picked up in Q4, with close to 20% growth."
Lussier attributed the reasons for rising prices of diamonds to the high level of consumer demand in 2021. This accompanied the rise in stock markets and stimulus packages given to US citizens. With travel and hotel industry being hit, the wealthy indulged their extra money on diamond jewellery – Rolls Royce too had one of its best years in terms of sales, he pointed out, as people are choosing to 'live for today'.
Some things will stay constant now, according to Lussier. The lockdowns perforce impelled the jewellery industry across the world to strengthen its 'digital muscle'. Second, diamonds became and will be the means to express and celebrate bonds. Lussier informed that Forevermark continues to see strong growth with sales up some 30% globally, and 26% higher in India in 2021. India also makes up 30% of Forevermark's global sales, which makes the brand more established in the country, relative to the size of the global diamond market.