Kiran Gems is the world's largest manufacturer of natural diamonds and India's premier diamantaire, establishing benchmarks not just for sheer scale of operations, but also for product quality, precision and variety, integration of technology, manufacturing and wider social responsibility. Their client list includes the world's best and most revered jewellery and watch manufacturers and retailers.
Kiran Gems had a modest beginning, but grew rapidly after it was set up by Mr Vallabhbhai Patel, Mr Babubhai Patel and Mr Mavjibhai Patel. In 1985, it began manufacturing of diamonds, and ever since it has been steadily growing both in India and globally.
Trust, integrity and ethics are the cornerstones of the company and the five Ps – principle, passion, partnership, progress and performance – are the guiding sutras of its success.
CSR Initiatives
Kiran Gems firmly believes that businesses should never be separated from society as they exist for each other. It is the core of the company's philosophy, which gives equal importance to people, planet and profit. In other words, philanthropy is a key aspect of their business strategy.
The company believes that corporate social responsibility is not merely a compliance, it is a commitment to support initiatives that measurably improve the lives of underprivileged by ensuring the social wellbeing of the communities.
Kiran Gems has not only contributed in vast number of activities and covered key areas like education and health of underprivileged children, sponsoring scholarships to students, contributing to the old-age homes, hospitals, providing medical aid, contributing to the physically challenged/visually impaired people and supporting the families of martyred Indian soldiers.
Supporting Kiran Hospital: Kiran Gems has generously donated to Kiran Hospital and will always continue to do so. Shri Vallabhbhai Patel, Chairman, Kiran Gems, conceptualized the idea of Kiran Hospital and was the key donor towards this initiative. The Super Multispeciality hospital and research centre is located in Surat, Gujarat and was inaugurated by Indian Prime Minister Narendra Modi in the year 2017.
Taking care of martyrs' families: Shri Vallabhbhai Patel lent his support to the Maruti Veer Jawan Trust by generously donating for the upliftment of the families of Indian soldiers.
The Trust takes care of the martyred soldiers' families, including education, health and offering other basic necessities. The Trust also sends them gifts during festive seasons.
Swachh Bharat Abhiyan: Kiran Gems was part of the national initiative Swachh Bharat Abhiyan. A team from the company conducted cleanliness drive at Mumbai's Juhu beach in December 2014 in which over 900 employees participated.
The cleaning was done in an organized manner with 47 groups covering the whole stretch of the beach. The groups were provided with safety gears and other cleaning equipment. Six best performing groups were also given trophies by Mr Ashish Shelar, MLA from Bandra, in which Ms Alka Kerkar, Mayor of Mumbai was present as the chief guest.
Blood donation camps: Kiran Gems keeps organizing blood donation camps at regular intervals. They have organized such camps in Mumbai and Surat.
Other Initiatives:
Support, through community trusts, to people in need of medical attention
Support to the 'Beti Bachao Beti Padhao initiative
Support to Bhagwan Mahaveer Viklang Sahayata Samiti (BMVSS) provides prosthetics or artificial limbs to as many disabled people as possible through its centres both in India and abroad
Organizing Standard Chartered Mumbai Marathon: Kiran Gems participated in the 12th edition of Mumbai Marathon on 15 January 2015. The top brass of the organization, such as Mavjibhai Patel (Managing Director), Dinesh Lakhani (Director) and Rajesh Lakhani (Director) along with 15 other employees came all out in support for the cause and participated in the event. The Standard Chartered Mumbai Marathon has been instrumental in addressing important causes for the less privileged people of the country. It was Kiran Gems' second consecutive year of participation in the Mumbai Marathon to support social causes endorsed by the event. The company has been no stranger in playing its part towards the development of a better society. In the past, it has actively supported the causes of education, health and welfare of society in general.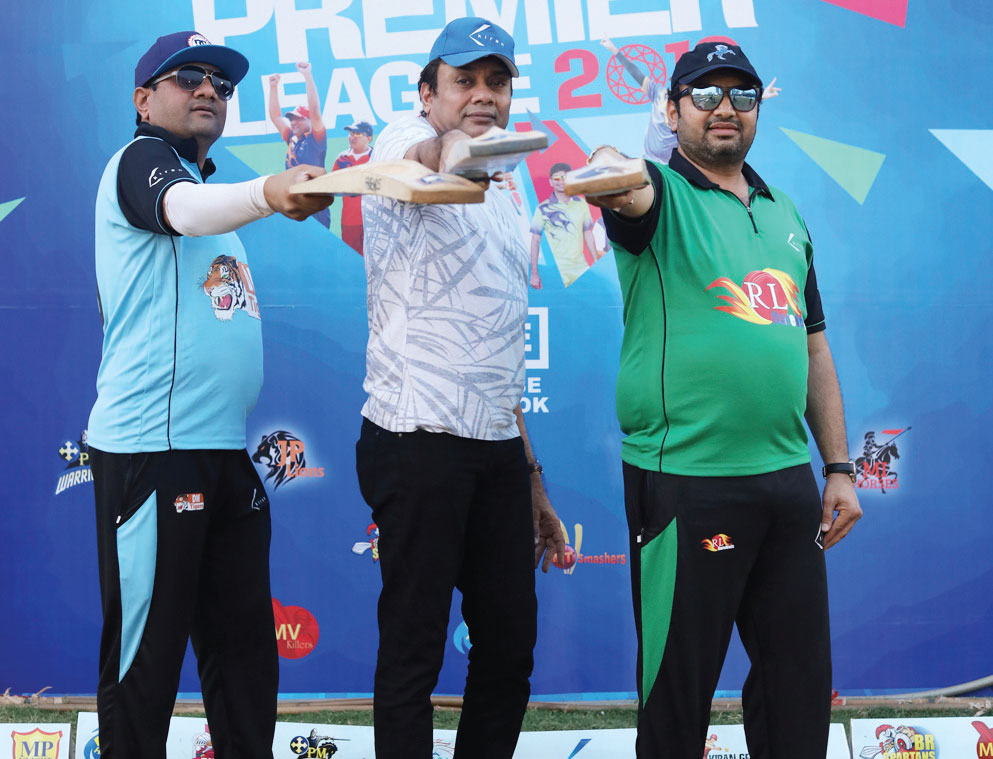 Encouraging Sport Activities: Kiran Gems Premier League 2019 (KGPL Season – 6) was a three-day fun-filled carnival organized by the company. Season – 6 started with a bang and was held from 1–3 February 2019 in Mumbai. Both their directors, Dinesh Lakhani and Rajesh Lakhani welcomed all the 13 participating teams and wished them luck. The Kiran team also welcomed its opponents, Kiran Alliance, a team of diamond brokers. The tournament was organized to bring its employees closer together through a sport that unites all in one thread, encourages interaction and bond between them!
Celebrating womanhood: Kiran Gems hosted International Women's Day for its 300 women employees to celebrate their courage, determination and accomplishments.
Felicitating outstanding performances: The company held a felicitation programme for its employees' children. The initiative, 'Future Achievers Scholarship Programme 2015' aims at congratulating young achievers for their outstanding academic performance and encouraging them to further pursue their academic goals. The scholarship programme was for the students who successfully completed their higher secondary (12th Board exams) with 60 per cent and above. The children were presented with scholarships and a Certificate of Merit. The parents beamed with pride as their children were being appreciated for their efforts.