In a study released in the final quarter of 2020 by Platinum Guild International (PGI) USA, fine jewellery consumers were asked who they purchased for in the past two years. Their response should be a lightbulb moment for the jewellery industry: 50% of respondents admitted buying something for themselves. Of those who purchased a piece of jewellery for themselves, 47% did so "just because", while 32% were marking a major milestone birthday. In a time of seasons greetings' messaging beginning to fill the airways and social media feeds, retailers and brands alike should not overlook the spending power of the self purchaser.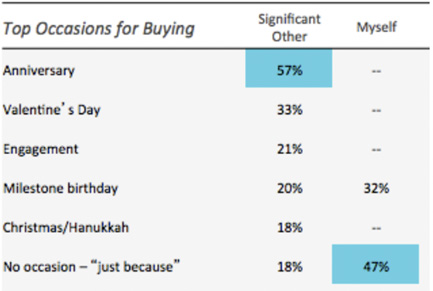 The story becomes even more compelling when looking at the research by gender. 73% of women surveyed reported buying something for themselves in the past two years, as opposed to 37% of men, who focus their purchasing power on their significant others and their mothers.
"We are seeing strong growth in female self-purchasers in this round of research," shared Jenny Luker, PGI USA's President. "This sector of the market continues to increase, creating a greater opportunity for the jewellery industry to focus more resources on speaking to women directly. Women are buying handbags and shoes for themselves, some at considerable price points, and jewellery needs to be higher in their consideration set."
Generationally, Gen Zers lead the way in terms of self purchasing, with 63% having bought themselves a piece of jewellery within the past two years. Millennials, Gen Xers and Boomers are not to be discounted however, as 45% have recently added to their personal collections according to the research.
"We find that women self-purchasers are looking for versatility and enduring style in their jewellery wardrobes," explained Aron Suna, president of Suna Bros., the exclusive distributors of Platinum Born. "The majority of Platinum Born sales are self-purchasers because the collection's designs are crafted to evolve and transform with the wearer. And as we offer fine jewellery at fashion prices, Platinum Born is the epitome of a self-purchasing brand."