Each precious metal goes through a rollercoaster ride in its supply and demand cycle. Analyst Sanjiv Arole chalks out the ups and downs of platinum pricing over the last few decades vis-a-vis gold.
Platinum, the most expensive of all the precious metals, has had a glorious run in the last decade or so, but today, it may be reflecting on its past and the present-day decline.
For, after scaling its all time high level of $2,273 per ounce in 2008 and lording over gold, in particular, since even the 1990s, the white metal lost its ground to the yellow metal for the first time in 2012, when the average price of gold clocked $1,668.88 per ounce against platinum's average price of $1,550.89 per ounce.
Then, after a brief rise to the top in 2013 and 2014, gold surged ahead of platinum over the next 6-7 years. In 2020, the difference in the two average prices (gold and platinum) was $613 per ounce in gold's favour (over 51% price discount to gold).
Currently, the gold price is over 1.6 times the price of platinum. As if that was not enough, palladium, the most non-precious in the precious metals basket, soared to its all-time high of $3,000 per ounce on 22nd March, 2021. Thus, not only pipping platinum to the post, but also leaving gold well behind in its slipstream.
Palladium has been ruling the roost in recent times and currently, the precious metals (in terms of price) in ascending order are (as of 15th June, 2021): platinum $1,148 per ounce, gold $1,865.10 per ounce and palladium $2,762 per ounce. It is an astounding feat for palladium when one considers that in the 1990s, palladium's all-time high was just in the $170-175 per ounce region.
Platinum was always the topper in the precious metals class right from the 1980s ever since platinum prices have been recorded. Right through 2012, platinum was No.1 and gold, the perennial No.2. In fact, after the subprime-induced global meltdown in the financial markets that saw many like Lehman Brothers bite the dust, platinum hit an all-time high of $2,273 per ounce in March 2008. It was a spectacular ride for platinum then, from around the 2007 average price of $1,306 per ounce. It was even able to pip gold to the post in 2011 when the yellow metal scaled its then all-time high of $1,921 per ounce in September 2011. It went below gold for the first time in 2012 when gold's average price overtook the platinum price, only to come back strongly even as gold faltered.
Gold Vs Platinum
The factors that seem to have gone against platinum vis-a-vis gold are: gold is a proven safe haven; is a reliable counter to the US dollar; and then a weak economy and geo-political tensions see people flock to gold. Moreover, huge demand for gold in jewellery, in investments, etc. is ever present to provide support to gold.
Gold & Platinum Price Data (average yearly price in $/oz)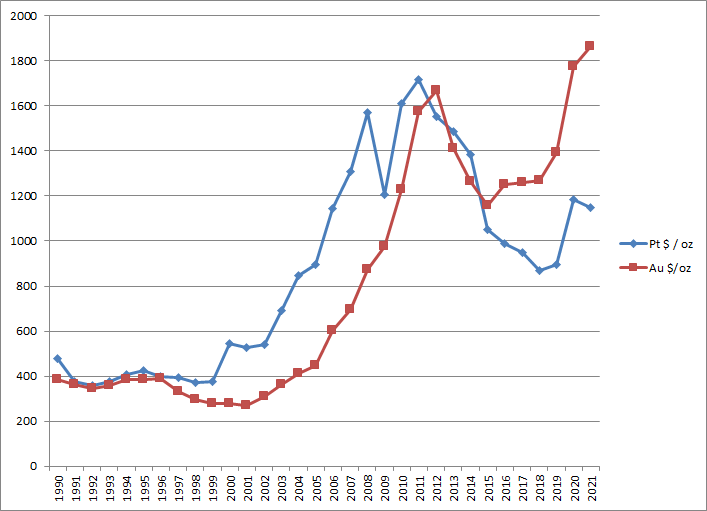 Even during the pandemic, gold acted both as an income source of last resort and first as a savings option. Then, while hedging of gold tends to depress the gold price, de-hedging invariably boosts its price. Gold is a preferred metal on the commodity exchanges as well. Last, but not least is the fact that yearly gold supply runs into thousands of tonnes.
As platinum supply is available only in a few thousand ounces per annum, it cannot become a universal option. Being an industrial metal used mainly as an auto catalyst and in the glass industry, it is impacted by recession, slowdown and more so by the pandemic. In the jewellery segment, platinum caters to a niche market and cannot really challenge gold or even silver for that matter in terms of volume. Hedging or de-hedging does not seem to impact platinum due to the low volume of available metal. Moreover, the extremely low quantities available for delivery makes platinum unviable on the commodity exchanges.
Metals & Pricing
The year 2021 began on a different note for the precious metals basket. Silver that ended 2020 at $26.48 per ounce shot up by over 11% to touch $29.58 per ounce by 1st February. Platinum first fell to its lowest for the year at $1,068 per ounce, but then it soared to its highest for the year so far at $1306 per ounce by 11th February, a gain of over 22%. In contrast, while gold initially rose by 3.71% to $1,957 per ounce by January 6th, it then slumped by over 12% and declined to $1,683.85 per ounce on 6th April. Palladium declined by around 4% to $2,244 per ounce by early February. This initial surge in silver and platinum prices caused many analysts to predict that 2021 would be the year for the two white metals, silver and platinum.
In fact, in the annual LBMA price forecasts made by top precious analysts and experts on 15th January, 2021, many predicted the average silver price for 2021 to increase by over 38% to $28.50 per ounce. Next in line was platinum at over 28% to $1,131.50 per ounce in 2021. By contrast, both gold and palladium were predicted to rise by a more modest 11%.
However, thereafter, while both gold and palladium recovered, silver and platinum ended lower than their peak levels for the year to date. Silver declined to its lowest for the year so far by over 10% at $24 per ounce on 31st March, only to end at $27.63 per ounce on 15th June, an increase by over 4.34% over its 2020 end price.
Platinum recovered from its low levels to finish on 15th June at $1148 per ounce, an increase by over 7.49% over its 2020 end price. Palladium, aided by a flooded palladium mine, scaled the $3000 per ounce peak for the first time on 22nd March and thereafter retreated to end at $2,692 per ounce on 15th June , still a rise of 14.92% over the 2020 end price. In spite of starting with a bang, gold ended on 15th June with an overall decline of 1.20% at $1,865.1 per ounce.
Platinum Demand in India
Coming back to platinum in the Indian context, the white metal has carved a niche for itself in the jewellery segment. On the industrial front, the demand is set to increase following India's pollution control and lower emission levels. On the jewellery front, there are over 1,500 jewellery stores that sell platinum jewellery spread over 300 cities. In fact, in recent years demand for platinum jewellery crossed even 3 tonnes. However, platinum demand is still in single digits. Back in 2008, India imported over 8 tonnes of the metal on the back of round-tripping of the metal. Then, platinum had scaled its highest levels of $2,273 per ounce in March 2008. Therefore, platinum became the preferred vehicle for round-tripping replacing gold temporarily. Platinum has gained recognition as a preferred metal in diamond jewellery.
Finally, back in the glory days of platinum, when platinum was sold at a huge premium to the gold price, innovative gold products came into vogue. While the low-income groups opted for silver jewellery, white gold came into existence for those who could not afford platinum. Even platinum-plated silver jewellery came into vogue in India. Then, palladium too was used as a much cheaper substitute for platinum in auto-catalysts. Today it is ironic that the platinum price is less than half that of palladium.
But all is not lost for platinum. The answer seems to lie in the future of hydrogen fuel cells for cars with zero emission. Herein, platinum comes to the fore as the preferred catalyst. However, it could take quite a while before investors get excited about platinum.
Platinum could see better prospects as demand from fuel cells (auto catalyst) in the coming days could result in an assured demand of about 2 million ounces. In fact, it could constitute around 1/4th of the total demand for platinum. However, precious metals experts and analysts, who were polled at a recent webinar, felt that both gold and silver could be the star performers for the rest of the year. Platinum was a distant third, while palladium was not even on the radar. Things are changing fast, and who knows how the tide may turn?