Designer Prakshi Sharma believes that jewellery has great potential of growth in the Indian causal luxury space.
Prakshi Sharma's diamond jewellery renditions have a modern spirit. Ear cuffs, palm cuffs, bracelets, rings and necklaces are dressed in just the right number of diamonds for an effortless, striking appearance. Sharma follows the 'less is more mantra' when it comes to designs. Each diamond is celebrated for its inherent beauty through its meticulous placement in the overall design.
The designer uses a lot of fancy cuts, especially trillion cut which is her favourite, and playfully mixes them up for a unique design. She also uses emeralds and sapphires in her jewellery with the same methodic treatment, lending just right the right burst of colour to the piece. Her enamelled creations, too, with a smattering of diamonds, have a timeless element to it. While the pieces are crafted in India, the treatment and designs transcend geographical boundaries.
Hailing from a family of jewellers, Sharma graduated in Economics only to turn to her true passion of jewellery design a few years down the line. She founded her eponymous label Prakshi Fine Jewellery in 2012. Her jewellery is stocked in select boutiques in India, Dubai, Kuwait, Doha, and Mumbai. She also has a presence in USA.
Prakshi Sharma speaks about her plans to make further inroads in India, the Middle East and Europe in the casual luxury segment.
What drew you to the world of jewellery design?
I have always been an artistic person. Right from my childhood, I've won awards in art competitions. I've naturally been drawn to photography, visual imagery and capturing everything that I find aesthetic, both in terms of pictures and designs. When I was pursuing my graduation in Economics, a part of me always yearned for something more, something more hands-on, something more exciting. Being born and raised with a jewellery heritage, I always had that knack in me. I realised I wanted to create jewellery that is when I decided to pursue Jewellery Design from FIT, New York, and haven't stopped since.
Has your design philosophy always been simple and minimalistic? 
It has, and more than that, simplicity and minimalistic for me means timeless and versatile. My design philosophy might be evolving over time, but I still like all my designs. I never look back and wonder why I made this. They truly reflect my personality and my tastes.
What inspires your collections?
I'm a globe-trotter, so a lot of inspiration for my collections comes from nature, my travel, and my state of mind. Citylights came about when I was living in New York gazing at the skyline every evening. Be Free came about when I returned to India, fighting against the patriarchy. Rewind was inspired by the beauty of unfinished ruins of the Colosseum. Rise was inspired by a trip to the hills, and Escape from my perennial wanderlust.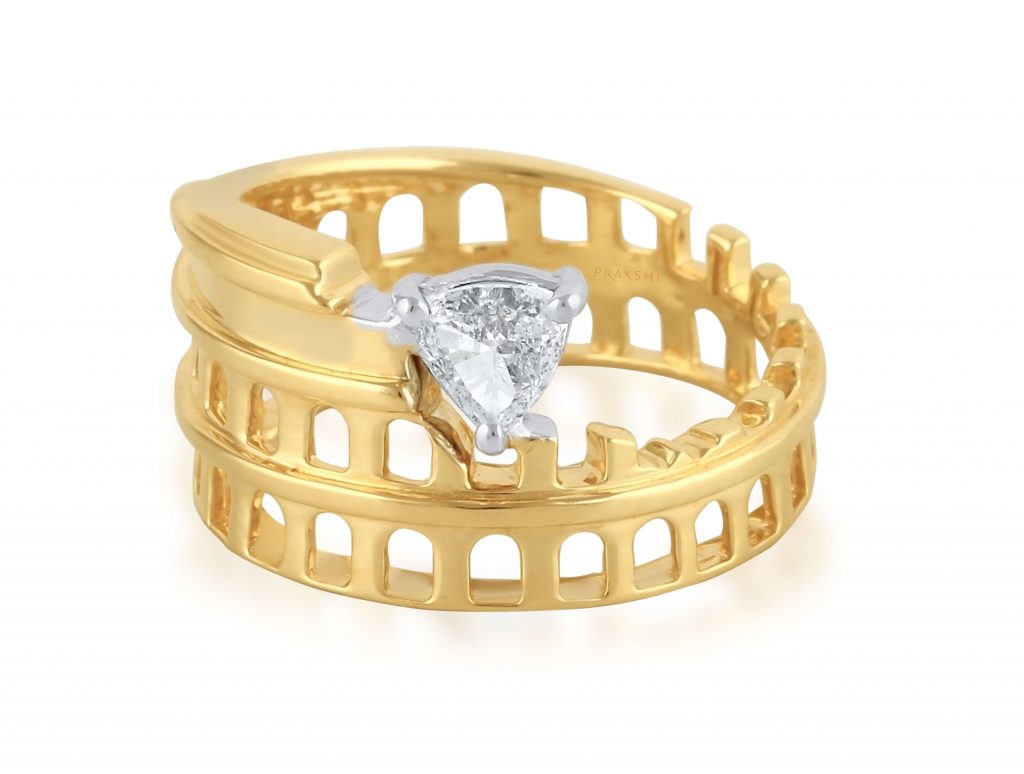 What is it that draws you to diamonds?
As a kid, I admired the sparkle of diamonds more than anything else. As I grew older, I realised they symbolise perseverance. They take years to form and that is something one can connect with. That's why diamonds have an emotional value. They're rare, timeless, and are heirlooms.
Which is your favourite diamond cut and why? 
I think my favourite diamond cut is the trillion cut as they look edgy. It's not very commonly used and that is enough of a motivation for me to experiment with. 
Which gemstones do you like to work with? Why? 
While I really like working with emeralds, I love the variety of colours that sapphires offer. It's fun to design with them.
Tell us about your latest collection and the inspiration behind it.
The latest collection is called Bloom. Conceptualised in the times of a global pandemic, Bloom is about growing, about adapting, about re-forming. Just like vines and flora, nature blooms through thick and thin, and humans could do the same. Bloom is a ray of hope to heal and thrive regardless of obstacles through patience, resilience, and nurturing. 
Nature gave me hope during the pandemic, and I wanted to reflect that in this collection. The inspiration has been translated into vine-like motifs, floral wreaths, and coloured gemstones that are full of life. There are pieces in black enamel and colourless diamonds, too, which symbolise endurance.
What is your best-selling product? 
Our ear cuffs and palm cuffs are best-sellers. While many think of my brand as Westernised, the truth is that they're inspired by our own Indian jewellery heritage. Ear cuffs and palm cuffs were worn by Indian kings and queens in the erstwhile royal era.
Do you design for men or women? Do you have an ideal profile in mind?
I like to design for a client who believes in casual luxury. I want my designs to be more wearable and versatile, and to be worn every day. My ideal client would be someone ambitious yet modest, with minimal aesthetic sensibilities. Someone who appreciates the simple pleasures in life … like a timeless piece of fine jewellery.
What are your plans for the brand? 
While we have created an international presence in the United States and Middle East, we're planning to strengthen the latter, as well as enter European markets. Covid has delayed some of our plans but we're also going to strengthen our visibility in the Indian subcontinent as we now see more potential in the casual luxury space.