Diamond-studded jewellery performed exceptionally well at IIJS Premiere 2022 as demand has been soaring at the retail end across India.
Diamond jewellery manufacturers were extremely pleased with the business generated at IIJS Premiere 2022. Many exhibitors Solitaire spoke to noted that the ratio of new and repeat buyers was 50:50! And that spread cheer among the participants – as this show is offering them a chance to grow their network of buyers across India.
Ace designer Priti Bhatia of Awesome Sparklers noted that they were busy from Day 1 at the show. Fifty percent of her buyers were new, she noted, adding that she got a lot of visitors from the Southern region. While her statement rings have been bestsellers, this time, clients booked lacy rose gold necklaces and sautoirs studded with diamonds. The most favoured were the layered but detachable necklaces chosen for their versatility.
Lightweight diamond lines with a super contemporary stance were top picks. Siddarthaa Sawansukha, MD, Sawansukha Jewellers, said that their new line of white and rose gold open necklaces with leafy diamond and coloured stone finials were a rage. "This time we have also introduced diamond-centric lines highlighted with Australian opals and fine enamelling. Of course, our heavier sets in diamonds are in demand due to the upcoming festive and bridal seasons, but our lightweight diamond lines are rocking!"
Durga Tulsyan of TJ Impex noted that buyers are booking orders for all diamond categories as retailers like to have a large inventory to cater to all consumers. Laced with fancy cuts, especially marquise diamonds, the openwork geometric pendant necklaces were the most popular among its clients, noted Tulsyan. "These delicate lines are an apt choice for the younger generation and cost up to Rs. 1 lakh."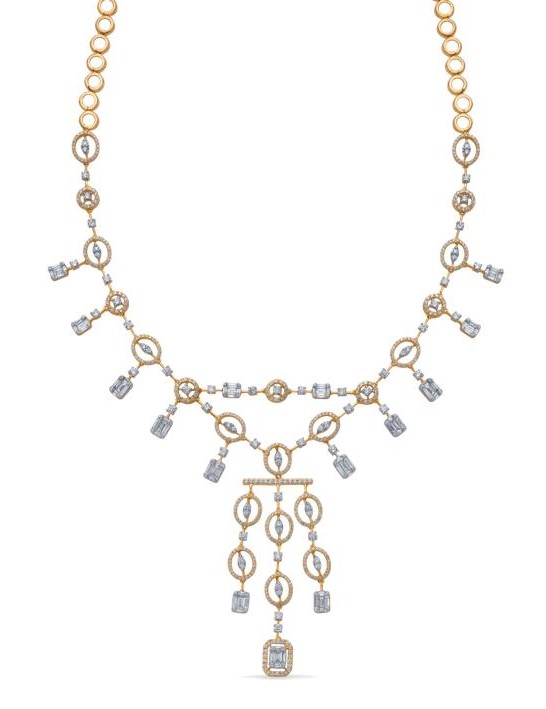 Developing collections that are easy on the pocket is preferred by our clients pan India, states Toshiba Zariwala of Zundaa. "Illusion setting using small fancy-cut diamonds is our forte and our lines range from Rs. 1 lakh to Rs. 3 lakh. Our necklaces with geometric motifs with negative spaces are a hit!"
Premal Shah of Sphere, too, informed that their newest additions in 18-karat gold are crowd pullers among their elite buyers, who like off-beat jewellery. The company has a 65:35 ratio of new and repeat buyers respectively. "We are surprised to receive serious queries, mostly from the South."
However, for some buyers, bridal jewellery with rose cuts, uncuts and diamonds and a hint of colour is what their customers want. Anand Kulthia of Kulthiaa Jewel informed that their bridal sets from the Viridi collection were getting a fabulous response. "In fact, one of our clients booked all the 20 earrings from the collection in three minutes flat! While the nature-inspired necklace sets were saturated with diamonds, they were complemented with emeralds. The company got many buyers from the southern region and a few buyers from the north.
Silver Emporium's Rahul Mehta has diversified the company portfolio from only silver jewellery and artefacts to gold and diamond jewellery. This is the first time he has presented his modern gold and bridal diamond collections, which have been appreciated by his clients. "We are using EF, VVS and in some sets we are also using emeralds. I am extremely pleased with the stupendous response at the show for our diamond jewellery segment."
Ashish Sand of Savio Jewellery observes that the IIJS Premiere has got bigger, better and grander. "The show has been phenomenal for us. High quality buyers not only from pan India but overseas have met us. The best part this year is that from big chain stores to small independent stores everyone is here and looking for exclusive collections, which every manufacturer has showcased. In the past, visitors used to spend the first two days at the show in the Gold section, but this time since Day 1, we have seen similar large crowds in the Diamond section too."