Imaginarium is India's largest rapid prototyping and rapid manufacturing centre, a 3D printing company that has revolutionised the manufacturing processes in the jewellery industry. In an exclusive interview with Solitaire, KAMLESH PAREKH, controller – leadership team, reveals plans to launch a game-changing service – an online portal that lets customers order bespoke jewellery from the comfort of their own office/home – at the IIJS this year.
From making Lord Mahavir's idol and a precise kidney and brain model to recreating the 30 fellow patriots who accompanied Gandhi at the Dandi March to creating interlocked jewellery without soldering… Imaginarium has successfully executed several such assignments. In fact, the company thrives on challenges because it loves to encourage its clients to think out of the box.
Founded in 2009 as a company that introduced 3D printing in India, Imaginarium initially faced difficulties in making the jewellery industry realise the importance of 3D applications for production.
Kamlesh Parekh, controller – leadership team, Imaginarium, elaborated, "Initially, it was very difficult to make a breakthrough as most manufacturers relied on skilled karigars to carve wax moulds by hand, a process that could take up to 30 days. Manufacturers paid advance salaries to their karigars to retain them. The resistance was fierce because everyone feared that the advanced technology could trigger layoffs." Kamlesh recalls that similar reactions were elicited by the diamond cutting and polishing manufacturers when the first laser cutting machines were introduced.
Today, Imaginarium runs more than 17 machines and caters to the top brass in the jewellery industry, printing 2,000 designs every day for its clients.
"With the consumer becoming more discerning and demanding, she wants to see different designs each time she visits a retail showroom," notes Kamlesh. "Thus, at the manufacturer's end, one mould doesn't even reach the production mark of 500 pieces since they keep introducing new designs."
Elucidating the advantages of 3D printing, he said that the process allows one to achieve finesse, reduce metal wastage, reduce cost and offer quick turnaround time. Above all, it gives designers complete freedom to explore complex, threedimensional design forms.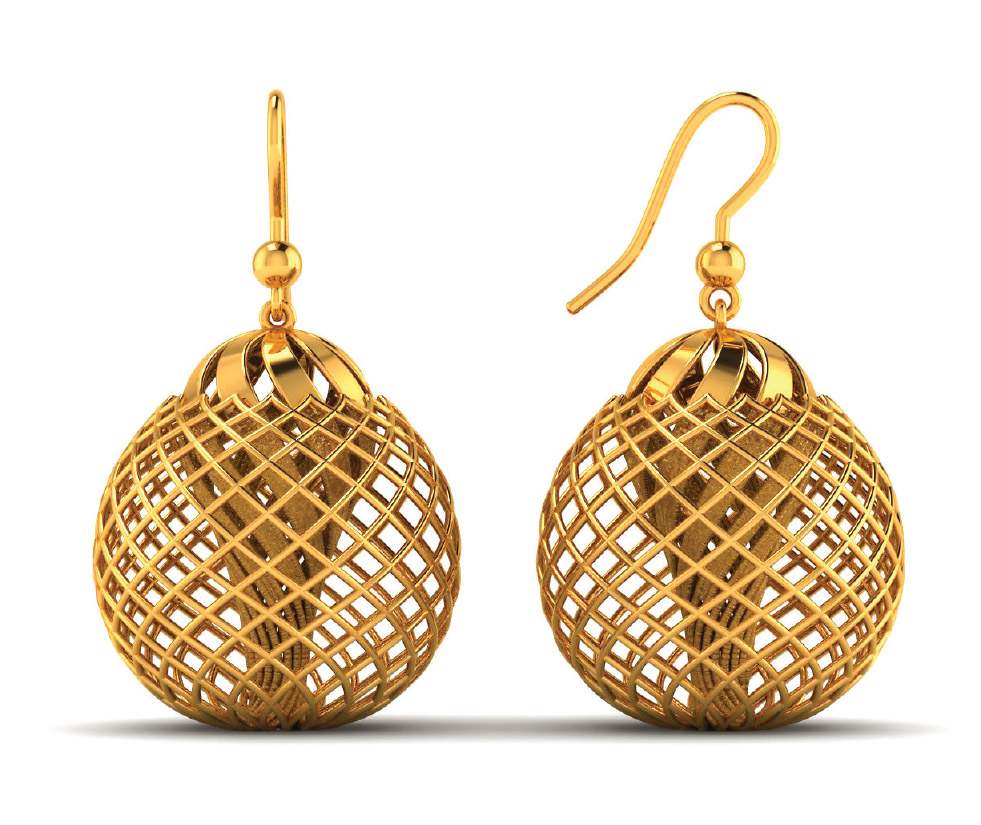 "3D printing technology lets you know the exact weight of the finished jewellery piece and the exact size of diamonds or gemstones that will fit into the design. The process has resulted in the unblocking of excess inventory of loose gemstones and metal as well. Earlier, 20% of the inventory would be locked as the wax moulds were handmade and it would be difficult to estimate the size of the stones required to mount on the piece. Also, karigars would make thicker pieces and then scrape of the excess metal – amounting to roughly 7-10% weight loss. The net loss of the piece, if rendered in 3D, amounts to only 3% or less. The entire process therefore becomes more cost-effective as there is no inventory locked up, too."
Imaginarium has all kinds of technological solutions in-house and other related range of services – from offering prototypes in different materials to making the finished product in the metal of choice.
Earning the trust of different companies, especially those who are cautious about sharing their designs, is not easy. But Imaginarium has long crossed that hurdle as well; with strict codes of secrecy in place, it guards the interests of its clients.
"We were clear from day one that we will not get into selling designs. Yes, we do create designer jewellery to display at shows to demonstrate the kind of results accomplished with 3D printing and what wonders one can do with plain metal. 3D, in fact, encourages designers to think without restrictions."
The company is introducing the Millennial Toolbox, a platform to empower millennials in their quest for self-expression, at the upcoming India International Jewellery Show (IIJS).
"The search for meaning and individuality cuts across generations, and in this age of technology and digitisation we want to equip today's thinkers with the right tools to transform them into doers. In an increasingly democratised world, we want to make sure that jewellery making adheres to the same level of transparency and ease of access as any other commodity," Parekh notes.
"With Precious's Online Portal, you can create beautiful, meaningful jewellery from the comfort of your couch. Every aspect of the process can be overseen and controlled as per your requirement, from the material to finish to technology and even delivery. It is the millennial's way to rapidly go from digital design to physical product, to be a 'designpreneur'. The pain points (shall we say – advantages?) that we aim to address are: Co-creation: Humanisation; KYC: Empathy; Storytelling: Consumer experience design; Digital Fabrication: The benefits of 3D printing; and Advanced Visualisation: Real-time rendering of the finished product.
"At IIJS we plan to unveil the online portal for everyone to curate and order customised jewellery from their desktop. This has the potential to be a game changer in the industry today in India, which is largely untouched by digitisation. All you need is to upload your digital design and then proceed to choose the material, finishes and platings, if any. The portal is versatile in its application; it can adapt to varying needs. So whether you're a designer with the order of a single piece looking to test your designs or a manufacturer with bulk requirements looking for a robust, state-of-the-art production facility to speed up your backend operations, the portal will fit in with your scheme of things like a jigsaw. Retail will evolve by leaps and bounds – this portal is one of the first to introduce inventoryless retailing, i.e. all you need is a digital design library and we manufacture designs for you on and as per demand. Gone are the days of stockpiling; we will help you create unique, masterful jewellery in a matter of a few clicks."
When asked about the costs involved in 3D printing, Parekh notes, "The final cost is a factor of all the different parameters that go into creating the jewellery, like the design, the size, weight and of course, the material. This is just like the standardised practice that exists throughout the jewellery industry and we want to adhere to the same without adding a premium. The idea is to produce 3D printed jewellery that comes with all the benefits of the technology, and without any extra costs."
"Earlier, the industry never focussed on design skills. But today, all of a sudden, there is a spurt in hiring educated designer graduates from established institutes like NIFT, NID and the like," says Parekh.
According to him, India has a huge potential to grow the jewellery business and he is confident that if technology is used to aid production, India can produce 90% of the world's jewellery.
But embracing technology is a problem, at least initially. "I strongly believe that one should now start designing for technology. Concepts that you think you cannot execute – such as the kinetic movement in a piece, interlocking designs, etc. can be ececuted using 3D printing as it is an additive technology that does not require soldering, casting, etc. We are still at the 2D stage; it's time we start thinking in 3D. Technology will soon drive design."
Responding to a query about the most talked-about direct gold printing technology, Parekh explained: "Direct Metal Laser Sintering or DMLS is a relatively new technology that allows us to 3D print directly in metals, including precious metals like gold, silver and platinum. It uses a precise, high-wattage laser to micro-weld powdered metals and alloys to form fully functional metal components from digital designs. This process eliminates a lot of intermediary steps that go into traditional jewellery making or even conventional 3D printing technology; there is no need for a wax mould or casting it in metal as the output of DMLS is a metal jewellery part, ready for post-processing. DMLS is the future of jewellery making, going from digital to metal in a few basic steps. This is still at the nascent stage and will take a few years for it to be widely implemented. "
The major buyers of 3D services are jewellery e-tailers like CaratLane, Bluestone, etc. which actually are inventory-less retail firms. The one industry that is really exploring the potential of 3D technology is the fashion jewellery segment that works on contemporary and abstract patterns in brass, copper and other alternative materials.
Personalised jewellery, a hot favourite with the millennials, is another future trend that will take off with the help of 3D printing. He cited examples of parents wanting to make a pendant enshrining their child's first doodle in precious metal; a traveller who wanted a pendant made of dot-connecting patterns that showcased the places she visited; or a ring inscribed with the soundwave pattern recorded when the couple utter each other's names.
Imaginarium has also begun to sell 3D printing machines to its clients and provides the requisite know-how for operating it as well as after-sales service.
Of the many verticals that Imaginarium caters to, jewellery is only one of their specialisations – the rest includes automotive, architecture, aerospace, electronics, foundry, medical, packaging, lifestyle, and consumer goods.

With a 250+ strong staff, including biomedical engineers, jewellery experts, and mechanical & electronic engineers, the company invests heavily in incubation research.
Kamlesh rues that today no institute teaches 3D printing. It's time students are taught about this latest technology because design engineering is the next big thing. However, Imaginarium is indirectly involved in imparting design education for 3D printing technology.
"We are actively engaged with the Gem & Jewellery Export Promotion Council, participating in their events like Design Inspirations where we speak about the kind of design freedom and other benefits that 3D printing brings with it to the table.
"With IIGJ we are proactively supporting their students in their projects and opening their minds up to additive manufacturing; we regularly schedule industry visits and tech seminars to help them understand this technology. We also organise competitions focusing on designing for 3D printing and print the best designs to be showcased at platforms like IIJS."