Colin Shah, Chairman, GJEPC held an important meeting with Suresh Kumar, Joint Secretary, Department of Commerce, on 24th March, 2021, for solving the problem of duty-free gold availability for exporters.
In his presentation, Shah explained that the export industry was facing a number of regulatory hurdles and consequently, there had been a sharp 79% decline in plain gold jewellery exports from April 2020 to February 2021 chiefly due to supply constraints.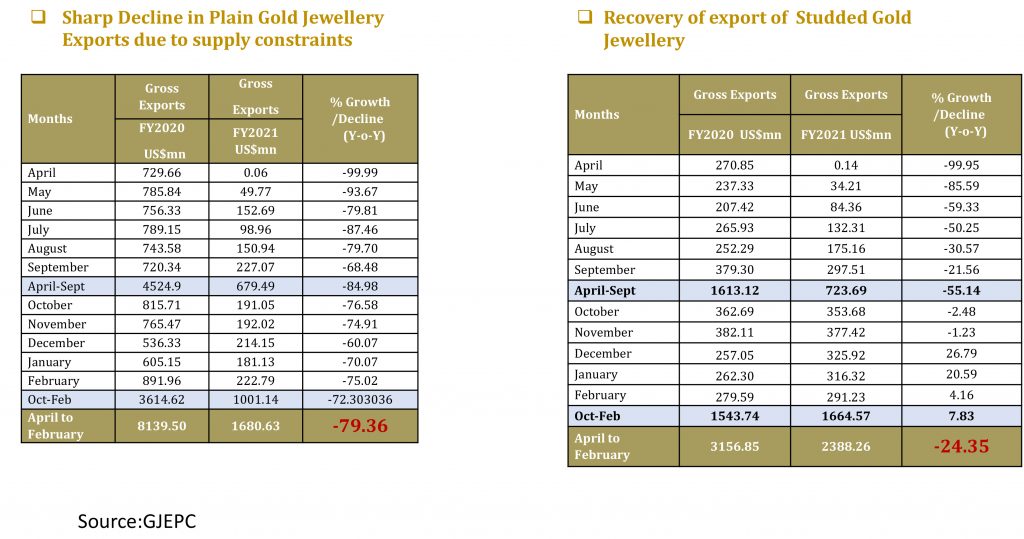 Of the total 18 Nominated Agencies (NAs) and Banks supplying gold to the domestic sector, just about half (10 nos.) are available for exporters. Lengthy documentation processes, delays in release of margin money, non-acceptance of Mumbai Customs' one-time certificate (OTC) by other states/cities are some of the issues faced by exporters, he pointed out.
Among the key points raised by Colin Shah during the discussion were:
Demand of duty and penalty from Nominated Agencies (NAs) by Investigating Agencies
Release of bonds strictly as per Standard Operating Procedures (SoPs) of Customs for NAs
Relaxation of requirement for NOC from bank to get duty-free gold as raw material supply from any other bank
RBI and DGFT should mandate that NAs should supply to both domestic operators and exporters as per FTP schemes.
Nominated Agencies should operate all FTP Schemes for Supply of duty-free gold, including Replenishment Scheme
Availability of duty-free gold in small denominations below 1 kg as mandated in FTP
Availability of duty-free export gold for exports through Post Offices
Timely release of margin money of exporters by nominated agencies
Shah also presented the following GJEPC Recommendations for Ease of Doing Business for Canalising Agents (Nominated Agencies/Banks):
Reduce Paper Work by Customs for bond cancellation
Bond Cancellation procedure may be dealt through E-Sanchit online
Timely Bond cancellation strictly as per the SoP by Customs
Partial Bond Cancellation which is currently notified is not happening due to shortcomings of systems and should be made operational
Nominated Agencies being canalizing agents should not be penalized for misdeed of exporters
Vault facility for gold in all ports
Checking of Value Addition should not be the responsibility of Nominated agency which is insisted by customs during release of bonds. The responsibility should be that of Customs to check the value addition at the time of allowance of exports
In addition to the Joint Secretary, the virtual meeting was attended by Senthil Nathan, Director, Department of Commerce, along with officials from the DGEP, DRI, CBIC, DGFT, RBI and representatives from NAs such as MMTC, DIL, SBI, Yes Bank, RBL, HDFC, Kotak Bank, and ICICI among others.
GJEPC was requested to send a letter detailing the bonds, quantity, ports and duration of bonds, which are not being released from different NAs to DGEP and Joint Secretary, for a follow-up on the matter.
The issue of supply by foreign buyers and the bank guarantee issue was also raised in the presence of representatives of all concerned Government departments for an effective solution.