The sale set multiple new benchmarks for the jewellery market, with two historic stones having sold for over $30 million in the same sale – a first in auction history.
The Magnificent Jewels auction held in May-June 2023 achieved a total of $95.9 million – the highest ever total for any jewellery auction ever staged at Sotheby's in New York.
First among them was the extraordinary 'Estrela de Fura: 55.22' – a 55.22 carat Mozambique ruby, which was acquired by a Middle Eastern private collector for $34.8 million ($630,288 per carat) – establishing a new world auction record for a ruby, as well as for any coloured gemstone ever sold at auction.
'The Eternal Pink,' the most vivid pink diamond to ever come to market, also earned $34.8 million ($3,292,763 per carat) – a world auction record for a Fancy Vivid Purplish-Pink Diamond and a new price per carat record for the colour grade.
Sotheby's New York shattered the previous record set in April 2015, with a staggering $95.9 million in total sales at their current jewellery auction, claiming the highest figure ever achieved; Two jewels sold for over $30 million, a further 4 pieces sold for over $1 million; and more than a third of lots were purchased online.
Speaking after the sale, Catharine Becket, Head of Magnificent Jewels, New York, shared: "Today's record-breaking result is a direct reflection and further confirmation of Sotheby's position as a market leader at the highest echelon of the global jewellery industry. We are honoured to have brought to auction this exceptional selection of jewels—anchored by several private collections with storied provenance—encompassing top-quality diamonds, superlative coloured gemstones, and signed jewels from the most esteemed houses. We look forward to continuing in our tradition of offering the rarest and most spectacular jewels to our worldwide clientele; this remains at the very heart of what we do at Sotheby's."
Commenting on the result of the two record-breaking stones, Quig Bruning, Head of Sotheby's Jewels, Americas & EMEA, said: "Today, we witnessed the historic sale of not one, but two of the most exquisite and important gemstones to ever hit the auction block. It's difficult to express the range of emotions I felt when I first laid eyes on the 'Estrela de FURA: 55.22', but to put it simply, I was entranced. With its unprecedented size, piercing colour and rare degree of optical transparency and clarity, it truly deserved the record-breaking price today, as it now joins the ranks of the world's most legendary gemstones. It was equally an honour to have handled a diamond as breathtaking and exquisite in nature as 'The Eternal Pink,' and its price today reaffirms that Sotheby's is the premier destination for the world's rarest diamond creations. I proudly speak on behalf of the global Jewelry Department at Sotheby's when I say how truly privileged, we are to have been a steward of these ultra-rare gems and today's results are further proof that there is continued demand for the finest diamonds and gemstones of the very highest order."
The $34.8 million achieved places the 'Estrela de FURA: 55.22' as the most valuable coloured gemstone ever sold at auction – previously held by the 'Sunrise Ruby,' a 25.59-carat Burmese stone, which sold for $30.3 million at Sotheby's Geneva in May 2015. This wonder of nature had been recently cut from an exceptional 101 carat rough discovered at  FURA Gem's ruby mine in Mozambique in July of 2022, one of the largest ruby deposits in the world. In its masterfully crafted, newly formed state, it re-emerged as the largest gem-quality ruby ever to appear at auction. Rubies of this importance and magnitude are exceedingly rare, with only two examples having ever broken the $15 million barrier at auction, making the appearance of this flawless gem a landmark event in itself.
Dev Shetty, Founder and CEO of FURA Gems, commented: "This remarkable achievement represents a monumental milestone in FURA Gems incredible journey. In just five years, our company has experienced extraordinary growth, culminating in a historic moment where we proudly set a world record for any Ruby or coloured gemstone sold at auction. Estrela de FURA: 55.22 is a once in a generation discovery, the ultimate representation of FURA Mozambique rubies. This ruby is a gift from mother earth, and its new owners will carry an enormous legacy for many years to come. Today's achievement not only validates our belief but also establishes a significant achievement for FURA Gems, and sets a precedent for Mozambique rubies, elevating them to the esteemed status of their Burmese counterparts."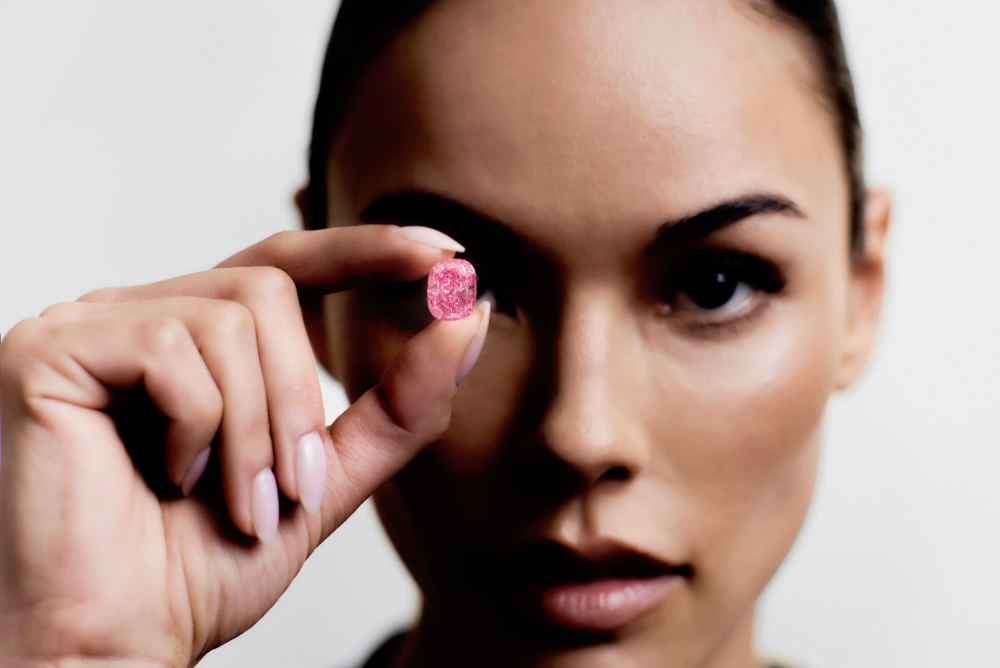 'The Eternal Pink,' the most vivid pink diamond to ever come to market, sold for $34.8 million ($3,292,763 per carat)  –  a world auction record for a Fancy Purplish-Pink Diamond and a new record per carat price. The price smashes that of the previous record for a Purplish-Pink diamond, achieved in 2019 when a 10.64-carat Fancy Vivid Purplish-Pink diamond sold for $19.9 million at Sotheby's Hong Kong ($1,865,703 per carat). More than that, the $3,292,763 per-carat price achieved for The Eternal Pink now stands as the second highest price per carat for a pink diamond, just behind the Williamson Pink Star, which sold for $57.7 million at Sotheby's Hong Kong in October 2022, and established a world record price per carat for any diamond or gemstone ($5,178,124). The 10.57-carat Internally Flawless Fancy Vivid Purplish Pink Diamond was discovered by De Beers in partnership with Botswana at the Damtshaa mine, and was meticulously fashioned into an exquisite cushion cut – over a period of six intense months – by Diacore's team of artisans, maximizing the diamond's electric "bubblegum" colour to full potential.