Crafting jewellery goes beyond mere desk work, sketching, and production for Sumit Sawhney. Since 2006, under his brand Apala by Sumit, he has been pushing the boundaries of silver craftsmanship, creating impactful and daring pieces. The foundation of these extraordinary designs draws from a wide range of inspirations, spanning from spiritual and travel experiences to art, museum visits, and photography.
In a recent development, Apala by Sumit entered a Memorandum of Understanding (MoU) with the Ministry of Culture, marking the brand's partnership in the Aatman Project, aimed at advancing the well-being of artisans. Apala's jewellery creations will be exhibited in the atelier space within the Aatmanirbhar Bharat Centre for Design (ABCD) located at the Red Fort in Delhi. This initiative seeks to foster Indian handicrafts, provide training and empowerment to artisans, and establish sustainable livelihoods—a mission closely aligned with the brand's values.
In an exclusive interview with Solitaire International, Sumit Sawhney shares insights into his 17-year long journey as a designer.
What inspired you to start a jewellery brand focusing only on silver?
Until the 21st century, silver jewellery in India held a niche appeal, primarily attracting the artsy individuals, college-going girls who admired the pieces for its boldness & combination with gemstones. As a material it was dominantly admired for its silvery beauty. There were only a handful of designer silver brands working in this space, and innovation was slow with focus on exports.
Having received hands-on training in jewellery manufacturing, I developed a deep understanding of silver as a material. My training with prestigious institutions like GIA and JDTI allowed me to see the untapped potential of silver. After working with several jewellery houses, I realised that silver had not yet found its rightful place in the market.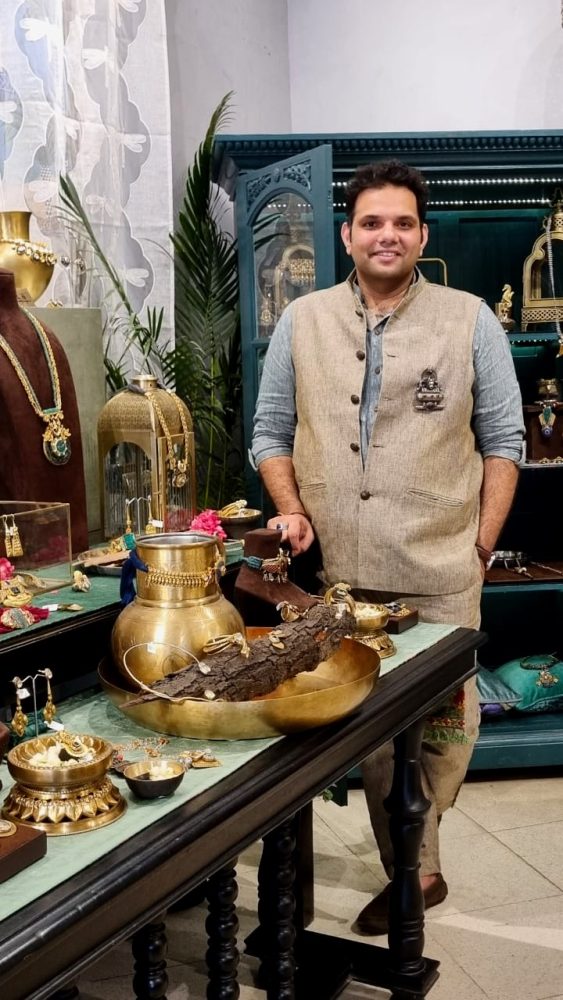 Despite its inherent beauty, its softness made it versatile for creating intricate textures, coatings, and patinas. The artistic possibilities were vast, allowing me to achieve the look of a high-end gold piece set with precious stones. Also, this significantly reduced costs while maintaining the allure of a gold piece.
In 2006, I founded Apala by Sumit to meet the growing demand in India for luxury jewellery with a contemporary edge, as well as to cater to the international market's appetite for stunning Indian treasures. In a short span, the brand gained recognition among the who's who and became synonymous with eclectic jewellery concepts and fusion styles. Today, our offerings span a wide range, including bridal, Victorian, work wear, world-art inspired, tribal, and avant-garde silver jewellery.
How does Apala's collections reflect cultural and symbolic aspects associated with silver?
Apala's designs are deeply intertwined with the cultural heritage associated with silver jewellery. We draw inspiration from various forms of Indian art and incorporate elements from architecture, royal eras, tribal culture, textiles, mythology. We also embrace traditional jewellery manufacturing techniques such as rawa (granulation), kundan setting, enamelling, chitrai (repousse), and filigree, to reimagine these traditional elements into contemporary compositions. Our designs are a celebration of our heritage presented in a fresh manner, making each piece meaningful and timeless.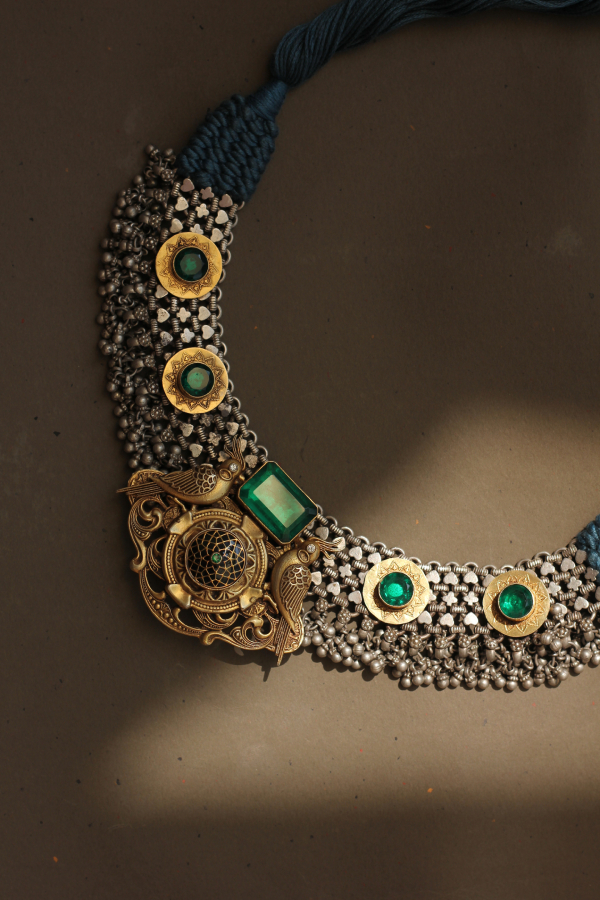 Tell us more about your collaboration with Project Aatman.
Our brand has garnered recognition from the Ministry of Culture, Government of India, through its involvement in Project Aatman. This led to the signing of an MOU, and we will curate and display jewellery pieces at the Aatmanirbhar Bharat Centre for Design, Red Fort, Delhi. The establishment of this centre represents a significant initiative by the Ministry of Culture, and Apala's role is in line with the government's commitment to promoting indigenous crafts and supporting artisans and create sustainable livelihoods.
What unique design elements or techniques does Apala use to set itself apart in the competitive jewellery market?
We are known to blend the past with the present and infuse our creative vision into every design. Innovation is at the core of our design philosophy. Our competition is ourselves, as we strive to cater to the evolving tastes of our patrons, who seek fresh and unique pieces with each visit.
Most of our jewellery is crafted by hand and we collaborate with a wide spectrum of artisans from across the country, harnessing their expertise to add a distinct character to each piece.
We source gemstones from around the world, each one handpicked for its quality, colour, and brilliance.
I believe in hands-on approach and – from the initial stages of production to the final creation of each piece, I and my team ensure that it meets our exacting standards of quality and creativity.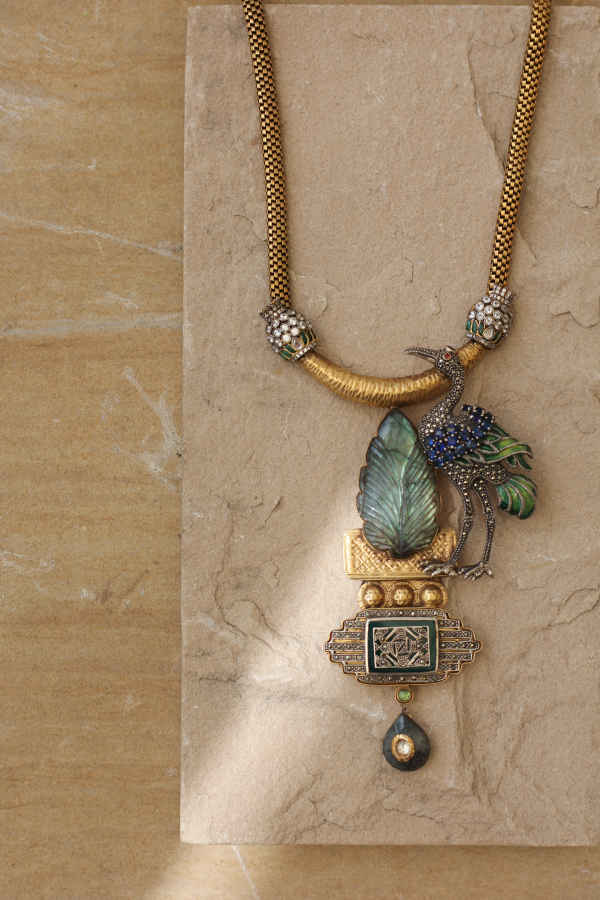 To safeguard our creative work, each of Apala's designs is registered before being introduced to the public domain. In fact, we are among the highest design registration holders in the industry for this year. This proactive approach enables us to take swift action against design infringers, ensuring the integrity of our designs.
We are committed to delivering original, high-quality, and culturally resonant jewellery.
Your design signature is distinct. How did you develop this style?
Over time, my signature design style, marked by vibrant gemstones and bold shapes, has developed from my early days as an art student to an experienced jewellery designer.
Since my time as an art student, I've possessed a deep appreciation for beauty, form, and visual harmony. My design sensibilities were also enriched by exploring diverse traditions and global art.
Staying true to my vision while remaining versatile in my designs has been pivotal in creating my signature style. My forward-thinking approach, often considering trends two seasons in advance, ensures that my creations remain ahead of the curve.
My passionate clientele plays a significant role in shaping my style as well. Their enthusiasm for bold and distinctive jewellery motivates me to deliver designs that are both extraordinary and wearable.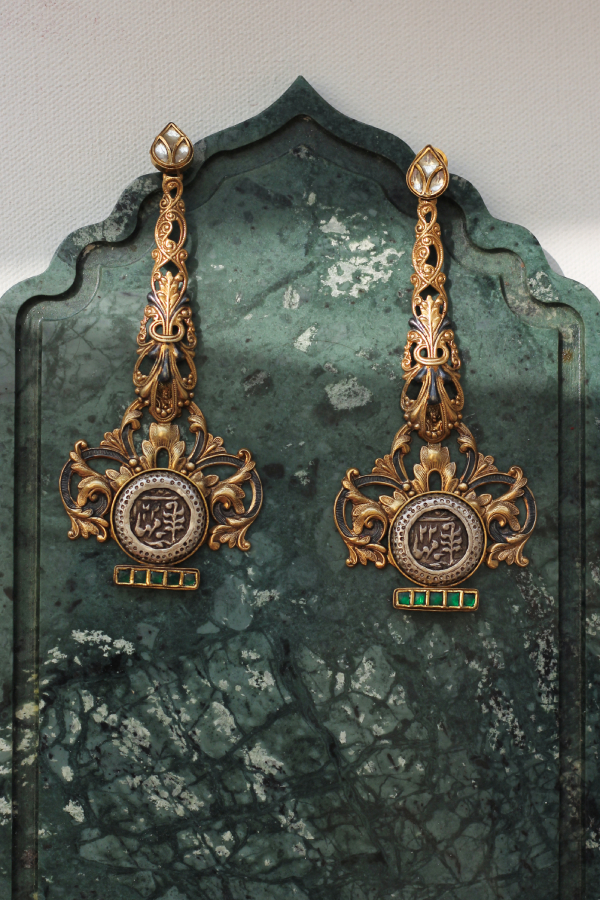 Besides spirituality, what are the other major inspirations that motivate you?
Spirituality is a profound muse for my creativity, but  travel, too, sparks fresh ideas through cultural immersion. Nature's beauty fuels my designs, and photography is another passion of mine. Capturing moments and scenes provides a unique lens through which I view the world. The composition, colours, and stories behind each photograph serve as a wellspring of creative ideas. Museums and antiques reveal historical craftsmanship. Music, too, impacts me deeply.
Interior design also influences my approach to jewellery design. Collaborating with my mother, Arti Sawhney, a renowned furniture designer, has been a transformative experience. Her expertise in traditional styling beautifully complements my contemporary approach.
My unwavering passion for art drives me to experiment continually. I prioritise artistic expression over purely commercial considerations.
What are the three things that often recur in your themes? 
I often incorporate sculptural elements into my designs that are three-dimensional. I also like the juxtaposition of various textures and finishes that enhance its visual and tactile appeal. I frequently feature vibrant and mystic gemstones that exhibit unique inclusions, colours, and distinctive characters in the pieces.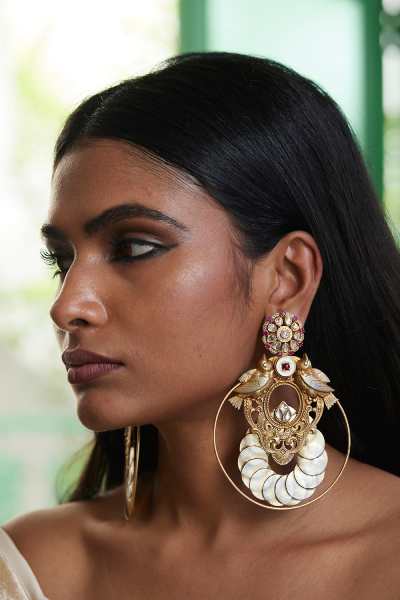 We would like to know more about your designing process …
My design process is a dynamic and interactive journey between gems and sketches. It's a symbiotic relationship …  When I encounter a gemstone with a particularly strong character, I often take it as a focal point and craft elements that either complement or contrast with the gem. These pieces tend to have a more organic and spontaneous approach, allowing the gem's character to shine through in the final design.
Conversely, when I have a distinct theme for a collection or a piece, I start by planning the cuts, carvings, and complementing gemstone colours through sketches. This method provides a structured approach to creating jewellery that aligns with the envisioned concept.
Do you have any favourite gemstones?
Emerald, lapis lazuli and  tourmalines.
How does Apala approach sustainability in its production processes and materials sourcing?
Apala prioritises sustainability by using eco-friendly production methods and sourcing materials responsibly to reduce our carbon footprint.
We promote fair labour practices to support the well-being of our artisans. Our products are crafted for durability, minimising waste, and we exclusively utilise natural gemstones, steering clear of nickel and harsh chemicals to prioritise safety and environmental consciousness.
We offer makeovers to breathe new life into old pieces and reinterpret antiques, preserving their artistry. With a commitment to authenticity and sustainability, Apala strives to create lasting, ethical, and environmentally friendly jewellery.
How does Apala stay attuned to the ever-evolving consumer tastes?
Apala remains agile and responsive to evolving customer expectations. As clients increasingly seek versatility and experimentation, we've introduced detachable jewellery pieces that offer multiple styling options. This adaptability empowers wearers with a range of choices, ensuring a single piece can effortlessly suit various occasions and style preferences.
Additionally, we incorporate plating options and patinations that possess a timeless appeal.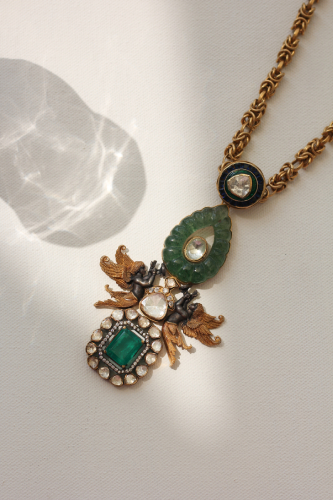 Do you have any heartwarming Apala customer stories related to jewelry's emotional significance?
Indeed, jewellery often carries deep emotional significance, and there's one incident from an Apala customer that stands out.
In our showroom, an 80-year-old lady visited, radiating enthusiasm like a child in a candy store as she admired our jewelry. She had a unique sense of style, sporting a coral twig necklace with perfectly matched outfits. What made her visit unforgettable was her revelation: she had never pierced her ears before, yet she couldn't resist our earring collection. Despite her initial hesitance, she chose five pairs. The heartwarming twist came the next day when she returned with freshly pierced ears, as she wanted to wear her chosen earrings. This touching experience highlighted how jewellery transcends age, offering personal expression and self-discovery.
How has Apala utilised digital platforms to engage with its audience?
Our online presence has allowed us to reach a global audience swiftly and effectively. We've been fortunate to gain a dedicated and organic following of like-minded individuals without resorting to paid methods. We have explored collaborations with celebrities and influential bloggers, to expand our reach. We believe in serving original content over social media, and presenting our products as they appear, minimising the use of excessive Photoshop edits, thus allowing our customers to see our jewellery as it is.