American consumers spent a total of $204.5 billion over the 2021 holiday season (1st November to 31st December), up 8.6% year-over-year (YoY), according to Adobe Analytics.
Jewellery was among the top growth categories and experienced a 2.2x jump in online sales during the holiday period.
A record 38 days recorded over $3 billion in daily spend (25 days in 2020 by comparison), as consumers spread out their shopping outside of big days like Cyber Monday and began earlier — the weeks before Thanksgiving (1-24 November) grew 19.2% YoY, while Cyber Week (5 days between Thanksgiving and Cyber Monday) was down 1.4% YoY. The weeks following (30th November to 31st December) grew 5.6% YoY.
Demand for online shopping was not deterred by persistent supply chain challenges, as retailers contend with congested ports, cargo delays, and disruptions in overseas manufacturing. During the holiday season, consumers saw over 6 billion out-of-stock messages online.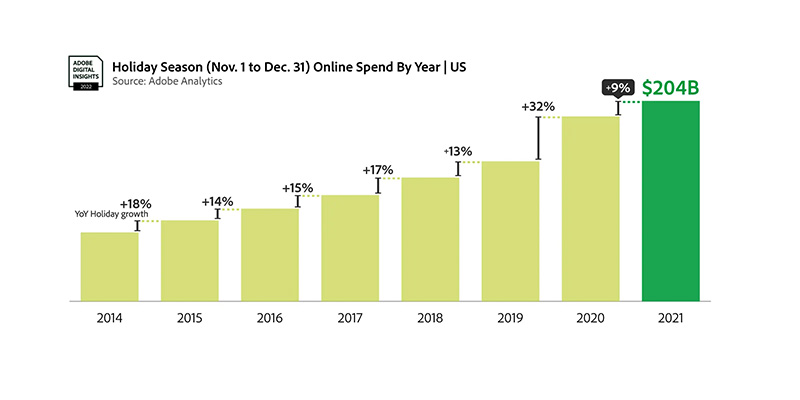 "This holiday shopping season was the first time where big promotional moments like Cyber Monday and Black Friday took on less of the spotlight," said Taylor Schreiner, senior director, Adobe Digital Insights. "Like we saw during the Covid-19 pandemic, e-commerce has become a ubiquitous daily activity and a flexible way for shoppers to navigate product availability and higher prices."
This holiday season, besides jewellery, online spending was driven by categories such as toys, video games, gift cards and books.