Enticing floral bijoux uplifts the mood this summer!
Jewellers have always drawn on the splendour of nature, the lush green landscapes and colourful flowers for inspiration. Precious gems, metals and enamel enable skilled designer and artisans to translate their creativity into wearable pieces reimagined through textures and forms. Dainty blossoms, petals and leaves are the most popular motifs that designers seek to transform into earrings, necklaces, rings and bracelets.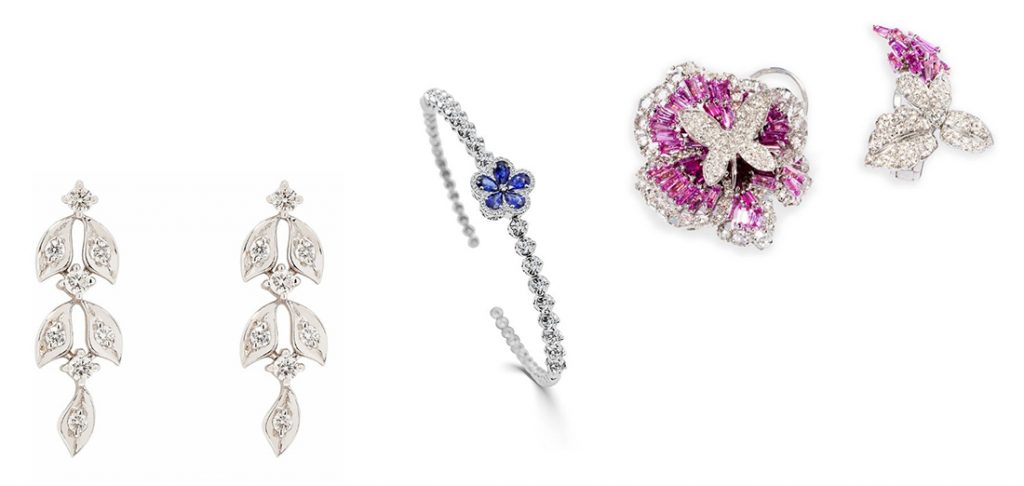 Spring is a time of rebirth. "The biggest visual change that occurs during the beautiful months of spring is flowers; they bring newness and vibrance into our lives," says Nishith Shah, CEO of Dubai-based La Marquise Jewellery. The brand has an array of floral creations that take its inspiration from the twists and curves of petals. "Floral designs never lose their elegance and can be a classic addition to your jewellery box," he adds.
Armoura's Hanami Cherry Blossom earrings are inspired by the Japanese practice of Hanami, appreciating the beauty of flowers, usually the Cherry blossom trees that bloom in March and April. "It's a gorgeous experience and I wanted to replicate the feeling of the flowers and the tranquility of falling petals," says Stuart McGrath, the Dublin-based sculptor and designer. The Art Deco style drop earrings feature white mother-of pearl cut into the shape of a cherry blossom flower and inlaid into white gold and set with diamonds, pink sapphires and black enamel.
Enamel provides a creative outlet for Bea Bongiasca as she goes about adding new pieces in hot pink, coral pink and Japanese orange to her Spring Summer offering. The Milanese designer has used abstract floral shapes for the peppy Flower Funk collection.
Amira Karaouli's floral Aisha earrings are named after her grandmother and inspired by the wedding jewellery. "My grandmother's jewellery set was beautiful; it had lovely flowers and stems. My grandfather had it specially ordered for their wedding," she says. The Tunisian designer's passion for flowers stems from childhood memories. "When I was a kid, I used to do a lot of gardening with my mother. Flowers, for me, represent joy, cheerfulness and the arrival of spring and good weather."
Young designer Nour Jahan's statement ring – accompanied by an add-on stackable leaf ring – features butterflies in white gold and diamonds that hover over pink sapphire-studded florals. While butterflies land on the sparkly creations of Geneva-based brand Nour by Jahan, Van Gogh's sunflowers have become the muse for Brazilian jeweller Larissa Moraes. She turns to yellow citrines to symbolise the iconic artwork in her earrings, while employing a matte finish with lines to represent the leaves and a polished finish to interpret the branches.
Ananya Fine Jewellery, Carol Kauffmann Jewellery, Mathon Paris, Gimel, Zaabel, H. Ajoomal, Sanjay Kasliwal, L'Dezen and Jane Taylor, too, have delicate and statement blossom inspired designs that are pretty picks.